23 Youth Ambassadors Tackle 170-Mile "Watershed" Bike Ride
Authored By: Anya Saretzky | September 1, 2016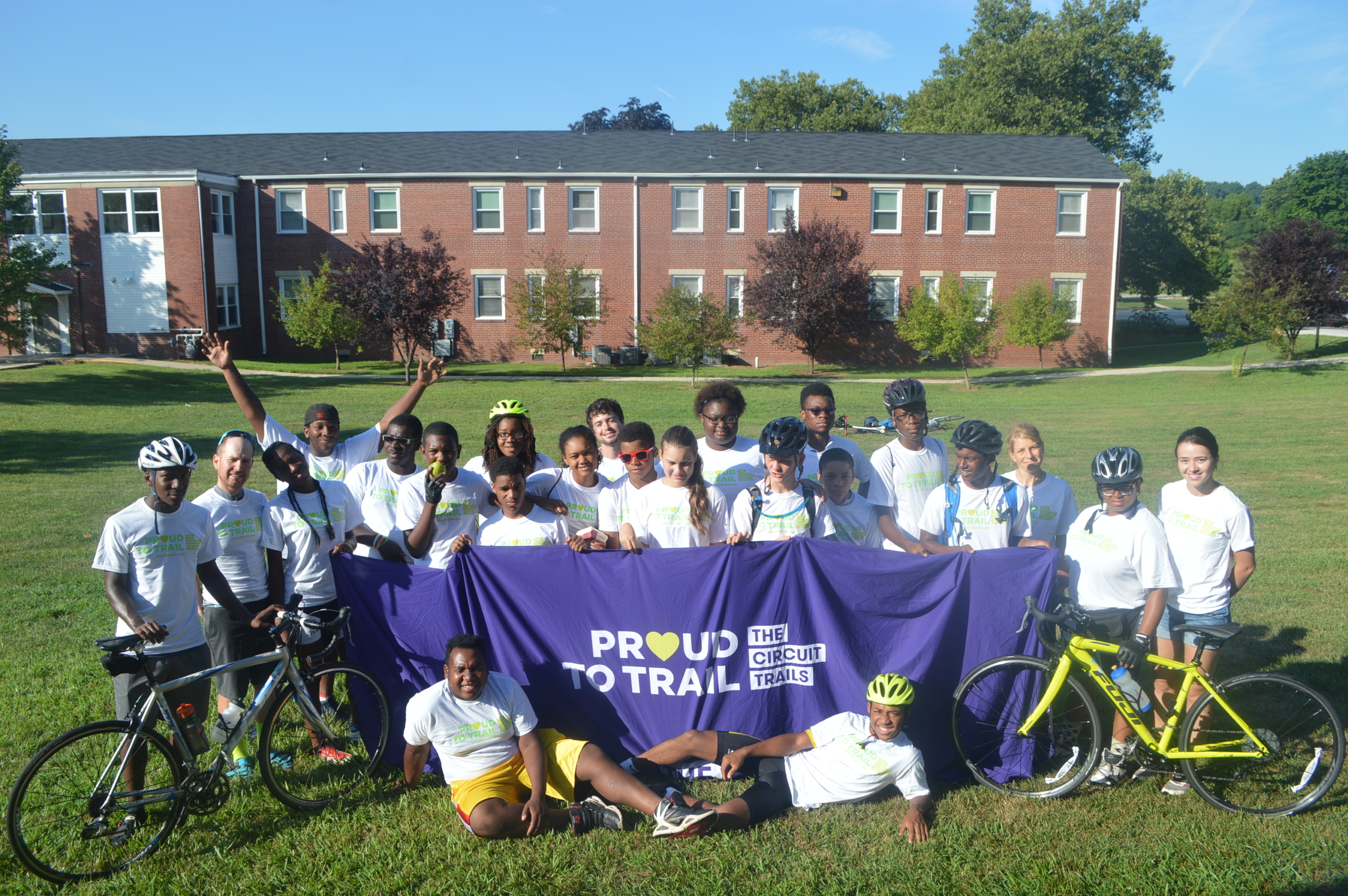 As a culmination of Rails-to-Trails Conservancy's (RTC) summer youth programming in the Greater Philadelphia Area, RTC brought 23 young people together this August for our second annual Youth Sojourn—a five-day bike ride over 170 miles of Circuit Trails in Pennsylvania and New Jersey, including the Schuylkill River Trail, the Perkiomen Trail and the Wiggins Promenade.
Led by RTC Youth Engagement Coordinator Jolie Chylack, as well as Youth Leaders Allen Williams, Jaymere Copeland, Paul Jewell and Kyle McIntyre—the sojourn capped off a great summer of watershed health education programming, during which our youth leaders helped lead trailside classes, walks and bike rides on various Circuit Trails in the 750-mile system.
Each night, the sojourners set up camp at a variety of locations—ranging from a classic campsite at Green Lane State Park in Montgomery County to a canopy of dinosaur fossils at the Academy of Natural Sciences in Philadelphia! Twice along the route—at the Schuylkill Center for Environmental Education and the John James Audubon Center at Mill Grove—the sojourners hosted Watershed Festivals to teach other young people what they learned throughout the summer. The festivals included games, lessons and a service project in which participants created native plant "seed balls" to throw along the banks of waterways and help stabilize them, preventing erosion.
While the sojourners pedaled hard and taught well, there was much fun had along the way as well, including visiting a swimming hole, kayaking, horseback riding, a photography competition, enjoying s'mores around the campfire, making wilderness survival kits, touring former Pennsylvania Gov. Samuel W. Pennypacker's mansion and—to top it all off—a trip to Camden's Adventure Aquarium.
Three of our sojourners were interviewed about their experience by the Pottstown Mercury, and the subsequent article was featured in six newspapers! Another exciting moment came on Aug. 19, when the group had the opportunity to see a key segment of the Circuit Trails come online at the ribbon cutting ceremony for Sullivan's Bridge. The sojourners were some of the first riders to cross the bridge, which connects the Schuylkill River Trail to Valley Forge National Historical Park.
Those who completed the summer program and the sojourn earned the title of "Watershed Ambassador." At the end of the trip, each was presented with a certificate of achievement and, more importantly, the much coveted Circuit Trails baseball cap!
Here's what newly minted Watershed Ambassador Coleman Milligan had to say about the journey:
What was your favorite part of the Youth Sojourn?
My favorite part overall was riding across two different states, because I was able to enjoy the scenery. Everyone was smiling and happy. Nothing is better than being out on the trails looking at nature and being with my teammates.
What was the hardest part?
The hardest part was trying to get everyone together, since we had one group that was faster than the other. It was hard to pace ourselves and wait for each other.
What fact about watersheds do people need to know?
I learned from our stream sampling activity that if you see a lot of tiny moving organisms in your stream or watershed, it means it's healthy. If you don't see that happening, you should talk to whoever takes care of the stream.
What did you learn?
I learned over the course of the sojourn that our ecosystems and waterways are not as good as we are being told. There are places that are good in terms of the number of organisms in the water, but many are not very good.
I also learned about what I can do to make the environment better, like planting trees and planting other plants by my house. Thanks to RTC, we were able to share so much information with teens and young kids. As they grow up, they can share that with their friends and family. Hopefully word will spread so we can make the world healthier.
Anya Saretzky is the Project Manager of Trail Development for Rails-to-Trails Conservancy (RTC), a nonprofit organization dedicated to creating a nationwide network of trails from former rail lines and connecting corridors to build healthier places for healthier people. In her role, Anya works closely with the Circuit Trails Coalition to promote sustainable communities in the Greater Philadelphia Region.