7 Upcoming Events to Get Involved With #OnTheCircuit
Authored By: The Circuit Trails | December 2, 2020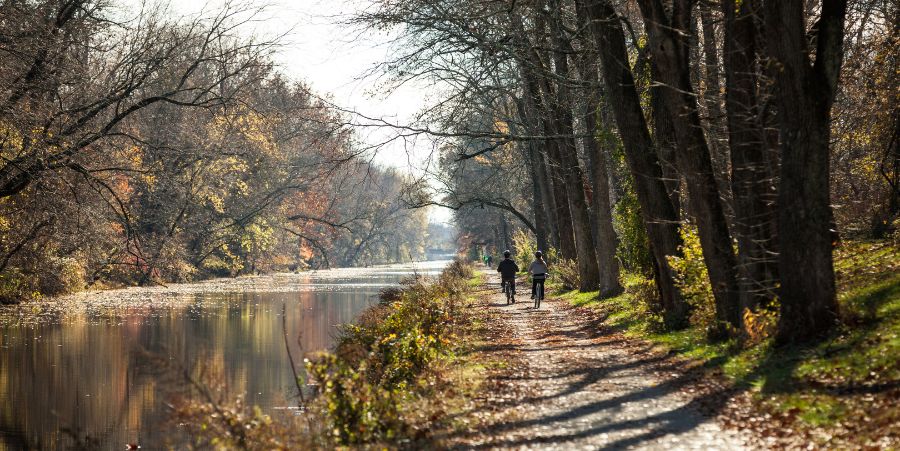 From public meetings to action team gatherings to improvement projects, it?s safe to say that there is a lot happening #OnTheCircuit these days. Whether you are a first-time trail user or an everyday explorer, your feedback and input is an important and valued part of the trail development process. Ready to make your voice heard? Check out these upcoming meetings, events and feedback opportunities for development #OnTheCircuit.
WHEN: December 7 at 6:30 p.m.
WHERE: Municipal Hall, meetings typically are available to stream here.
Constructed on an abandoned railroad right-of-way, the 2.7-mile Gloucester Township Health and Fitness Trail (GTHF), formerly known as the Blackwood Railroad Trail, links neighborhoods, schools and recreational facilities in Blackwood, Gloucester Township, N.J. When completed, the trail will be approximately 4.4 miles. This trail is an important part of the Circuit Trails and will eventually serve as a link between Camden County and Gloucester County.
Please reach out to the Mayor's Office at Mayor@GloTwp.com with any questions or concerns. More details can be found here.
WHEN: December 8 at 6 p.m.
REGISTER: https://bit.ly/2JFS8Eg
Action Team Leaders Daniel Paschall of the East Coast Greenway Alliance and Lizzie Hessek of Pennsylvania Environmental Council will lead a presentation about one of the most critical segments that Philadelphia is planning, which is key enabling the region to reach the goal of 500 miles of completed Circuit Trails by 2025. The Spring Garden Street Greenway has been in the planning stages for at least a decade and is a critical link between the Delaware and Schuylkill River Trails in addition to being the selected alignment of the East Coast Greenway. The City of Philadelphia has initiated a public engagement process during the month of December.
WHEN: December 9 at 6 p.m.
REGISTER: https://bit.ly/2Jlhp7e
This Zoom meetup will be led by Action Team Leader, Sonia Szczesna. This presentation will focus on the three major Circuit Trails in Mercer County: the D&R Canal Tow Path, the Lawrence Hopewell Trail and the Johnson Trolley Line Trail. Attend this Zoom meeting to become more familiar with what is happening on the ground and how you can take action to be a more active Circuit Citizen for Mercer County.
WHEN: December 10 from 5 – 6 p.m. (Coffee Hours) and December 31 (final day for feedback)
REGISTER: https://bit.ly/3ofg4gU
The Spring Garden Street Improvement Project is moving from the ideas phase into the engineering phase. This virtual open house is meant to be like in an in-person open house: there are three different exercises you can participate in.
Add comments to the project's map
Give your opinion on where bicycle lanes should be located on Spring Garden Street by taking this survey
Attend the virtual coffee hours on December 10 to meet live with the project team and ask questions. Register for coffee hours here.
The entire open house website and project details are available in Spanish and simplified Chinese.
WHEN: December 15 from 6:30 – 7:30 p.m.
REGISTER: https://bit.ly/3ql6bjF
Over the past two years, the Riverfront North Partnership has met with many stakeholders, neighbors, visitors and volunteers to put together a vision for the next 15 years of greenway development along the Delaware River waterfront in Northeast Philadelphia. The updated Master Plan looks at four major goals:
Improve Connectivity between Northeast Philadelphia neighborhoods and the riverfront
Support Functionality of various land uses and continue a cooperative relationship with businesses along the greenway
Nurture Environment by restoring land- and water-based natural habitats that are accessible to all
Enhance Experience along the riverfront by growing stewardship programs, recreational opportunities, and placemaking.
The public release will include a one hour event to review the highlights of the Master Plan and to answer any questions you may have.
WHEN: December 16 at 6 p.m.
REGISTER: https://bit.ly/2JEMmD6
Led by Action Team Leaders, Lizzie Hessek and Daniel Paschall, this presentation will be about how Delaware County is planning to help the region reach 500 miles by 2025 if it meets its goals for completing a number of trail projects and advances others that are in a planning stage. Attend this Zoom meeting to become more familiar with what is happening on the ground and how you can take action to be a more active Circuit Citizen for Delaware County.
Do you walk, bike, drive or use transit near the Ben Franklin Bridge in Philadelphia? Do you use the pedestrian bridge, Franklin Square Park or other nearby amenities?
The Delaware Valley Regional Planning Commission (DVRPC) would like to hear what challenges you face when traveling in the project study area. Here's how you can help shape the study:
First, watch this video for a brief introduction and demonstration of the webmap tool.
Then, use the webmap to tell us about transportation challenges you'd like to see addressed.
Finally, take the survey to share additional comments and help guide our outreach efforts.
You can also sign up to receive automatic Ben Franklin Bridge Eastbound Access project updates here. The project details are available in Spanish and Chinese here.
You can also make your voice heard on social media. Tell your friends, family and followers all about the trails #OnTheCircuit that you enjoy. If you're the type to post pictures from your trail adventures, tag us @thecircuittrails on Instagram, @circuittrails on Twitter and @TheCircuitTrails on Facebook. Want to have your photos reposted on one of our social media accounts? Make sure you use the hashtag #OnTheCircuit in all your posts!