Advocating for a Rail-to-Trail in Northampton Township: What You Can Do
Authored By: The Circuit Trails | May 24, 2016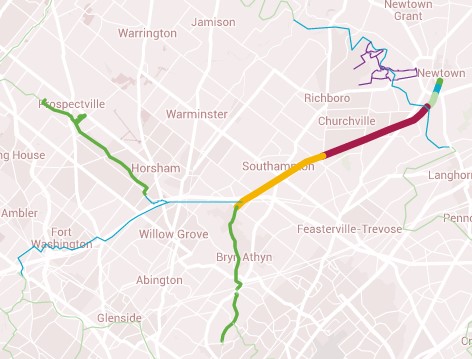 Bike Bucks County, a county affiliate of the Bicycle Coalition of Greater Philadelphia, has been advocating for a rail-to-trail project in Northampton Township for a while now, a tough job some might say.
After several meetings and continued advocacy for the project, the trail — which would provide healthy, recreational access for hikers, joggers, cyclists and others — is stuck in a bureaucratic mess. If you're interested in helping make this new trail a reality, keep reading.
No trains have run on the train line through the township since 1983 and in 2009 SEPTA made the final decision to not reactivate rail service. A few years later in 2012 the Penn-Tammany Greenway Coalition, a local non-profit, took up this cause to use the rail line for a cross county recreational trail.
Small glimmers of hope for this proposed trail have been occurring over the past 20 years. Just recently Montgomery County finished converting the same rail line 4 miles south into the Pennypack Trail. There was also local resistance there along the trail but now that it is built there is overwhelming support and pride for the trail as a community asset…
[To continue reading this blog and to learn about the proposed Circuit Trail, visit the Bicycle Coalition of Greater Philadelphia's website here.]