Are You Proud to Trail?
Authored By: The Circuit Trails | April 22, 2016


Runners, cyclists and walkers rejoice! The Circuit Trails are officially open for the season and there is a new user-friendly website to help you explore new trails.
Just one week ago, civic officials, corporate representatives, cyclists and trail fans unveiled the new Proud to Trail campaign for the region's trail network. The press conference also marked the start of Opening Weekend for the Circuit where partner organizations hosted more than 15 trail-related events across the region.
If you are reading this blog, then you, like many trail users in this region, use and love your local trails. In fact, you may even feel a tremendous sense of pride in your local trails. But just a few years ago, Circuit Trails Coalition partners were asking some important questions: Do residents know that their local trail is part of a network of hundreds of miles of trails that is transforming the region? And do you know that your voice matters in helping to build one of America's largest trail networks?
With the support of William Penn Foundation, and the leadership of Rails-to-Trails Conservancy, work began more than a year ago to survey users, reshape the brand, build a new website, and develop an awareness campaign to engage the entire region from Central and Southern New Jersey to Philadelphia and the surrounding Pennsylvania counties.
Proud to Trail and the new circuittrails.org website are designed to engage trail users, evoke a sense of pride in the network, and serve as a rallying cry for the trail advocacy work that is happening across the nine-county Circuit region.
On April 15, influential leaders associated with the trails joined Sarah Clark Stuart, chair of the Circuit Trails Coalition and executive director of the Bicycle Coalition of Greater Philadelphia, to share their perspectives of the important role of the Circuit Trails in strengthening the region by providing active transportation and recreation options. A special thank you to Tom Corocoran, president of the Delaware River Waterfront Corporation; Laura Sparks, executive director, William Penn Foundation; Michael DiBerardinis, managing director, City of Philadelphia; Meryl Levitz, president & chief executive officer, VISIT Philadelphia; Kim Fortunato, director, Campbell Healthy Communities Program; and Brian Hughes, Mercer County executive, for joining the celebration.
At the conclusion of the press conference, attendees were surprised with a guest appearance by Philadelphia Eagle Connor Barwin! Barwin, an avid cyclist and open space advocate, led an enthusiastic group of cyclists into the press conference following a ride over the Ben Franklin Bridge to the delight of everyone present. Barwin helped unveil the new Proud to Trail campaign, took a selfie with fellow cyclists, and shared why he is Proud to Trail across his social media platforms.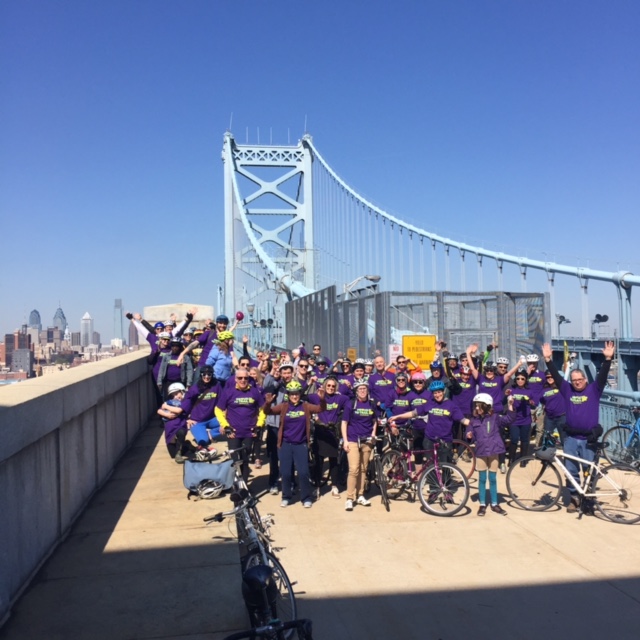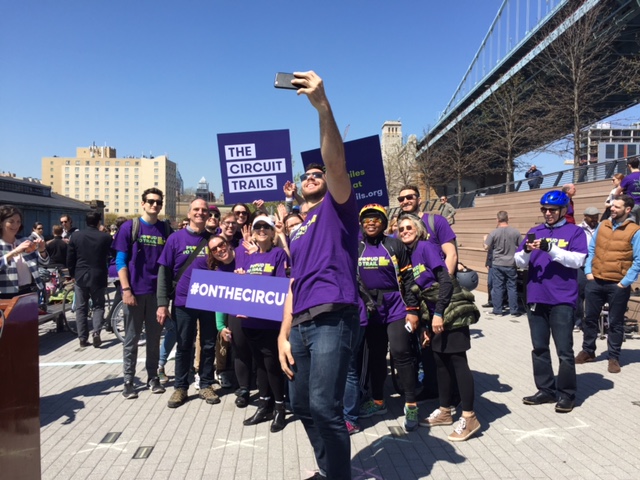 Trail season is officially here! Follow, like and share your stories and photos tagging the Circuit's Facebook (@TheCircuitTrails), Twitter (@circuittrails), and Instagram (@thecircuittrails) and using #onthecircuit.