Back to Trail Basics
Authored By: Circuit Trails Coalition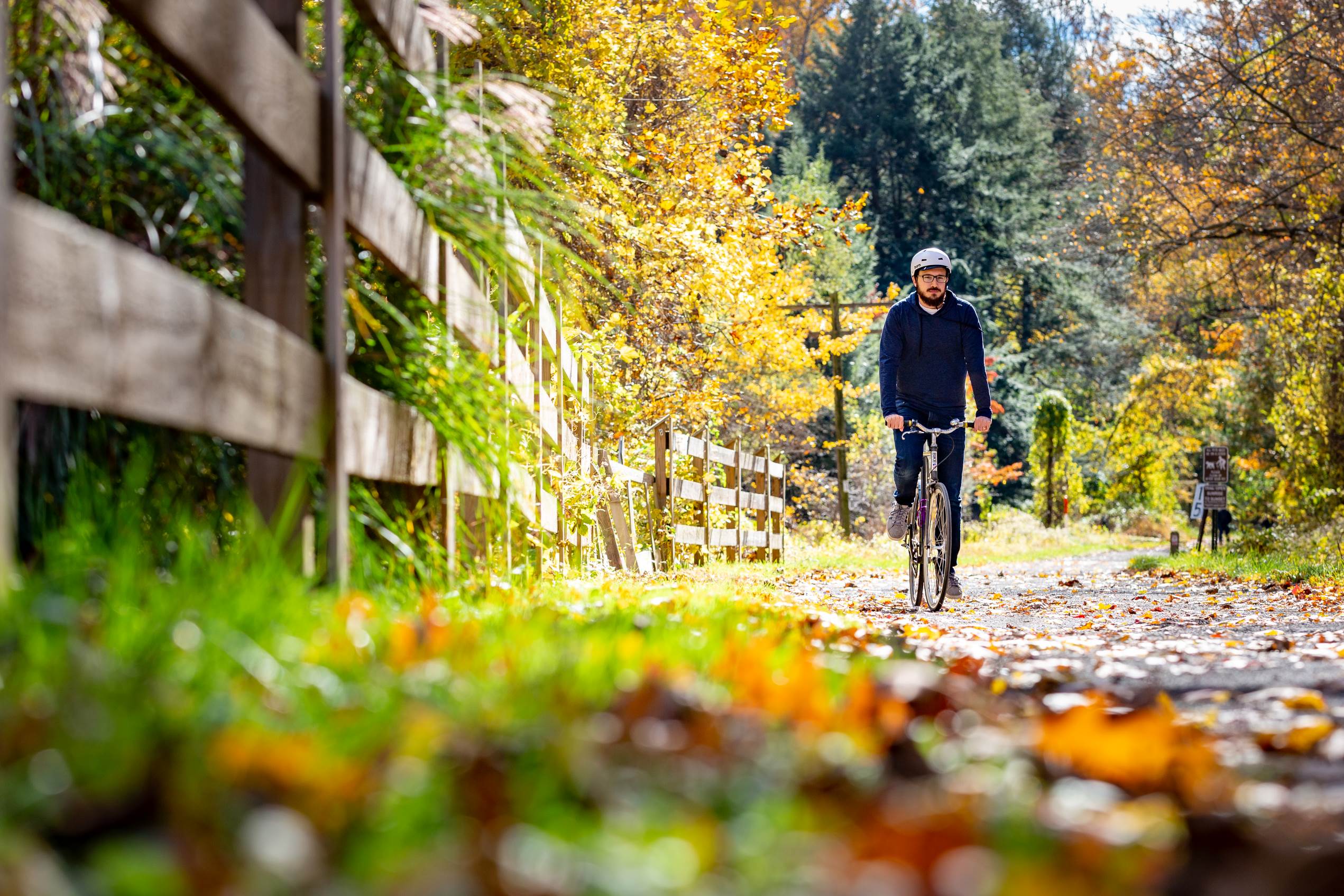 Photo by Thom Carroll
Trails are for everyone. As trail users, we each play a role in keeping these outdoor spaces welcoming and safe for all. Refreshing your knowledge of trail etiquette and safety can help create great trail experiences for yourself and others!
Brush up on some of the basics before your next trip #OnTheCircuit.
Be Alert
It's easy to get distracted by people and nature along your route. Whether you're tuning in to listen to the latest hits, the songs and sounds of wildlife, or are taking time for yourself and are going to the beat of your own drum, it's important to stay attuned to what's happening around you on the trail. To make sure you don't miss the ring of passing cyclist's bell or the "on-your-left" calls of another fellow trail user, remember to remain alert and be cognizant of other people and local wildlife. If you're using headphones, consider the one ear-in, one ear-out headphone approach or, if available, disable the ambient-noise canceling feature to hear what's happening around you.
Share the Space
With trails that welcome bicyclists, pedestrians, equestrians, cross-country skiiers, strollers, rollers and other types of outdoor explorers, you're likely to share the space with trail users who are moving in different ways and at different speeds #OnTheCircuit. In most cases, a helpful tip to remember is that wheels yield to heels, and heels yield to hooves. In addition, if you're stopping for a break, move off to the side of the trail to avoid blocking the path. And if you are moving, remember to keep to the right side of the trail, then pass to the left. Before you move to pass another trail user, check behind and ahead of you, and announce that you're passing. A little trail courtesy can go a long way!
Leash Up Your Furry Friends
It's easy for our four-legged friends to get distracted and accidentally get in the way of fellow trail users. And as much as some people may love furry friends, others may feel uncomfortable if approached. To make sure trails feel fun and safe for people and pets, please remember to keep your pets close by and on a leash when traveling along the trails.
Leave No Trace
Do your part to help protect our environment and be respectful of your surroundings, including any historical or cultural sites or areas along the trail. Before leaving the trail, make sure you "leave no trace" by minimizing your impact on the space, picking up after yourself and properly disposing of all trash or unwanted items, and by being considerate of wildlife and natural areas. You can also take your stewardship a step further by participating in cleanups and other events that help give back to the trails!
Be Prepared
Although these tips will help guide you in most trail experiences, it's always best to come prepared by researching the specific trail you'll be visiting in advance. Most trails post operating hours, permitted activities, details about the bathrooms and other amenities, and other interesting information about the area online or on trailhead signs. Learning about the trail before you go can help you feel ready and equipped for your adventure—plus provide you with knowledge about the trail's story, so you can enjoy creating your own #OnTheCircuit!
Now that you've refreshed your knowledge of trail etiquette and safety, it's time to get outside and get #OnTheCircuit. Where will you explore? Let us know by posting pictures from your trail outings on Facebook, Instagram, X (formerly Twitter), or TikTok using #OnTheCircuit. Happy trailing!