Co-Creating Joy Outside: A Conversation with Nicole from Healing Through the Land
Authored By: The Circuit Trails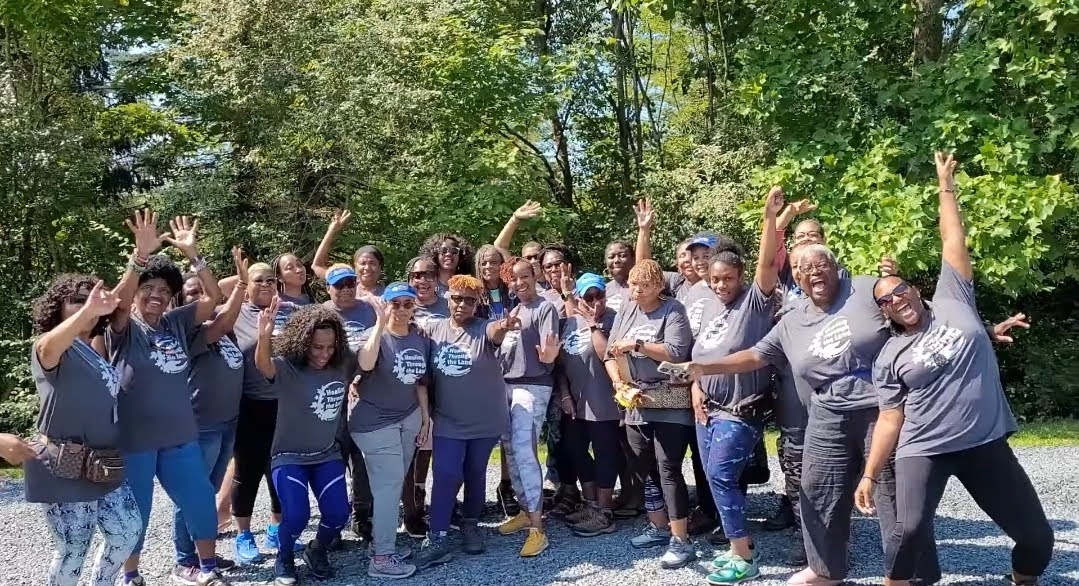 Across the Circuit Trails footprint, communities are coming together to make the hundreds of miles of multi-use trails their own. Earlier this year, the Circuit Trails Coalition awarded grants to 10 community organizations, which engage people along the Circuit Trails in community-led initiatives that invite friends and neighbors together outside, whether they are fishing, making art or learning about the green spaces where they live. 
We caught up with Nicole Seahorn Hameen from Healing Through the Land—one of the organizations that received funding for two years of trail programming from the Circuit Trails Coalition Community Grant Program. Healing Through the Land empowers communities of color throughout Philadelphia to reconnect, enjoy and explore all the ways they have historically utilized the land for their healing, nourishment, joy, spirituality, community building and environmental justice while building upon and creating new traditions that reflect the community's modern needs. Members reclaim their relationship to the land, their community, ancestors and themselves.
Nicole is effervescent and you'll leave a conversation with her motivated and inspired. As the co-creator and co-organizer of Healing Through the Land and the program coordinator of WeWalkPHL, this energy serves her well as she engages communities and creates introductions between people and nature every day.
Read the interview to learn more!
1. Share with us about your organization, Healing Through the Land. Why was it created and what does it work to address?
There are aspects of existing programs that just don't fit some individuals. Healing Through the Land connects people to the land and gives them the feeling that "I'm being accepted." 
[Healing Through the Land] is about embodying and practicing health and wellness modalities and connecting through self with nature. What are your reflections in the mind, the heart and the body? We focus on how we heal by having conversations with ourselves and conversations with each other. These are the elements that may not be talked about or highlighted in other programs. 
We're able to come into neighborhoods and share free programming and resources that we've compiled. Philadelphia has free resources, but many people didn't know about them. There needed to be [more] consistency in the connections and programming.
We have to start right where we are—before you try to go out and change the world, you need to start at home. Home is inside our heads, our hearts, our bodies and also what we call home around us, our infrastructure. 
That's how we came up with the concept of Healing Through the Land. We wanted to support ourselves and community members in ways we may not be able to do alone.
2. What are some of the challenges that you have navigated when creating this movement?  
There are gaps in community needs: gear, trail shoes, trail etiquette, stewardship and wellness programming. It's about education and engagement [opportunities], and tangible items and resources to empower individuals. This is how we step up what is already being done in the city through other organizations.
What I found to be a nice solution is collaboration. Collaboration through other organizations has been really helpful to have broader outreach and more capacity. I appreciate how the Circuit Trails [Coalition] is open to connecting trails and people and open to listening, learning and expanding on the needs of those actively supporting neighborhoods.
This year I'm going to be partnering with In Color Birding Club on trips, wildlife photography and providing binoculars during birding events. Collaborating and supporting the Global Thinking Initiative's Tiny Trekkers program. A healthy exploration walking program for youth 2yrs to 8yrs old and parents.
As well as developing a program with [high school] seniors in the southwestern part of the city…who are into nature, plant identification, and willing to learn and lead by example. These individuals are looking for different opportunities to empower themselves, to keep themselves busy, to earn some money and to keep learning. They get to carry this with them into other endeavors whether it's college, work or another place to volunteer. 
There was a pocket of time when there was no funding or programming for this group. I learned that July and August were quiet, so I said let's do some programming then. This summer we'll be able to give these young individuals a stipend to lead a couple of walks on the Circuit Trails, to bring their friends and to also post about what they see on the Circuit Trails. It's about that visibility and that representation and modeling.
We want to celebrate every step and engagement; Every smile that we get to enhance and to which we contribute.
3. An important goal for your organization is reclaiming nature. While deeply personal to each individual, why is this so important? 
There's a freedom that comes with connecting with nature. Connecting with nature is connecting to yourself. Connecting to yourself is connecting with nature. It's interchangeable. 
We can get down to the scientific findings–walking in green spaces, the oxygen levels from the trees after they got to do their thing overnight. Meditations. Grounding. But you have to get out there. You have to feel it. You have to try it.
Then let's dig into the cultural aspect: Just about everywhere in indigenous history there have been elements of nature—the respect, the love of it, the praise and worship of it. It's not an isolated thing, it's a connected universal body of things. It's about changing the perception of how you see the world and how you see yourself living in this world.
4. What connections are group members making outdoors, on the trails, with themselves and each other? And how do the Circuit Trails play a part in the healing journey for community members? Is there a particular story that sticks out for you that illustrates this? 
We get to see when people become inquisitive and joyfully light up about being in a new park space. There's two women that I've been able to work with who are on my Circuit Trails team this year, especially in Cobbs Creek. They talk very openly about the friendship they didn't know that they needed. They wouldn't have known each other if it wasn't for these different walking groups and the trails.
Another woman didn't "do" parks. She would walk in neighborhoods, but she didn't walk on grass or dirt trails. Now she's leading walks on dirt trails and green grass. Seeing her evolution from coming out and joining a walk to being consistent and [now] a walk leader, she was able to build some endurance and experience on her own. Now she's hiking mountains—and this was someone who just 3-4 years ago did not walk on dirt trails!
5. Recently, Healing Through the Land was granted funding for programming through the Circuit Trails Coalition Community Grant Program. Can you share what programming will be supported through this grant and why it's important to the group?
This funding supports health and wellness initiatives and the community out on the trails. We'll be busy lighting up the trails with our walk leaders, community members and families.
We want to do Park 101s, where we're talking about plant identification, trail etiquette, how to interact with wildlife, diving into the health and wellness aspects of the joy that being outside in nature brings and how to traverse these trails in different ways. We can roller skate, bike, or get out there and just sit and go birding. Some people think these are just activities or hobbies. But we want to show and embody that it's an in-depth experience that is happening for people.
These hobbies bring about a joy and a peace to individuals. And maybe you should try it or maybe come out, look, watch and hear this person's perspective.
6. How can communities support this work and join some of the activities?
Participating is one way to support. [Other ways are] sharing our information, making in-kind donations (supplies, gear, gift certificates, food), and connecting us with resources to help us learn to monetize and continue to take care of the community. 
To support Healing Through the Land's work and to participate in any of their upcoming events along portions of the Circuit Trails, visit: https://healingthroughtheland.org/.