Building Momentum: Celebrating 10 Years of Circuit Trails Progress 
Authored By: The Circuit Trails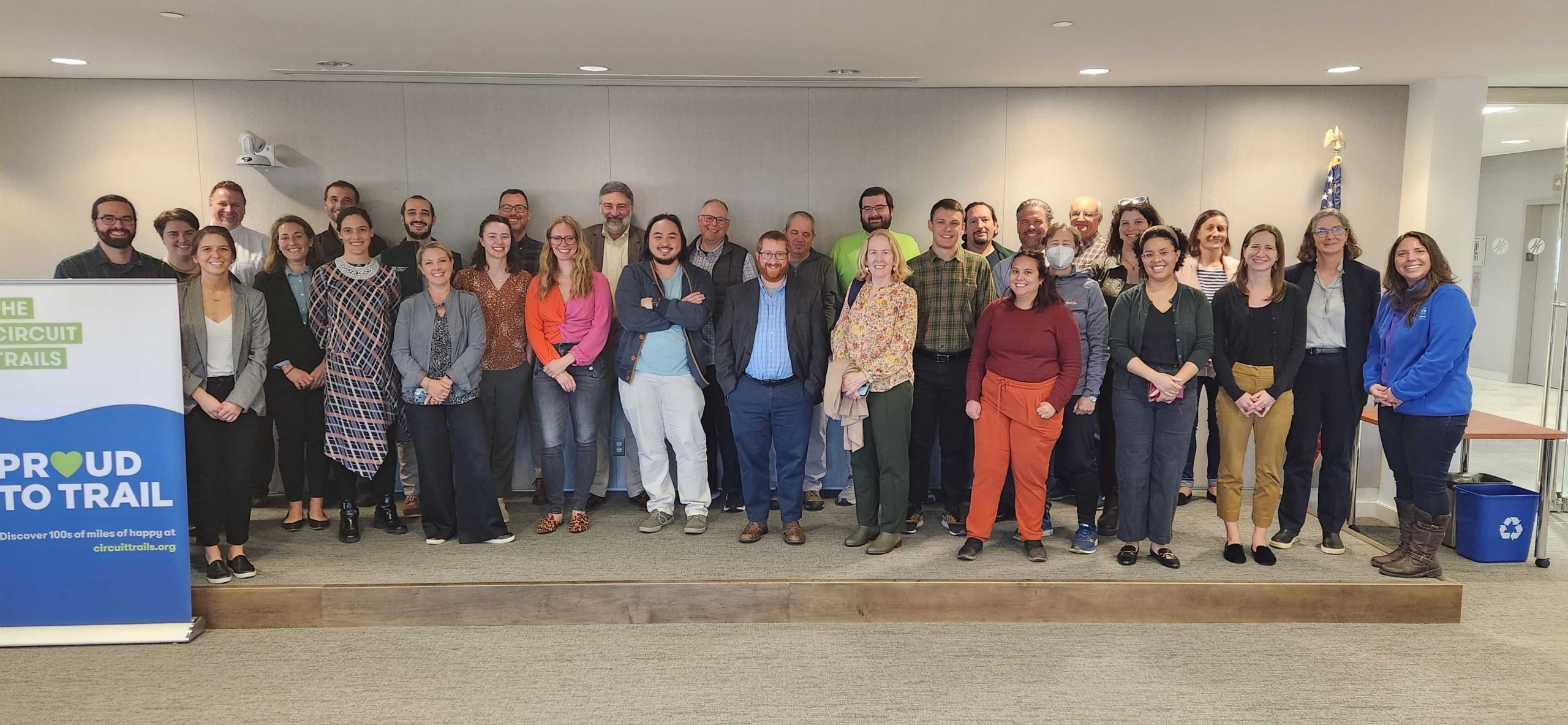 In our region, trails have been a source for recreation and relaxation for the past century, and their funding and development was often taken on by individual local groups. That is until 2012 and the creation of the Circuit Trails Coalition, a collaboration of nonprofit organizations, foundations and agencies working collaboratively to raise the profile of bicycle and pedestrian trails and their public benefits to advance the completion of a connected network of more than 800 miles of trails in Greater Philadelphia and south New Jersey. 
As a result of the work the Circuit Trails Coalition and its partners have done since 2012, the Circuit Trails network has grown by 14%—adding 124 new miles of trail, bringing the total mileage to 374. This progress was made possible thanks to the more than $240 million dollars that have been invested by a combination of state, federal, local governments and foundations to advance the development of the network over the last decade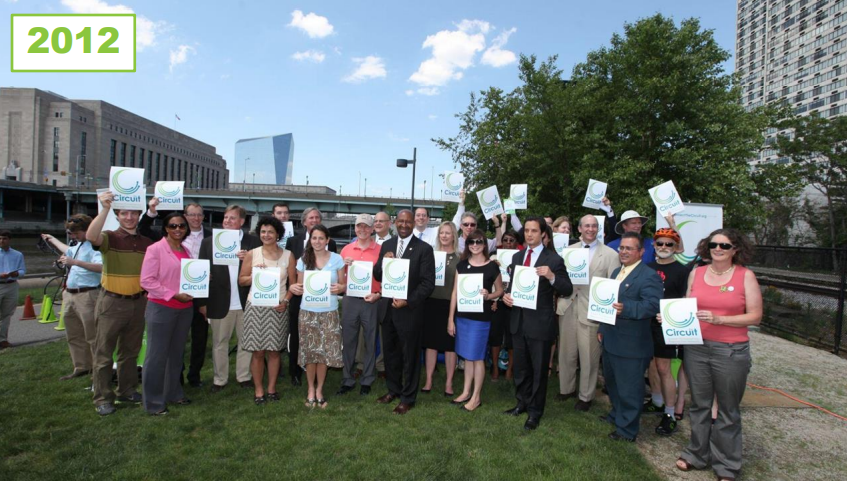 Simply put, we've been building momentum toward accomplishing our goal of completing 500 miles by 2025, and we couldn't let the year come to a close without properly highlighting the incredible work that's been done during the last decade to make that vision a reality. 
WHERE WE'VE BEEN
Much can change in 10 years, and if you've spent time on the Circuit Trails from 2012 to 2022, you've seen those changes first-hand. Since 2012, 124 new miles of trail have been added in the Greater Philadelphia and South Jersey region–including along favorites like the Schuylkill Banks Boardwalk, Batram's Mile, Sullivan's Bridge, Scudder Falls Shared-Use Path and Upper Bucks Trail.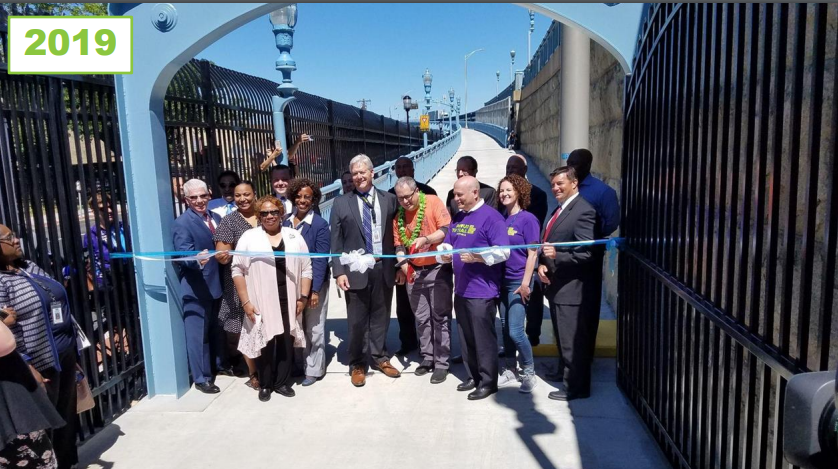 One of the most memorable moments came in 2019 with the highly-anticipated opening of the Ben Franklin Bridge South Walkway Bicycle and Pedestrian Ramp, which replaced the very non-user friendly staircase that was a deterrent to cyclists and pedestrians traveling to and from the New Jersey side of the bridge.
Additional miles were added to the Circuit Trails network with the development of four parks featuring new trails in Camden: Cooper's Poynt Waterfront Park in 2017, RCA Pier and Gateway Park in 2019, and Cramer Hill Waterfront Park in 2021.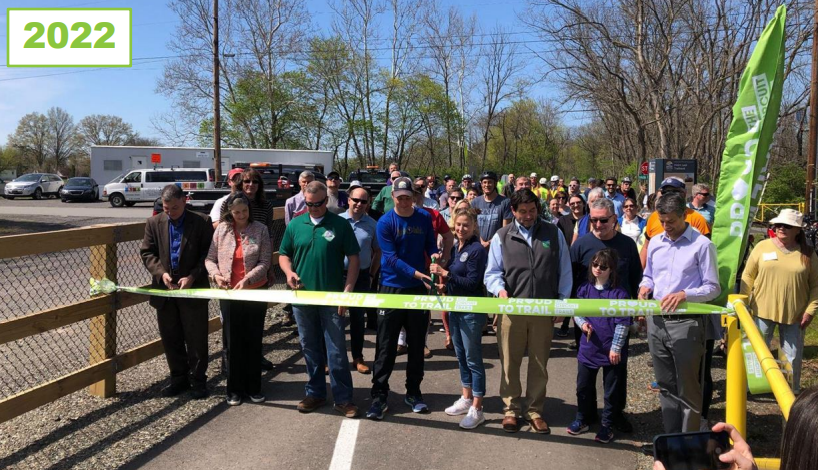 In 2022, we saw the opening of the Arney's Mount Trail, the Rancocas Greenway Trail, the final segment of the Schuylkill River Trail in Chester County, two segments of the Delaware River Heritage Trail, segment D of the Cobbs Creek Trail, and new segments of the Darby Creek Trail. 
These exciting additions, along with the many others that would be too long to list in entirety, bring the total miles within the Circuit Trails network to 374 miles, that's more than 70 miles longer than the entire distance of Pennsylvania from east to west.
Beyond construction-based progress, the Circuit Trails Coalition has reached other critical milestones. Some have been legislative successes, such as getting 100 townships, counties and municipalities to adopt our resolution in support of our goal to build 500 miles of trails in the region by 2025.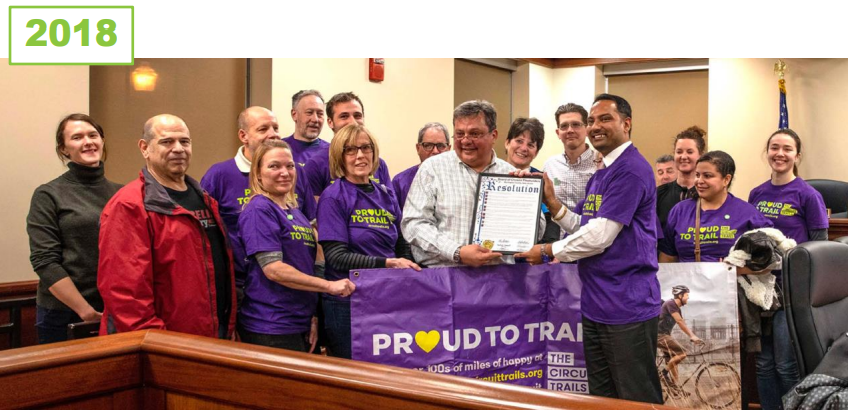 While others have been major funding wins, such as securing $12 million in federal funding to help pay for the completion of Philadelphia's portion of the Schuylkill River Trail in 2018. In May of 2022, the Camden County Commissioners allocated $10 million for the development of the Camden LINK trail. Then in August, funding was finalized for the design of the Spring Garden Street Greenway, which will connect the Delaware River Trail and the Schuylkill River Trail with the support of $2.1 million from the William Penn Foundation, $1.4 million from the City of Philadelphia, $500,000 from PennDOT, and $1 million from the Pennsylvania Department of Conservation and Natural Resources.
And a few highlights have been centered around  fun and creating experiences that welcomed everyone to the trail! These moments included hosting community celebrations with WDAS radio station on trails; lifting up the stories of trail users; challenging trail users to complete a trails-based scavenger hunt; and even developing unique water ice offerings that represent the flavor of two communities within the Circuit Trails, in partnership with PlanPhilly, Little Baby's Ice Cream and Circuit Trails Coalition members Tookany/Tacony-Frankford Watershed Partnership and Bartram's Garden.
WHERE WE'RE GOING
We've accomplished so much in these past 10 years, but there's still more to come! In 2016, we set the goal to complete 500 miles of trails #OnTheCircuit by 2025, and now, there's a realistic path to achieving our vision, but not without support from funders, local officials, policymakers and of course, our community of trail users.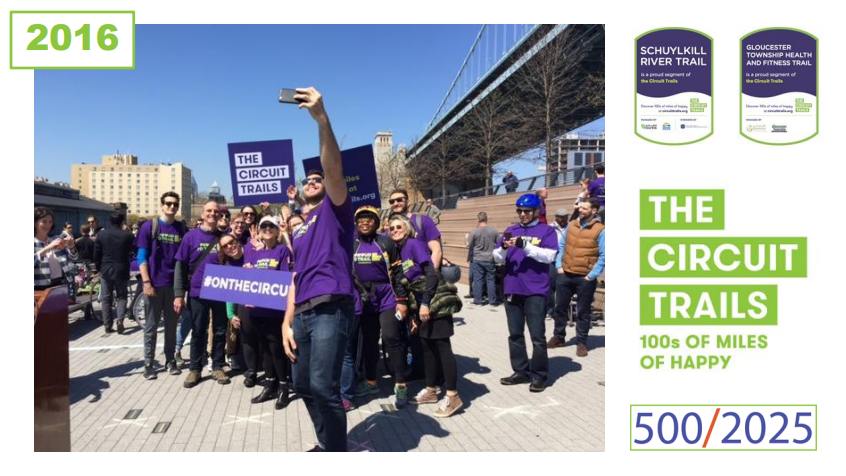 Currently, there are 68 miles of trail in-progress being designed and constructed, which means they have secured all the necessary funding and legal barriers to move forward. Additionally, there are 119 miles of trail in the pipeline that require additional support to proceed. DVRPC, local governments and nonprofit organizations are actively working to advance these trail projects by conducting studies, acquiring rights-of-way, engaging local communities, and laying the groundwork to obtain funding for future design and construction.
The progress the Circuit Trails Coalition has made would not be possible without your support. Here are some ways you can get involved and help the Circuit Trails reach its goal to complete 500 miles by 2025! 
– Become a Circuit Citizen: Join a dedicated group of trail advocates in your county to help move along priority projects close to home. 
– Sign up for monthly Circuit Trails emails: Get details on the progress and events happening #OnTheCircuit each month. 
– Share on social media: Showcase how you enjoy spending time on the Circuit Trails with photos and videos posted to Facebook, Instagram, Twitter and TikTok. Don't forget to tag the Circuit Trails and use the hashtag #OnTheCircuit so we can cheer on your adventures. 
The new year is already looking bright for the Circuit Trails with new trail segments entering construction phases and others nearly ready to open. Two exciting projects slated to open in 2023 are the Chester Valley Trail extension and the highly-anticipated Schuylkill Crossing, which will provide a vital link to connect Grays Ferry Crescent and Bartram's Mile. So, stay tuned for more details about upcoming openings on the Circuit Trails! 
We look forward to seeing you out #OnTheCircuit in 2023 and beyond!