Celebrate National Bike Month
Authored By: The Circuit Trails | May 1, 2020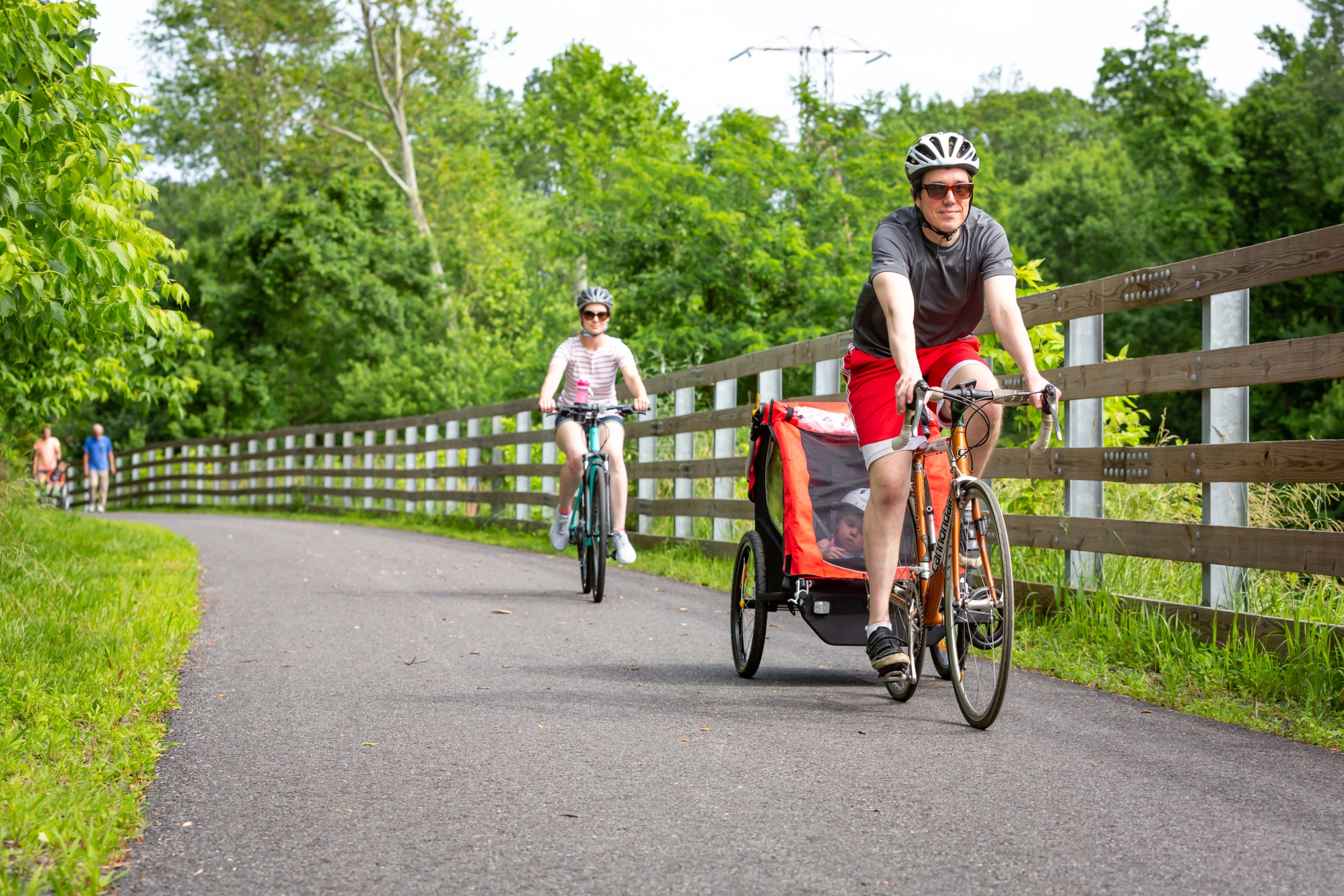 May is National Bike Month! In a time when biking has increasingly become an essential part of many people's lives as a form of transportation, recreation and reprieve, the 2020 Bike Month has shifted its focus to well-being and connection as it highlights how #BikesUnite and benefit physical and mental health. This boom in biking for wellness and getting around is particularly evident in the Greater Philadelphia area, where there's been a jump in trail use. Using data from a handful of the Delaware Valley Regional Planning Commission's automated counters along the trails on the Circuit, The Bicycle Coalition reported that bike use on Kelly Drive was up 471% from March 1 to March 18, 2020, as compared to that same timeframe in 2019.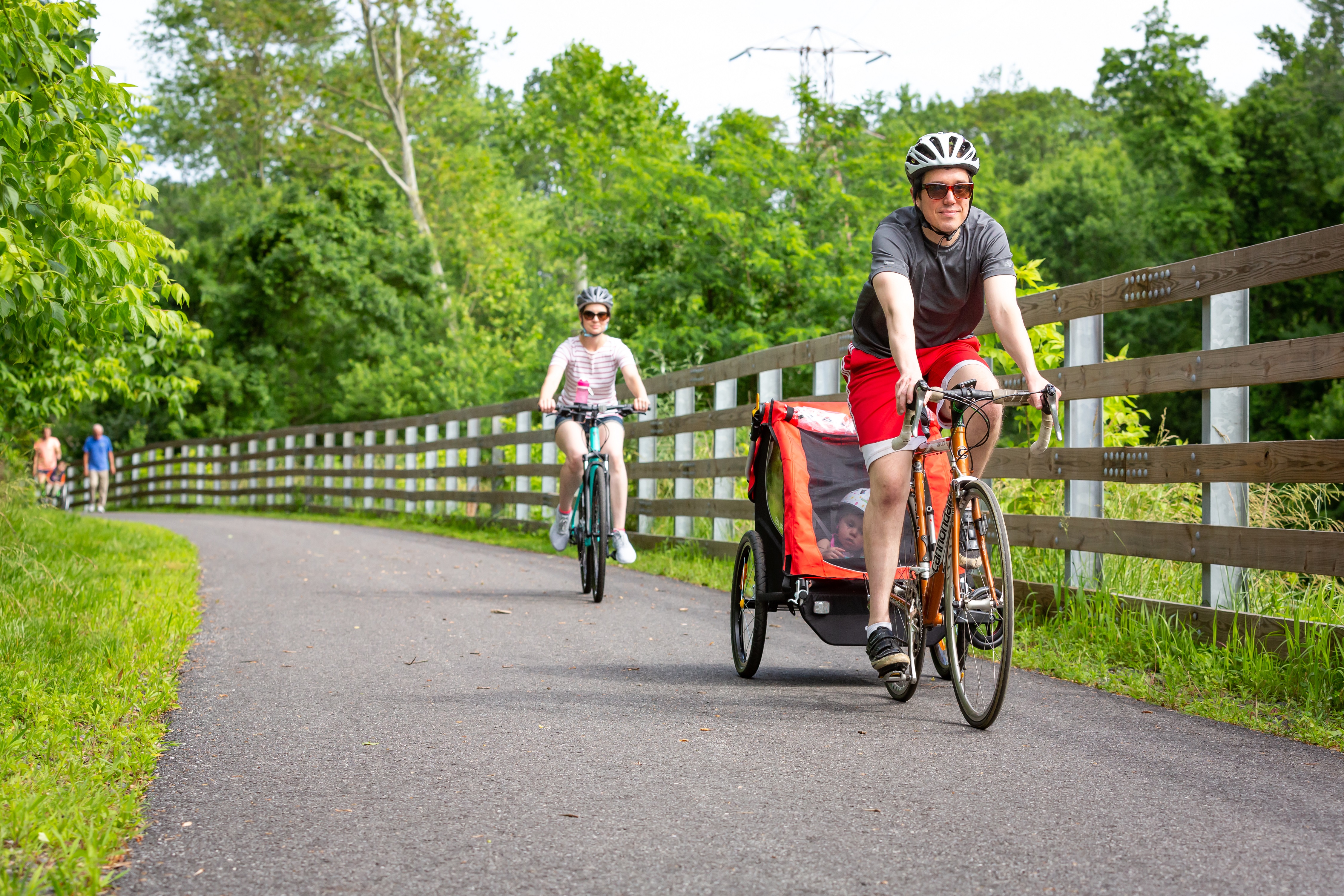 Photo by Thom Carroll
As we celebrate National Bike Month and the many benefits of biking this year, here are a few ways to ride the wave of increased enthusiasm for bicycling #OnTheCircuit while staying safe.
It's crucial to continue to follow the social distancing guideline set by the CDC and our local governments—luckily for us, biking is a great solo activity! Whether you ride at home on a stationary bike, around your neighborhood, or if you're able to access a nearby Circuit trail, consider setting aside some time this month to go biking. If you're planning to take your ride outside, before you go, check out these quick tips for how to ride a bicycle safely and responsibly during COVID-19 and remember to keep your distance, bring along a cloth face covering and practice proper trail etiquette to protect yourself and others.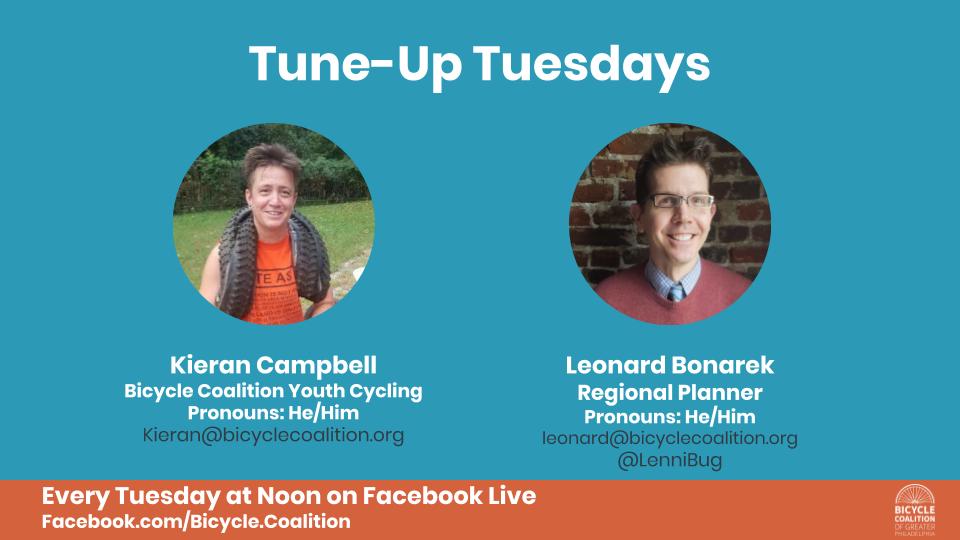 Photo courtesy of the Bicycle Coalition of Greater Philadelphia
In response to changes in our environment due to COVID-19, our friends at the Bicycle Coalition of Greater Philadelphia released a survey for essential workers, asking what else the Bicycle Coalition could be doing to help them during this time. The Bicycle Coalition learned that some people could use some refreshers on basic bike maintenance, such as fixing flats, adjusting their brakes, etc., so they created Tune-Up Tuesdays. Bicycle Coalition Youth Cycling Coordinator Kieran Campbell and Bicycle Coalition Regional Planner Leonard Bonarek will take to Facebook Live and teach a quick lesson, then take questions from viewers. New episodes are slated for May 5, 12, and 19.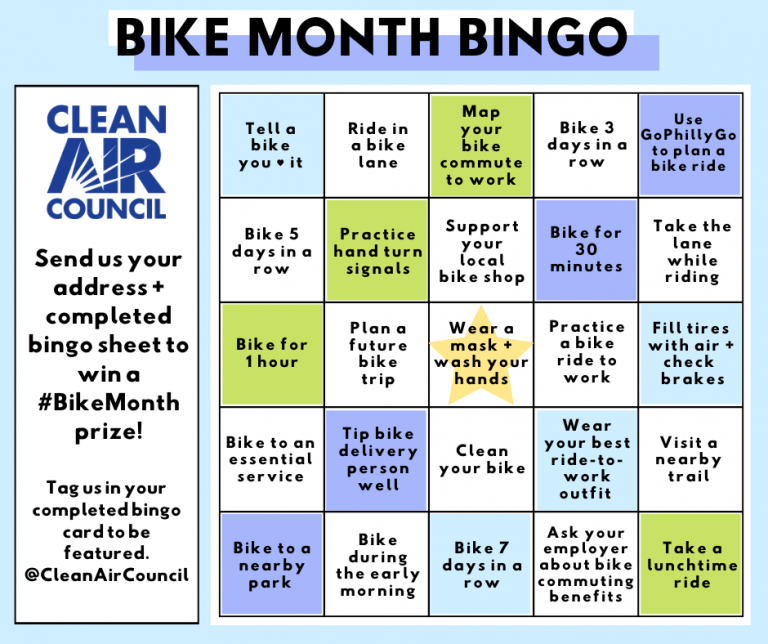 Photo courtesy of the Clean Air Council
The Clean Air Council is keeping spirits high with Bike Month Bingo! During May, see how many of the items you can complete on their special bingo board. Post your completed bingo card by the end of the month to win prizes! Tag @CleanAirCouncil on Facebook, Twitter or Instagram to participate in the challenge.
Encourage yourself or challenge your friends online to reach new riding goals through the National Bike Challenge! Starting May 1 and rolling into September, you'll have the opportunity to put in miles for the chance to win great prizes (and bragging rights amongst your friends and family, too!). Register to ride here.
And in case you missed it, the popular Bike to Work Week and Bike to Work Day have been rescheduled; Bike to Work Week is now expected to take place Sept. 21-27 and Bike to Work Day is planned for Tuesday, September 22! So, mark your calendars now and continue to check back for updates.
Don't forget to share your rides with us! Show us how you are riding the trails safely by sharing your trips with us on social media and using the hashtag #OnTheCircuit.
Please note: As the COVID-19 situation continues to evolve locally, if you are planning to visit a trail, we recommend that you take precautions by doing the following:
• Seek out and follow the Centers for Disease Control and Prevention's (CDC's) most current public health and safety guidance: https://bit.ly/cTcdcRe
• Refer to the guidance provided by your local/state government for more specific information about your community.
• Come prepared with a cloth face covering
• Stick to a trail near you and check with the local trail management organization to confirm the status of trail facilities. While many trails remain open, it is important to confirm before you head out. You can find a trail near you and contact information for your local trail management group using TrailLink.com.
• Be prepared that some trails may have limited services, including closed facilities such as bathrooms, depots and visitor centers, and limited or no staff.