Celebrations and Success: A Year in Review #OnTheCircuit
Authored By: Circuit Trails Coalition | December 20, 2021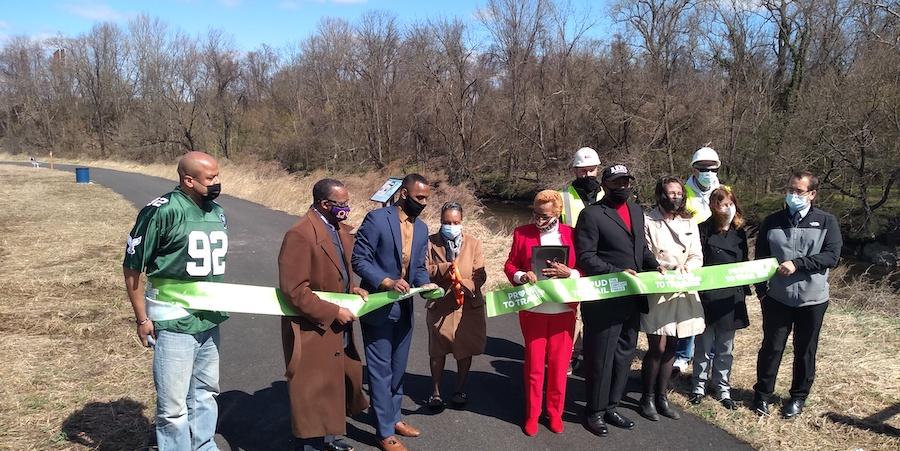 It's hard to believe that another year is coming to a close.  And while 2021 included changes and challenges, we had much to be thankful for and celebrate this year #OnTheCircuit.
This year, we continued to focus on making the Circuit Trails bigger and better by growing the network, increasing access and enhancing the trail experience for everyone. This year, trails were improved, bicycle and pedestrian facilities were repaired and upgraded, great programming took place, and more mileage was added #OnTheCircuit—increasing the total to approximately 360 completed miles, and bringing us closer to reaching our short-term goal of 500 miles by 2025!
Relive the highlights from this exciting year with our recap of accomplishments and celebrations from 2021.
We started the year off strong hosting a series of Circuit Trails Action Team Meetings.
In the beginning of 2021, we picked up right where we left off at the end of 2020: hosting Circuit Trails Action Team Meetings for each county in the Circuit's nine-county region. At these meetings, community members got the opportunity to meet and discuss how they can play a role in moving priority Circuit Trails' projects forward in their neighborhoods.
If you missed the meetings, don't worry, you can still get involved! Check out your county's section of the Get Involved page on our website to learn about the projects happening in your area. Also, if you want to stay up to date on advocacy actions you can do, make sure to become a Circuit Citizen. Learn more and sign up here.
Trail development got underway on two extensions of popular trails.
In May, we broke ground on an extension of the Schuylkill River Trail in Chester County. The extension includes a 4-mile paved trail that will connect the existing trail from Linfield Road at Schuylkill Road in East Coventry Township to the new Route 422 Bridge crossing of the Schuylkill River at the border of Montgomery County.
And then, in September, a groundbreaking ceremony was held for the 3.8-mile extension of the Chester Valley Trail. When complete, the extension will link the existing 14.5-mile portion of the Chester Valley Trail, which currently runs from Exton to King of Prussia, to the Schuylkill River Trail in Norristown.
We had a summer of fun with #MyCircuitTrails Summer Celebrations.
Getting outside and out in the community is always exciting, but this year, we were thrilled to have WDAS join us in filling the trails with music and cool treats to help beat the summer heat! Our #MyCircuitTrails Summer Celebrations series started in June along the Schuylkill River Trail in Norristown, then in July we spent time at Cooper's Poynt Park, and in August we finished our celebrations along Cobbs Creek Trail.
As a part of our #MyCircuitTrails initiative, we also met trail enthusiasts around the region to hear why they love the Circuit Trails. You can check out their stories and get more trail resources here.
And exciting progress was made as we celebrated five ribbon-cuttings this year!
New trails are always a highlight, and this year, we were thrilled to officially open four new trail segments and a new waterfront park. In March, we were thrilled to celebrate the opening of the Levee Trail, which is a 1,900-foot asphalt paved trail segment of the Chester Creek Trail in Chester, Pennsylvania.
Then in July, Burlington County held a ribbon-cutting for the highly anticipated 5.5-mile segment of the Delaware River Heritage Trail from Fieldsboro near Route 130 and Burlington-Bordentown Road to and through Crystal Lake Park in Mansfield and on to Roebling. This trail now allows trail users to pass safely under Route 130 and experience the beautiful scenery in the process.
And just recently in November, we celebrated a string of openings, starting with the Schuylkill River Trail extension and Cramer Hill Waterfront Park happening simultaneously on Nov. 6. The Schuylkill River Trail extension adds 1,800 feet to the existing trail to extend from Bartram's Garden in Southwest Philadelphia to 61st Street. This project is the first phase of a larger trail extension project that will eventually extend to Passyunk Avenue and a planned riverfront park near the Passyunk Avenue Bridge. The new Cramer Hill Waterfront Park sits atop the former site of an 86-acre landfill. Now officially opened, the park offers visitors sweeping panoramic views of the Delaware River, Petty's Island, the Benjamin Franklin Bridge and Philadelphia from the park's summit vista, trail paths, an amphitheater, fishing plaza, kayak launch, picnic area, playground, sensory garden and shoreline observation areas.
Rounding out the month of ribbon-cuttings was the completion of another highly anticipated trail, the Scudder Falls Shared-Use Path. The new 10-foot-wide bridge pathway and connector ramps directly link the popular passive-recreation towpaths along Pennsylvania's 165-mile Delaware & Lehigh Trail (or the D&L) and New Jersey's 69-mile Delaware & Raritan Canal State Park Trail. The shared-use facility makes Scudder Falls the first river crossing in the Delaware River Joint Toll Bridge Commission's 20-bridge system where bicyclists can pedal across without dismounting.
These highlights are just a handful of the many memorable moments that happened #OnTheCircuit in 2021, and we know that there are so many more wonderful things to come. Thank you all for your support in helping us build out our more than 800-mile planned trail network. Here's to building upon this year's progress in 2022 and beyond!