Circuit Spotlight: Stuart Leon, Bicycle Crash Law Expert
Authored By: The Circuit Trails | March 11, 2016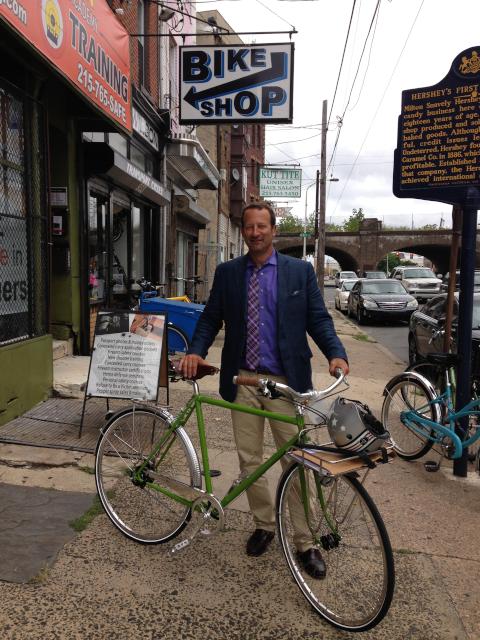 Suart Leon
When it comes to defending cyclists around the Greater Philadelphia region, Stuart Leon is the go-to guy. Stuart has been in bicycle crash law for nearly 30 years and works exclusively for bicyclists. When he's not in the court room defending his clients, you can find him cycling on the Schuylkill River Trail with his wife and daughter. Here's what Stuart had to say about his involvement with the Circuit Trails and bicycle safety:
Can you describe your connection to the Circuit Trails?
I've been riding from the Art Museum to Manayunk and Conshohocken since the late 1980's. I first learned about the Circuit trails through the Bicycle Coalition of Greater Philadelphia and have been a fan ever since!
What is your favorite trail?
I was overjoyed when the Schuylkill River Trail opened from Locust Street in Center City connecting me directly to Kelly Drive. I use that trail recreationally and for commuting every week – that's probably my favorite. I value the safe and easy access to the trail at Kelly Drive instead of working my way over to and up the Benjamin Franklin Parkway on the streets.
Are you a part of any cyclist groups?
I belong to the Philadelphia Bicycle Messenger Association. I attended the Manayunk Bridge opening with my cyclist group and am looking forward to the exciting kick-off event on April 15!
Can you discuss primary threats to bicycle safety?
As a lawyer working only for bicycle accident and crash victims, I see the worst case scenarios. The primary threats to a bicyclist's safety are the following:
Distracted Drivers – Drivers are often distracted by their smart phones, using social media and texting, meaning they only give half their attention to the road and what is going on around them. When drivers are distracted, they can hit bicyclists in bike lanes and often don't even know how or why it happened.
In-Road Obstacles – Slippery trolley tracks and deteriorated street surface also cause a lot of accidents. The trolley tracks coming in and out of South Philadelphia have been abandoned since 1993 and have caused several incidents for my clients. The Circuit Trails provide a reprieve from these threats, protecting riders from distracted drivers and obstacles in the road.
Where does your passion for the Circuit stem from?
I love the Circuit Trails because they are designed for the commuter and provide a safe path to many parts of the city and suburbs.
For more information about Stuart Leon and his Bicycle Crash practice, read the Bicycle Coalition Blog or check out his website.