Circuit Spotlight: Trailblazing with Katie Monroe
Authored By: The Circuit Trails | May 5, 2016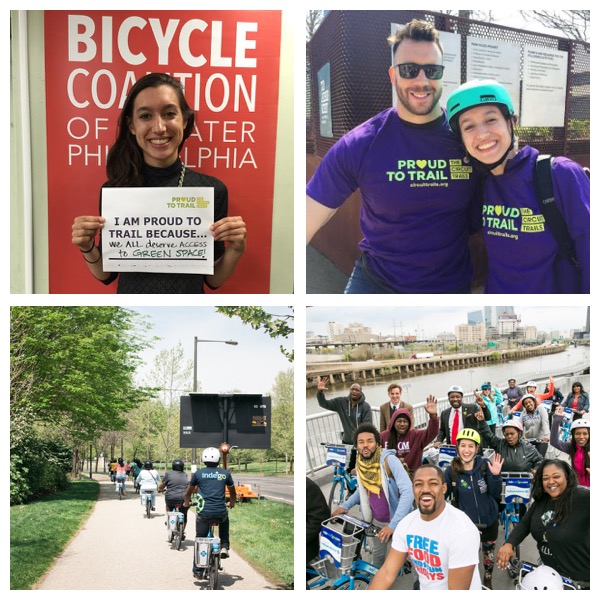 An avid cyclist. A community organizer. A proud user of the Circuit Trails. As the current Bike Share Outreach Manager for the Bicycle Coalition of Greater Philadelphia (BCGP), Katie Monroe has a hand in the growth of cycling in the Greater Philadelphia Region.
In 2013, Katie founded the Women Bike PHL, a growing community of women bicyclists in Philadelphia. And she hasn't stopped there! As the manager of the Better Bike Share outreach program, she also works with Indego to promote cycling in underserved, urban communities around Philadelphia.
Recently, Katie led a group of cyclists as part of the Circuit Trails press conference to unveil the new Proud to Trail campaign for the region's trail network. We spoke with Katie to get her thoughts on the ongoing efforts to promote cycling in the Greater Philadelphia Region and why she is Proud to Trail.
How did you get involved with the BCPG? Can you discuss your current role with the Women Bike PHL and Better Bike Share outreach programs?
I've been at the BCGP for almost four years, working on issues of equity and inclusion in the bike community, and always trying to get more folks on bikes. I founded the Women Bike PHL program to inspire more women to ride bikes and build community among those who do; we have a very active Facebook group and run rides, classes and community events. In my role with Better Bike Share, I manage an education team that runs a community ambassador program, leads rides, and teaches classes to help people connect with Indego as a resource for recreation and transportation.
What do you believe has caused the large gender gap in cycling, specifically in the Greater Philadelphia Region? How does your work with Women Bike PHL help address these barriers?
Only one third of cyclists in Philadelphia are women. Women are diverse, so I find there's not just one answer. A few factors we have seen that contribute to the gender gap are that women disproportionately have childcare and errand responsibilities that make bike transportation trickier, concerns about safety while riding, and ongoing issues of male-dominated biking communities that aren't always welcoming to women.
In addition to working on building a better and safer biking infrastructure, I believe that building community and support among women who ride is an important strategy. That way, when you're faced with a barrier – Where's the safest place to ride? How do you deal with harassment? What is the deal with pencil skirts and biking? – you have people who can help you out.
Can you talk about your role in the recent Circuit Trails launch event and what the experience was like for you?
I was honored to be able to help recruit cyclists from the Women Bike PHL community to come out and ride over the Ben Franklin Bridge as part of the launch. I was so happy to see such a huge group show up! (Having Connor Barwin didn't hurt!) We have a lot of people in our group who use the Circuit Trails frequently, but don't necessarily understand all the hard work going into expanding the network. We need the people who appreciate the trails to be citizen advocates helping to expand them!
The Better Bike Share partnership seeks to engage with underserved communities. What long-term effects do you think access to bikes and safe bicycling infrastructure will have on urban communities?
I am excited to see that the expansion of the Indego bike share system this spring focuses on connecting neighborhoods to parks and waterways, thanks to the support of the William Penn Foundation, who are also critical supporters of the Circuit Trails – it all connects! As we see more Indego stations along the East and West sides of Fairmount Park, at Penn Treaty Park, and other locations, I think we will see those green spaces become more accessible to communities who live nearby. More access to biking and green spaces leads to happier, healthier communities for everyone.
The Circuit Trails currently features 300+ miles of trails in the expanding network. Do you have a favorite? What trails currently being developed are you most excited to ride?
I used to live in South Philly and really loved visiting Gray's Ferry Crescent Park once I realized it was tucked away there under the Gray's Ferry Bridge! I think that's one of my favorite hidden gems. I am very excited to one day see the connection between Gray's Ferry Crescent and the Boardwalk, so that South and Southwest Philadelphians have safer, easier access to the Schuylkill River Trail.
I understand your bike is named Helena. Tell us more…
The bike that I have ridden for my whole adult life, all around Philadelphia and beyond, is a green Trek hybrid decked out with a basket, fancy fenders, and a comfy seat. I inherited this bike from my grandmother, Helen, who loved to ride! It is an honor to take her bicycle on so many adventures!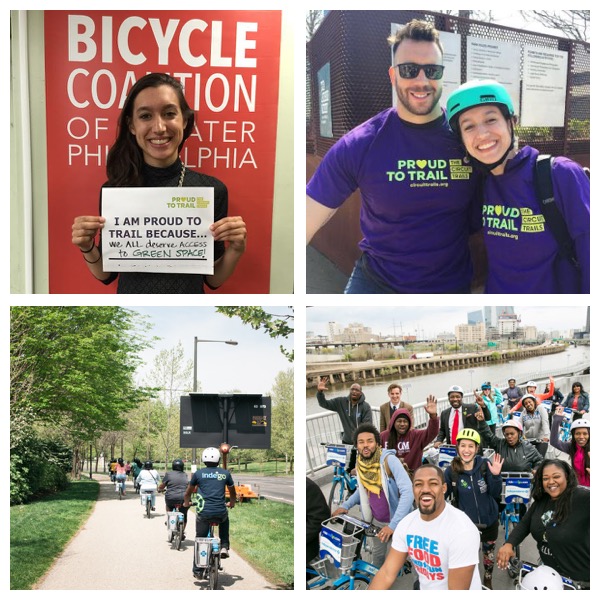 Photo Credit: Image 1 & 2 Katie Monroe; Image 3 Darren Burton. "A Better Bike Share ride on the Schuylkill River Trail, 2016;" Image 4 Lora Reehling. "A group celebrating the launch of Indego on the Schuylkill Boardwalk, 2015" – that's me in the yellow helmet in the middle!