Circuit Trails 2020 Year in Review
Authored By: The Circuit Trails | December 23, 2020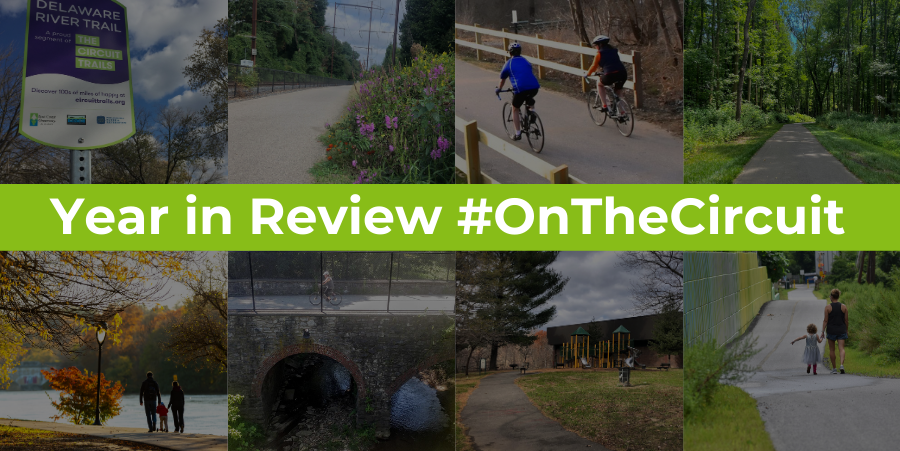 2020 is nearly over, and it's safe to say that this year was like no other.
Each year, one of our main focuses is to grow the Circuit Trails network with the addition of new trails. And throughout the year, we reaffirmed our commitment to completing 500 miles of trails by 2025. In 2020, 12.95 new miles #OnTheCircuit were added and 5.6 miles were improved, increasing our total of completed miles to 353.4 miles.
While we can't recap everything that happened this year, take a walk down memory lane with us to see some of the great moments we experienced each month this year #OnTheCircuit.
In January, we released the 500 Miles by 2025 Action Plan.
We've got big plans for the future of the Circuit Trails network, and to make those plans a reality, we have released an action plan that will guide us to reaching our goal of completing 500 miles of trail #onthecircuit by 2025. Read the action plan now.
In February, the Penn Treaty Park portion of the Delaware River Trail and Adams Avenue Connector of the Frankford Creek Greenway were completed.
These two new Philadelphia trail segments increased connectivity #OnTheCircuit. The Delaware River Trail now connects Penn Treaty Park south to the waterfront trail behind the Rivers Casino (formerly SugarHouse) and continues south to the Penn Street Trail that goes to Delaware Avenue down to the intersection with Spring Garden Street. The Frankford Creek Greenway's Adams Avenue Connector runs parallel to a brand new road both built by PennDOT as part of the I-95 reconstruction and includes new tree plantings along the banks of a previously hidden portion of the Frankford Creek between Torresdale Ave and Arramingo Ave. Read more about these additions here.
In March, MLK Jr. Drive closed to vehicles expanding the recreational area for the growing number of trail users.
As the pandemic began to cause local business shutdowns, trail activity surged. To help large crowds find more open space, the Bicycle Coalition of Greater Philadelphia petitioned the city to close Martin Luther King, Jr. Drive to motor vehicle traffic during the pandemic, and they did. Since then, more than 5,000 pedestrians on average have used MLK Jr. Drive on a daily basis, according to data provided by the city's Office of Transportation, Infrastructure, and Sustainability. The road will remain closed to vehicles until spring 2021. Read more about the closure from PhillyVoice here.
In April, the Circuit Trails embraced virtual activities including transitioning Opening Day for Trails into an online event.
On Saturday, April 18, Rails-to-Trails Conservancy (RTC) hosted "Celebrate Trails @Home"—an all-virtual national celebration of trails! Held on the same day we would have gathered to celebrate Opening Day for Trails in-person, this 2020 home-based celebration brought together voices from the trails movement to share stories of hope, examples of community resilience in response to the COVID-19 pandemic and appreciation for trails everywhere. Relive the exciting event here.
In May, we rode through national bike month.
In a time when biking has increasingly become an essential part of many people's lives as a form of transportation, recreation and reprieve, the 2020 Bike Month shifted its focus to well-being and connection highlighting how #BikesUnite and benefit physical and mental health. Check out Bike Month video tips from the Bicycle Coalition of Greater Philadelphia here.
In June, we celebrated our gratitude for the trails and those who play a part in supporting, funding, maintaining and advancing progress #OnTheCircuit.
With so much to be grateful for this year, we wanted to express our gratitude and give trail users a way to do so, too! Circuit Trails fans shared notes of gratitude on social media and sent letters of thanks to their local representatives. Find out how you can share your gratitude here.
In July, we cut the ribbon on the Stony Brook pedestrian bridge along the Lawrence Hopewell Trail.
The new Stony Brook pedestrian bridge at Mercer Meadows, a 500-foot bridge that is part of Lawrence Hopewell Trail segment 14, provides safe access from Pennington Borough and Hopewell Township to the 1,600-acre county park. Watch the virtual opening here.
In August, we heard stories from people who used the trails to find peace during the pandemic and beyond.
We chatted with Sheri, a Chester County local cyclist, who uses her rides on the trails as solace for her grief before and during the pandemic. Learn more about why Sheri is thankful for trails here.
Graphics courtesy of TrailOff App
In September, the TrailOff launched.
TrailOff is a free app that offers GPS-activated audio storytelling along 10 Circuit Trails. A collaboration from Swim Pony, the Pennsylvania Environmental Council and app developer Toasterlab, TrailOff features local authors who bring new and diverse perspectives to trails in the Philadelphia region. Each story is written specifically for a trail on the Circuit Trails network, evoking a conversation between the external landscape and the internal sonic world. Learn more about TrailOff here.
In October, we rallied for the Circuit Trails on Facebook Live.
We have our sights set on completing more than 800 miles of regional multi-use trails by 2040, and to help us get there, Circuit Trail leadership rallied trail users on Facebook Live to discuss how we can make our goals a reality. Once complete, the Circuit Trails will be a trail network unlike any other in the country — connecting the urban, suburban and rural communities of one of the largest metropolitan regions in the U.S. Watch the Facebook Live rally here.
In November, we celebrated the opening of the Upper Bucks Rail Trail.
The new 3.2 mile Upper Bucks Rail Trail connects to the Saucon Rail Trail and features an 800-foot-long boardwalk at its end to cross wetlands. The trail is also part of the PA Highlands Trail and connects 7 municipalities. Read more about this exciting addition to the Circuit Trails network here.
In December, we laid the groundwork for what's to come next year #OnTheCircuit.
We wrapped up the year by finishing out a few Circuit Trails Action Team Meet-ups for Chester, Philadelphia, Mercer and Delaware counties to learn more about upcoming projects that will help us reach our goal of 500 miles #OnTheCircuit by 2025. Additionally, we highlighted opportunities to give feedback on upcoming trail projects in 2021 such as the Spring Garden Street Greenway Improvements and the Ben Franklin Bridge East Bound Access.
While this year didn't happen exactly as we would have hoped, we still managed to make major strides in development of the Circuit Trails network, and we can't wait to make more memories #OnTheCircuit in 2021. Here's to more groundbreakings, more funding and many more miles to come #OnTheCircuit. Don't miss a moment of excitement in 2021 – make sure you're following us on Facebook, Twitter and Instagram to see all the great happenings along the trails next year!