The Circuit Trails Coalition Stands Against Racism
Authored By: The Circuit Trails | June 10, 2020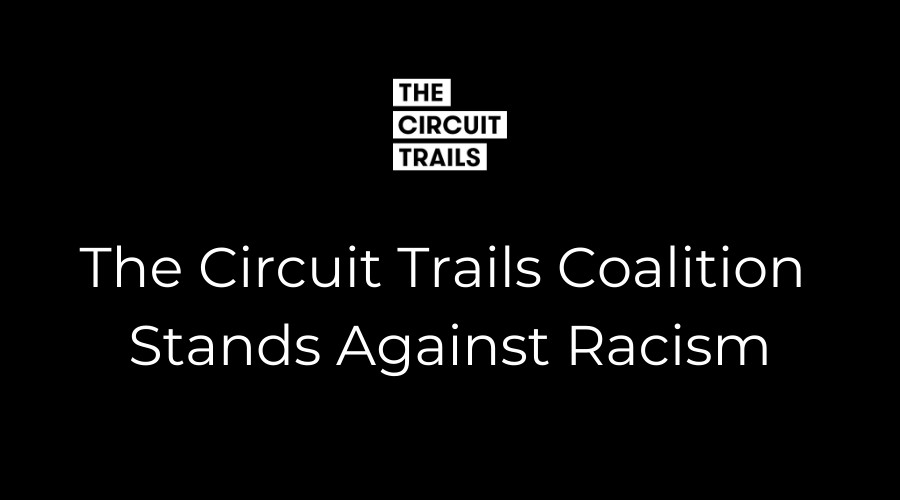 As one of America's largest metropolitan trail networks, the Circuit Trails connects local communities to one another and to the outdoors. Our Coalition believes that everyone should be able to safely access our regional trails. However, we have a long way to go before that becomes the reality. It is painfully clear that black and brown people are not free to use trails without fear of violence, profiling, and discrimination. The outdoors will not truly be safe for all until everyone can explore it safely.
The Circuit Trails is committed to creating inclusive public spaces and taking a stand against racism. We are committed to learning from and supporting the important work that is already being done in each community to end racism and anti-blackness in all forms. We have published the Inclusionary Trail Planning Toolkit to guide Coalition members as they create inclusive processes for trail building and programming. Last year, the Circuit Trails established a task force to make changes to our Coalition and provide resources to our members to dismantle racism in our organizations. Read our statement of purpose, goals and deliverables here.
We call on all members of the Circuit Trails community—trail users and trail managers alike—to come together to expand the definition of "share the trail" as a call-to-action in support of building equitable, inclusive public spaces. We all have a role to play in standing against racism and making sure everyone feels welcome and safe on the trail.
Join us as we work to further diversify and strengthen our own Circuit Trails Coalition by building genuine, long-lasting relationships with partners throughout the region to advocate for greater equity in the outdoors in support of #BlackLivesMatter. We encourage you to support these Black-owned businesses and donate to these organizations working to diversify parks and trails in the region.