Circuit Trails First Interchange in the Making: Connecting the Chester Valley Trail to the SRT
Authored By: The Circuit Trails | August 1, 2019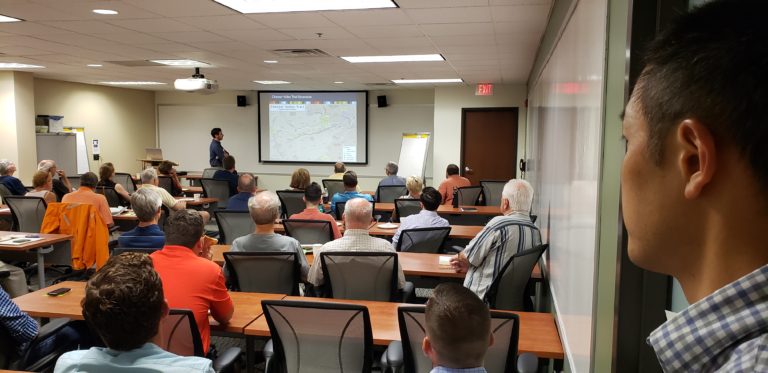 This blog was originally posted on the Bicycle Coalition of Greater Philadlephia's blog in July.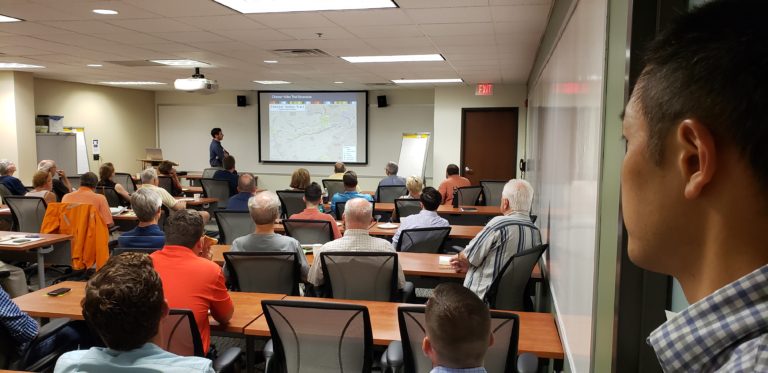 BCGP Board Chair Ed Chang looks on as Montgomery County Planner Henry Stroud highlights future Chester Valley Trail / Schuylkill River Trail connectivity.
On Thursday evening, Bicycle Coalition staff brought together advocates and planners to discuss the progress Montgomery County is making towards building the Chester Valley Trail (CVT) Extension, which will finally connect two of the Circuit "trunk trails," the CVT and the Schuylkill River Trail (SRT).
The event, hosted by our partners at Main Line Health in Radnor, drew a crowd of over 50 people, including engineers, planners from three county planning agencies, local diehard bike advocates, and curious newcomers.
Henry Stroud, Section Chief for Trails and Open Space Planning at Montgomery County Planning Commission, was our featured speaker. Henry went into fine detail on the project, which will link the CVT to the SRT in via Upper Merion Township and Bridgeport Borough.
The #1 and #2 most used trails in the Greater Philadelphia region will be united in Norristown on the site of a trailhead building that is currently undergoing extensive renovations and landscaping to make it a real community hub for active lifestyles. Construction of the trail is expected to begin in 2020 and most likely will take up to two years to complete.
This 3.8 mile section of the CVT is considered to be "in progress" as a Circuit Trails segment and will make a significant contribution to meeting the 500 mile by 2025 campaign goal.
We are very excited about the prospect of this segment joining the two Circuit trunk trails, and to judge by the turnout, we're not alone. If you missed the action but want to catch the info, Henry's presentation can be downloaded here.