Five Ways to Celebrate Love #OnTheCircuit this Valentines Day
Authored By: The Circuit Trails | February 12, 2020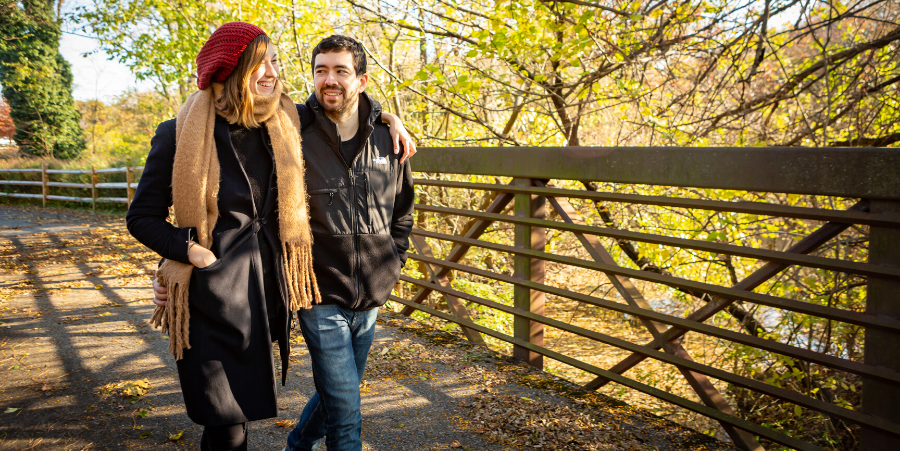 Don't you just love love? We sure do! That's why we've created a guide to help you celebrate your love #onthecircuit this Valentine's Day. Just call us Cupid, and let our trails point you on the path to lean into love with that special somebody this year. Whether you want to stroll with your sweetie or take a bike ride with your babe, we've got a plan for you!
For the Flirty Foodies
Don't have a restaurant reservation for Valentine's Day yet? Don't panic – pack up some of your favorite sweet treats and hit the trails with your honey bun for a private picnic #onthecircuit. Stroll hand in hand down one of your favorite trails or explore a new path together – like the Chester Creek Trail in Delaware County. Unfurl your blanket and settle in before the sun starts to set. Dinner with a view? How romantic!
For the Social Media Sweethearts
Plan a picture perfect Valentine's Day date for you and your significant other by visiting one of the many picturesque trails with your sweetheart. The trails #onthecircuit are filled with stunning scenery and beautiful backgrounds that are sure to make your photos pop!
Solidify your status as truly #couplegoals by having a Valentine's Day-inspired photoshoot #onthecircuit. You can go big-time and hire a local photographer to do the snapping, or you can keep it intimate and be each other's photogs for the day. A perfect place for this? The Ulysses Wiggins Waterfront Promenade #onthecircuit in Camden. This scenic spot offers unmatched views of the Delaware River, the Ben Franklin Bridge and the Philadelphia skyline. Frame your favorite shots or share them on social media to keep the memories alive long after Valentine's Day. (P.S. – we want to see these pictures, too! Tag us on social and use #onthecircuit.)
For the Love Birds
Most of our trails #onthecircuit are great for birding, but the John Heinz Refuge Trails are some of the best. Let your love soar this year by spending your Valentine's Day on a Winter Bird Walk on February 15 at the John Heinz National Wildlife Refuge. Bust out the binoculars and discover the 300+ species of birds that use the Refuge during their migration routes with your love bird this weekend.
For Popping the Big Question
When love is in the air on Valentine's Day, anything can happen – including plenty of proposals! If you're thinking about popping the question this year, you'll need a jaw-dropping background. Look no further than the Forbidden Drive Trail #onthecircuit! The tree-lined route is one of our favorite spots to explore and will be the perfect place for a proposal your nature lover will adore.
For the Besties
Who says Valentine's Day is just for couples? It's a day of love, no matter the form. Grab your best gal pals, bros or besties and spend the day together traveling the trails. Meet up for a quick morning run, an afternoon ride or an evening stroll. You can always visit your favorite trail or show a friend a trail they've never seen before. If you want our suggestion, we think Lawrence Hopewell Trail in Mercer County is a great place to start! With 18-miles of trail you'll be able to spend plenty of quality time with the people you love.
Whatever you decide, spend your Valentine's Day doing something you love with the people you love – #onthecircuit and beyond. Happy Valentine's Day!