PEC Public Lands Rides: The Philly Classic
Authored By: Zhenya Nalywayko | Program Manager Southeast Region at Pennsylvania Environmental Council | August 2, 2023
This blog originally published on the Pennsylvania Environmental Council's blog on August 2, 2023.
PEC's Public Lands Ride is about celebrating the Pennsylvania outdoors on two wheels. For those who can't make it to the September 30th group ride at beautiful Black Moshannon State Park – or who just want to get in some more miles closer to home – PEC has created a series of GPS-guided routes you can ride any time. The newest virtual ride, "The Philly Classic," explores the Philadelphia area along city streets, backroads, and parts of the Circuit Trails network including the Schuylkill River Trail and the Wissahickon Bike Trail. Learn more about the Public Lands Ride and check out other virtual routes here. 
Route Overview
Whether you're Philly born and bred or have never visited the City of Brotherly Love (& Sisterly Affection), the Philly Classic is sure to show you something new and exciting. Stitching together public spaces, multi-use paths, city and national parks, as well as a variety of quaint inner-ring suburban neighborhoods, this ride has something for everyone. With just under 3,000 feet of elevation gain in about 60 miles, the ride is relatively flat (though there are a few big climbs to prepare for) and is mostly on paved roads — perfect for a weekend day trip.
Begin the ride at the Locust Street entrance to the Schuylkill River Trail (SRT) and continue north up Schuylkill Banks toward the Art Museum. Once you pass under the Girard Avenue and Amtrak Zoo bridges, you have the option of veering off the paved trail onto almost a mile of gravel that ends just after passing under the Columbia Bridge near the Rowing Finish Line Grand Stand. Continue north on the SRT, noting the historic Strawberry Mansion Bridge and beautiful East Falls Bridge as you go.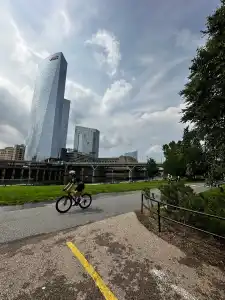 Entrance to the Schuylkill River Trail at Locust Street. Your adventure begins!
Once you hit the Wissahickon Transportation Center, wait for the light and cross the street to get on the Wissahickon Bike Trail. Meander along this paved trail with some gentle ups and downs as you take in the Wissahickon Creek to your right and historic Lincoln Drive beyond that. Take a stop for photos as you near the picturesque Henry Avenue Bridge. Continue along the Wissahickon Bike Trail until you see the Forbidden Drive parking area on your left and enter here to get on your first bit of gravel for the day, Forbidden Drive in Wissahickon Valley Park.
Wissahickon Valley Park, or "the Wiss," is part of the Philadelphia Parks & Recreation system, but its ruggedness could make you think it's a state park. Continue along scenic Forbidden Drive, taking in the forest, creek, and trail users around you (you might even spot some horses) for another 3 miles until you reach Wises Mill Road, just past Valley Green Inn. Keep in mind it's a sharp left-hand turn onto Wises Mill Road, and it's an immediate sharp ascent, averaging 4-6% grades for the next mile.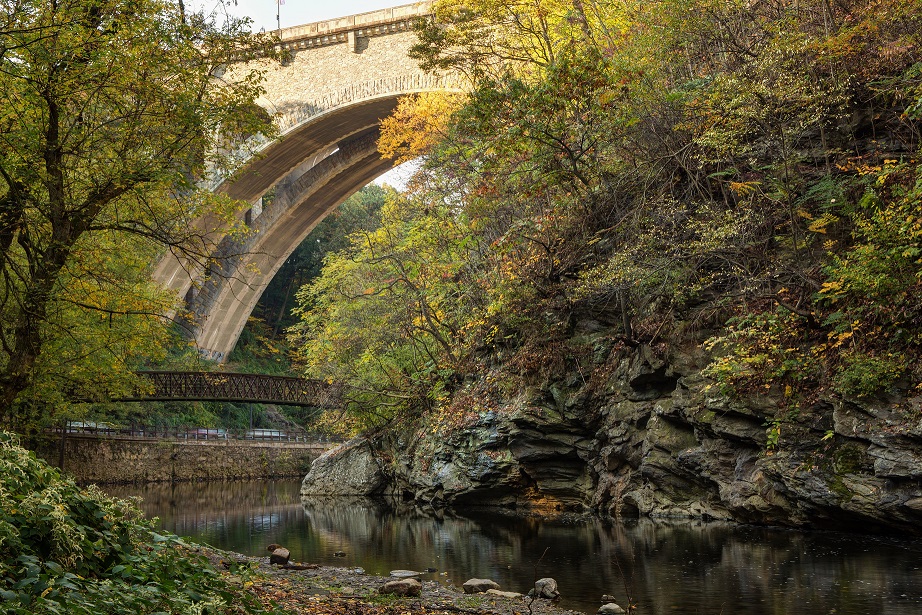 Take in the beautiful Wissahickon Creek and Henry Avenue Bridge as you ride the Wissahickon Bike Trail. (Photo credit: Friends of the Wissahickon / Bradley Maule.)
Continue down Wises Mill, then veer right onto Shawmont through the intersection with Ridge Avenue, take a right on Granville Road, and then another right on Summit Avenue. From there, make a quick left onto Lare Street, then two more quick lefts to get on the ramp up to the abandoned Upper Roxborough Reservoir, now a city park. Take a loop around the reservoir before continuing back down to the entrance, where you'll take a left onto Port Royal Avenue and a quick right onto Hagy's Mill Road.
Enjoy a steady descent for the next 2 miles along some quiet back roads that feel much more like countryside than the sixth biggest city in the country. From River Road, use one of the small informal connectors to get back onto the SRT just south of Conshohocken. Keep your eyes peeled for two great pit stops just off the trail: The Tricycle Café & Bicycle Shop (turn right off the SRT at the Spring Mill Trail Head) if you need a quick pick-me-up, and Conshohocken Brewing Company (which opens directly onto the trail) if you're in the mood for something bubbly.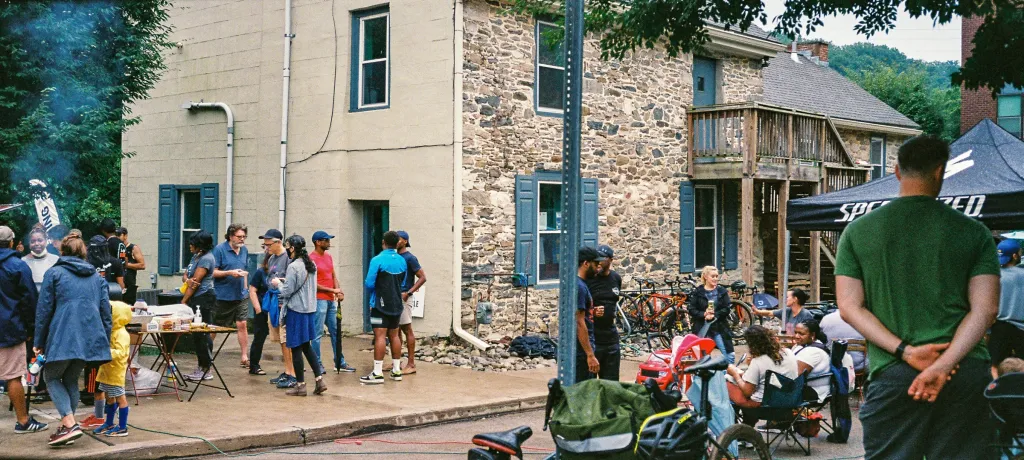 Stop for a coffee or a shot of espresso at Tricycle Café & Bike Shop at the Spring Mill Trailhead off the SRT. (Photo credit: Tricycle Café & Bike Shop.)
From here, you have just under 10 miles of flat, smooth riding before you reach Valley Forge National Historical Park. If you're hungry, any of the Latin American and Caribbean restaurants just off the trail in Norristown are worth checking out. Once you're in Valley Forge, you can either stick to the route laid out in Ride with GPS or explore the site where the Continental Army camped during the winter of 1777-78 under Revolutionary War General (and future first President of the United States of America) George Washington. There is some gorgeous off-road riding on the Valley Creek Trail in particular. Just make sure you end up on the Yellow Spring Trail to exit the park at its southern edge.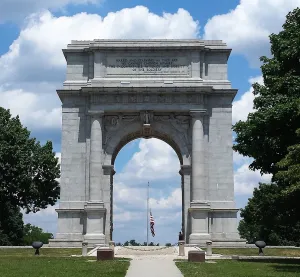 Take a short detour from the route to check out the historic National Memorial Arch, honoring the arrival of General George Washington and the Continental Army to Valley Forge in 1777. (Photo credit: Wikimedia Commons.)
The route now takes you through some quiet neighborhood streets and trails. Be aware that at the end of Elan Lane, you will need to walk your bike up a small informal connection from the subdivision you just rode through to Wilson Farm Park. Continue onto the sidepath / sidewalks along Chesterbrook Boulevard for about a half-mile, then take a left onto the Chester Valley Trail (CVT). The CVT, like the SRT, is one of the major spine trails composing the backbone of the Circuit Trails, the Philadelphia region's 850+ mile multi-use trail network.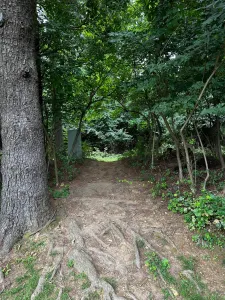 Use the informal connection to access Wilson Farm Park from Elan Lane.
After an easy and flat 2 miles along this classic rail-trail, turn right onto West Valley Forge Road and prepare for your second major ascent of the day. The next two miles range 3-7% grade and take you through some beautiful suburban neighborhoods along quiet back roads. This climb is followed by a gradual descent into downtown Wayne, where you pick up your next Circuit Trail: the Radnor Trail. Keep your head on a swivel as the left turn onto the trail off Sugartown Road is easy to miss. If you've hit the stop light at Morris Road you've gone too far. The next 2.5 miles of rail trail are smooth and quick, taking you behind many of this affluent suburb's grand houses and over its streets on old railroad bridges.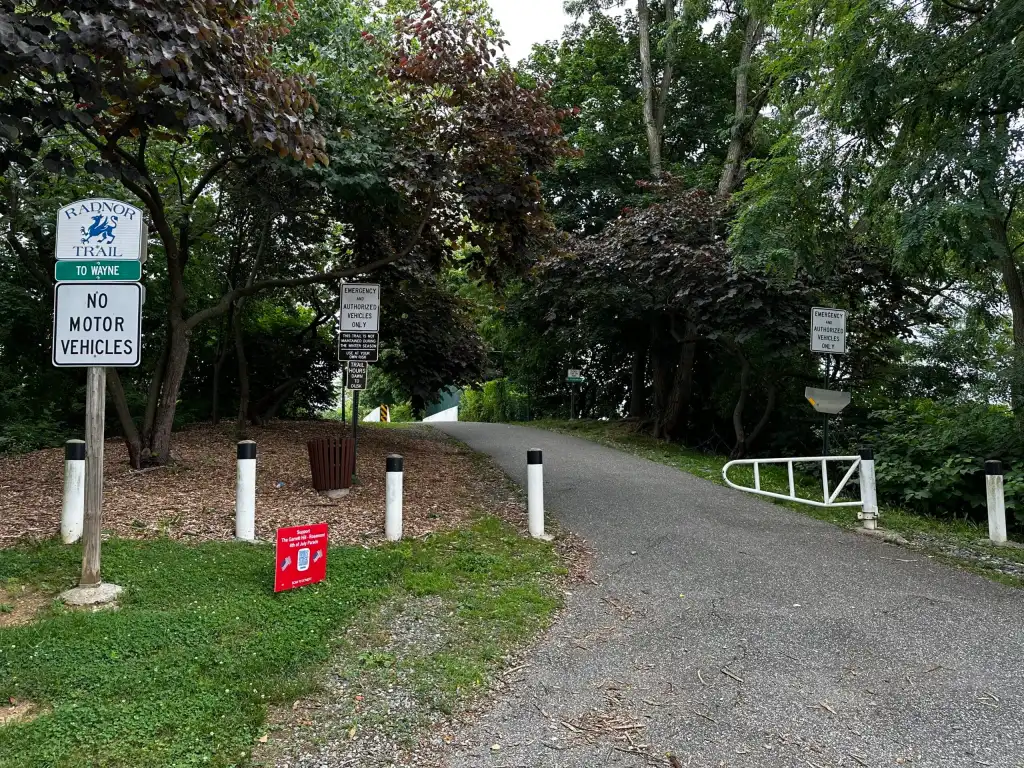 Keep your eyes peeled for the entrance to the Radnor Trail.
Once you're off the trail, come to a stop at East Lancaster Avenue and wait for the signal to cross this high-speed road. After crossing, turn right onto the Radnor High School Trail and take this a mile until you reach the rail bridge on King of Prussia Road. Be very careful to cross King of Prussia Road before the bridge and use the sidewalk to pass under the bridge (you may have to dismount your bike) so that you can immediately access the trail system in Radnor Memorial Park. This park trail will take you through a pedestrian bridge over Matsonford Road, then around Radnor Elementary School and onto the woodchip Harford Trail, which terminates on Hares Lane in Harford Park. Turn right onto Gulf Creek Road and then another quick right onto East County Line Road and prepare for your last big climb of the day. The next mile is a fairly consistent 5-7% grade, but don't worry, it's pretty much all downhill from here!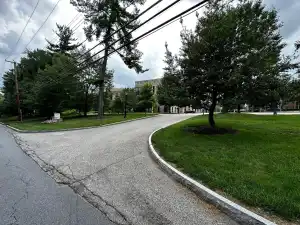 The entrance to the parking lot where you can pick up Villanova's trail system.
The easiest way to get onto Villanova's trail system from East County Line Road is to make a right into the parking lot just after crossing North Spring Mill Road. Continue along some leafy green back roads into Bryn Mawr. Be careful as you have to ride along the high-speed, high-volume County Line Road for less than a tenth of a mile before veering left onto the much quieter Old Lancaster Road. Use the sidewalks along County Line Road if needed.
As you pass Haverford College, you're just over 10 miles from completing your journey! Consider taking a short excursion off-route to check out Tired Hands Brewery by taking a left at Cricket Avenue and then a right onto Cricket Terrace. After enjoying a pint (or three) of their award-winning beer and eats, get back on route by going back down Cricket Avenue and make a left on Spring Avenue. From there, take in the beautiful Victorian architecture, quiet, narrow streets, and neighborhood parks of inner-ring suburbs Ardmore, Narberth, and Merion as you ride the on-road "Main Line Greenway."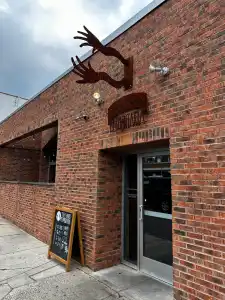 Tired Hands!
At Cynwyd Station, drop down the switchback ramp onto the train station platform and roll aboard the Cynwyd Heritage Trail – your last Circuit Trail of the day – and in just under a mile exit into historic West Laurel Hill Cemetery. This is another location you can explore any way you wish, as long as you exit at Monument Road. Watch for traffic along Monument Road and Ford Road until you enter Fairmount Park. Once you're on Chamounix Drive or the sidepath, you have the option of getting some pretty solid single-track riding in on the Trolley Trail and its offshoots. Access these off-road trails from Chamounix Drive or Belmont Mansion Drive. Otherwise, continue down Belmont Mansion Drive until you see the Belmont Fields to your left, hop off your trusty steed, and take in the splendor of the Philadelphia skyline. Don't forget to pat yourself on the back for a job well done.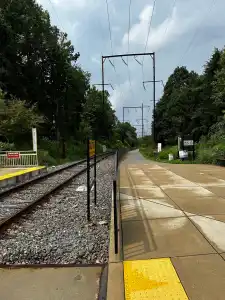 Cross the train tracks to hop on the Cynwyd Heritage Trail to make your way back into Philly.
If you need to get back to a car, hotel, friend's house, or elsewhere, Philadelphia's 30th Street Train Station is just a short (~15 minute) ride back down the SRT / MLK Jr Drive sidepath, where you can catch buses and subways to just about anywhere in the city and trains to the suburbs, Pennsylvania destinations, or up and down the east coast.