A Peculiar Sight on the Schuylkill
Authored By: The Circuit Trails | June 16, 2017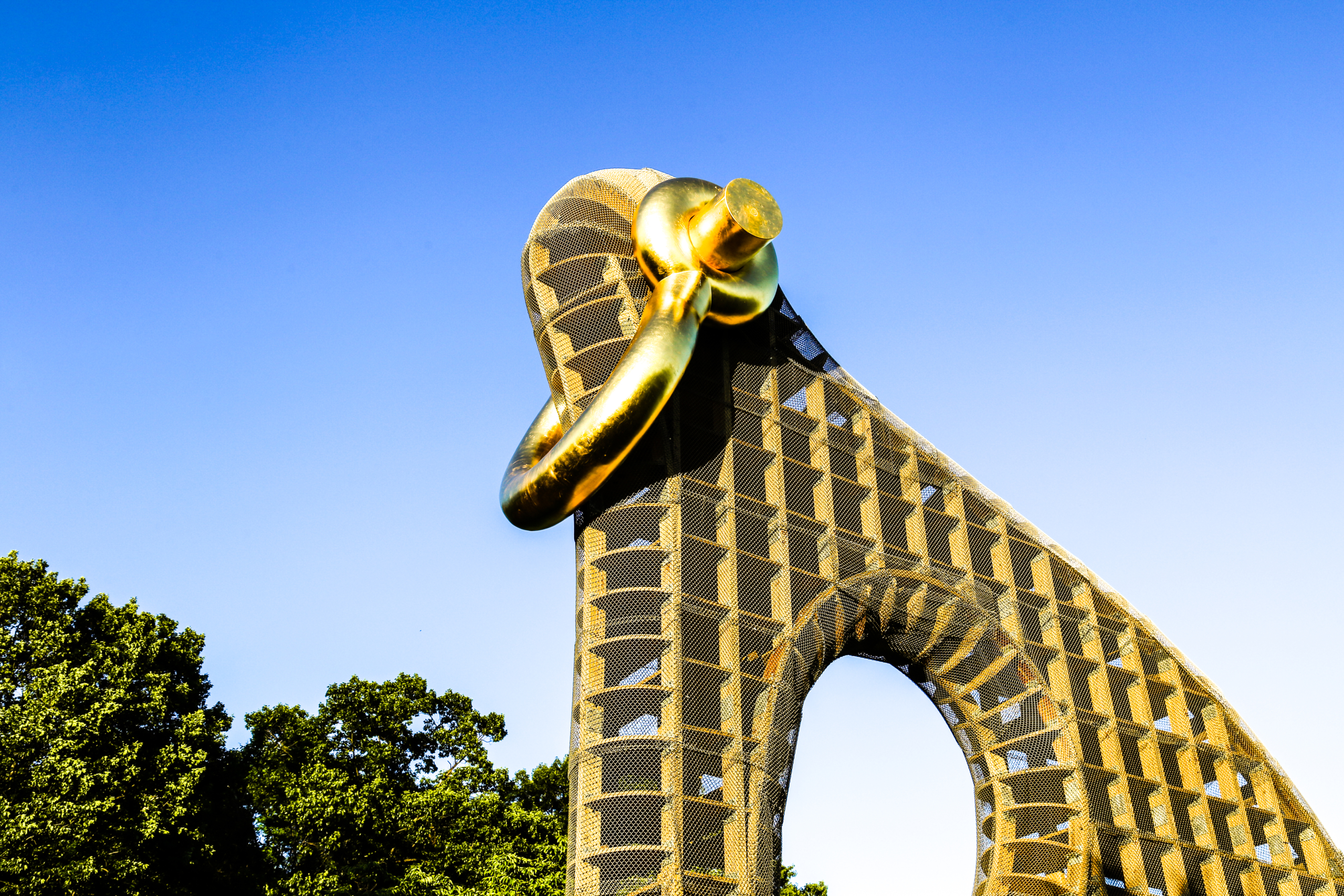 Have you spent any time on Kelly Drive in the past few weeks? If so, you may have noticed something new. Or, should we say that you probably didn't have any trouble missing it. Big Bling, a 40-foot abstract sculpture who was most recently nestled within New York's Madison Square Park, has found a new home on the edge of the Schuylkill River and the Schuylkill River Trail!
The setting sun gives Big Bling a radiant shine as it looks over the Schuylkill River.
Is it an elephant? A reimagined Trojan Horse? A stiletto heel? Well, according to its creator, internationally renowned artist Martin Puryear, it's entirely up to your interpretation. The Association for Public Art worked with the Madison Square Park Conservancy in New York to bring Big Bling's towering frame to Philadelphia, which will watch over the Schuylkill River until November.
From January 2017 to May 2017, the Delaware Valley Regional Planning Commission's trail counters have captured more than 643,000 pedestrians and cyclists on the Schuylkill Banks, and for the next five months, the sculpture will attract even more families, cyclists and explorers alike to the river's edge via the Schuylkill River Trail.
Part of our mission at the Circuit Trails is to ensure that people have access to the rivers and creeks that surround their respective communities. A number of Circuit Trails, such as the Bartram's Mile Trail, Cooper's Poynt Waterfront Park and the K&T Trail, just to name a few, provide direct access to the waterfront, and in some cases, connect the neighborhoods back to the water for the first time in decades. More importantly, trail development around rivers help improve the environment, restoring and cleaning streams to improve the cleanliness of our drinking water. The more people frequent the waterfronts via the Circuit Trails, the more they care about keeping our waterways clean.
Big Bling is perfectly positioned for trail-goers, located right between the Schuylkill River Trail and the River itself.
So what are you waiting for? Hop on the Schuylkill River Trail to marvel at Big Bling yourself! The piece is located off of Kelly Drive just north of the Girard Avenue bridge—use our trail finder tool to how you can get there using the Circuit! And don't forget—you have until June 20 to register for our 500-Mile Challenge. You'll be registered to win a new Fuji Bike just for entering. Sign up today and log your miles to and from the sculpture when you visit!