Remote Recreation: Visit the Trails Virtually
Authored By: The Circuit Trails | April 10, 2020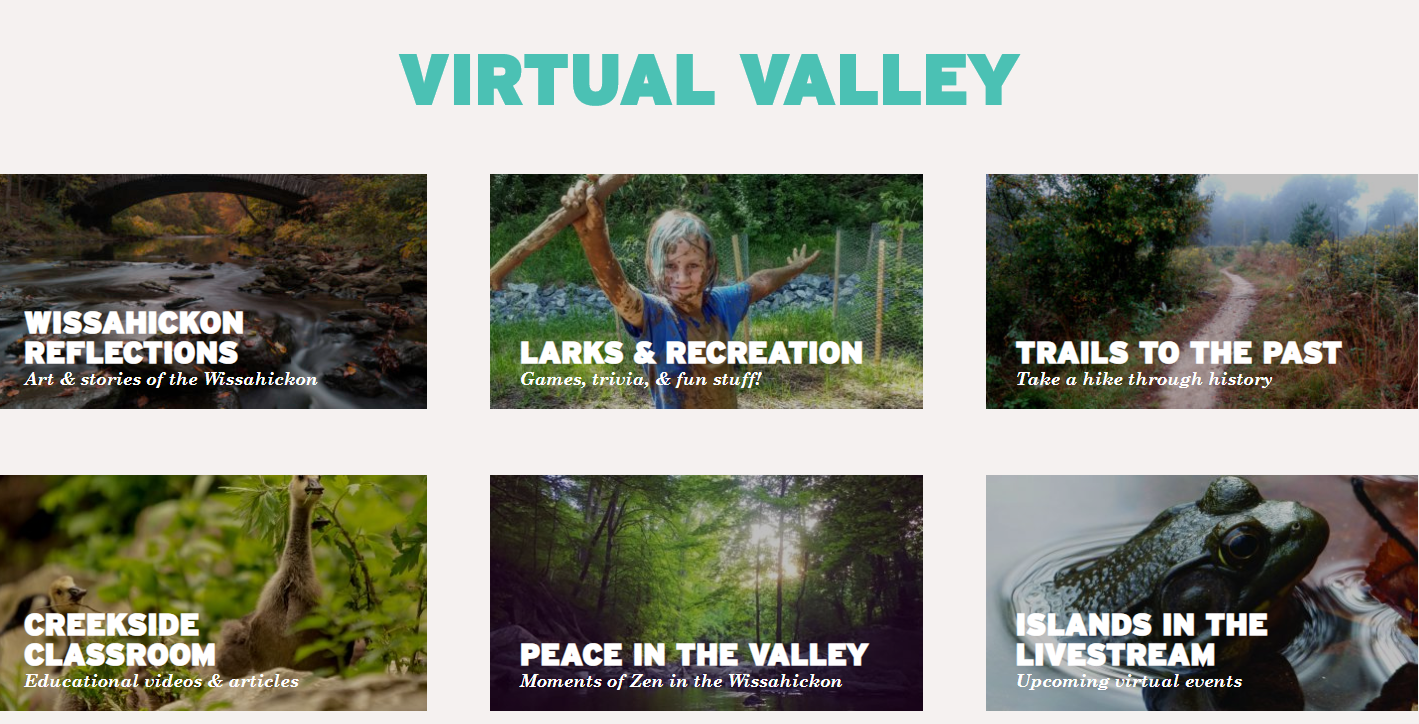 The great outdoors has gone online! Thanks to several Circuit Trails Coalition members, you and your family can virtually visit some of your favorite spots from all around the Circuit Trails region – and discover a few new ones, too.
We've collected a list of some of the online opportunities our coalition members are offering during this time. Let your browser act as your trailhead to start your discovery of the wonderful destinations and trails #OnTheCircuit. Take a look below to see what you can plug into today!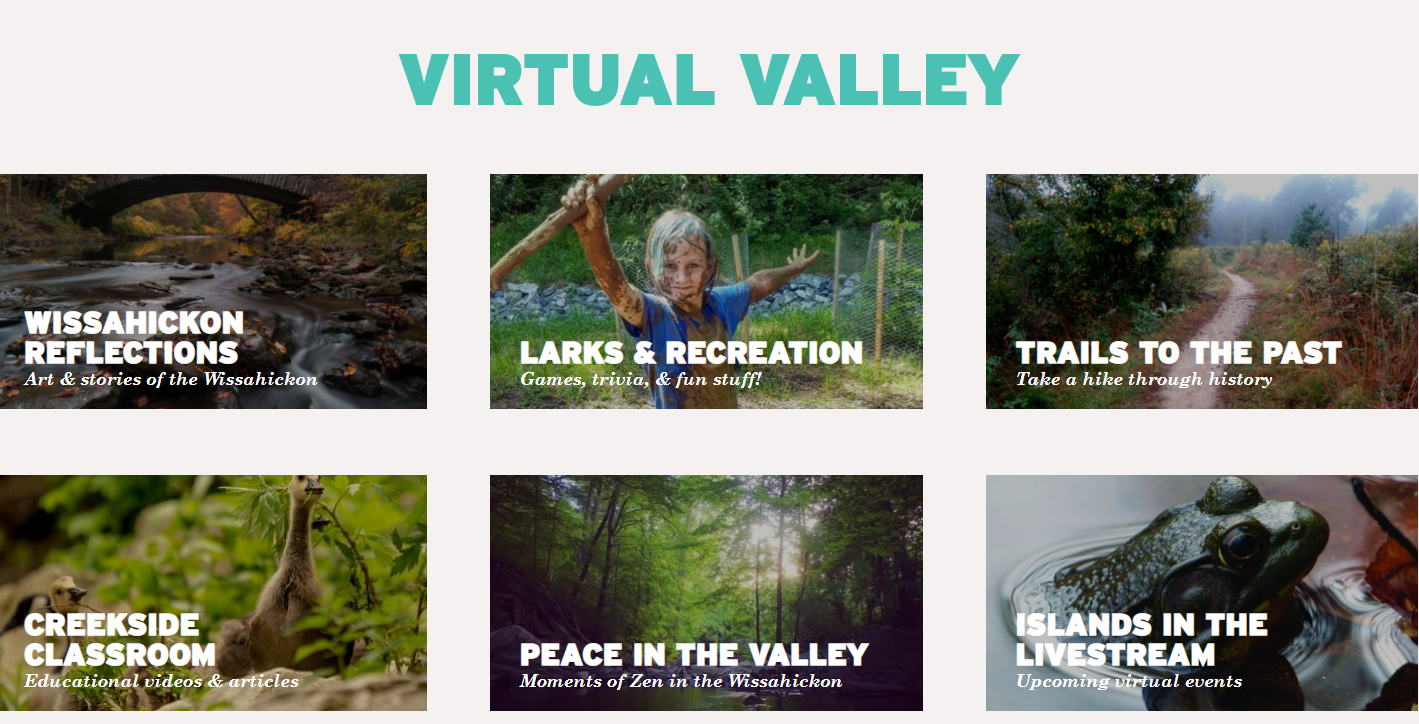 Photo from Friends of the Wissahickon
The perfect way to begin your digital trail journey #onthecircuit starts with a visit to the Wissahickon's Virtual Valley. The Friends of the Wissahickon have taken the wonders of the popular Wissahickon Valley Park and turned it into an online adventure hub. As you traverse this deep virtual valley, you can explore art and stories, hike through history, stream educational videos in the creekside classroom and even tune in to upcoming virtual events like Valley Talks and quizzo!

Photo from the Delaware & Lehigh National Heritage Corridor
Delaware & Lehigh National Heritage Corridor
Log-on to learn the Tales of the Towpath with the Delaware & Lehigh National Heritage Corridor's interactive adventure. Travel through the canal's rich history through photos, videos and articles to prepare for your next in-person trip on the trail.
The Alliance For Watershed Education
The Alliance For Watershed Education is offering virtual education resources for people of all ages. Organized into sections for early learners, elementary, middle school, high school, all ages, and adults, their website offers a plethora of nature-centered knowledge and activities. Don't miss out on the wide array of videos, stories, projects, and more.
Lawrence Hopewell Trail is getting creative with the launch of its Art on the Trail Initiative. Artists of all ages are invited to submit artwork of any medium that celebrates the 20+ mile New Jersey trail. New themes will be announced for inspiration every other month, and a few, select pieces will be highlighted across its social media platforms and website. Take advantage of this opportunity to creatively express yourself and share your art!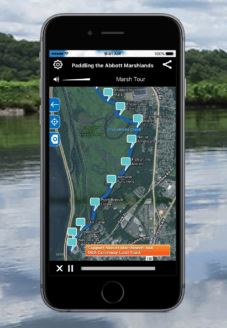 Photo from D&R Greenway Land Trust
The D&R Greenway Land Trust is giving you the opportunity to explore destinations along the trails digitally, as well. Tour the 3,000 acres of wetlands and uplands that make up the Abbott Marshlands from the comfort of your own home with the TravelStorysGPS. Experience the Marsh by foot or by boat through your screen with the walking or paddling tours.
Join Bartram's Garden, America's oldest living botanical garden, for its summer music series. Experience unique and inspiring sounds from Philadelphia artists every Thursday evening at 5PM on Instagram Live. In addition, take a look at their upcoming events for other workshops and webinars, like the Paint + Sip workshop series on Instagram! Enjoy a summer evening with a glass of wine while learning how to paint various greenery and blooms featured in the garden in these virtual classes.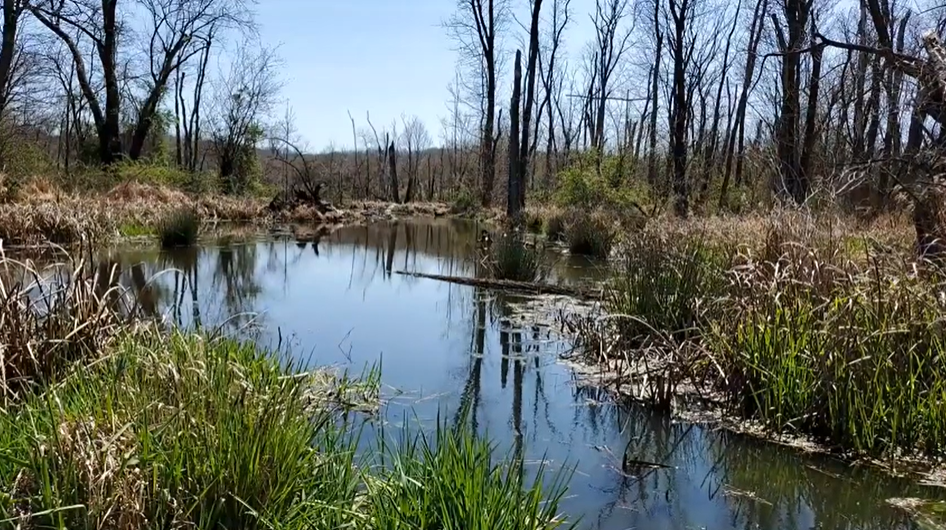 Photo from Brandywine Conservancy
You can bring the Brandywine art, trails and preserves home with you thanks to Brandywine Conservancy's new online hub. Visit their website for calming nature videos that will make you feel like you are really there, downloadable coloring pages and family-fun DIY activities. Check back often as they will continue to update the page with new content from their home to yours!
Heritage Conservatory is bringing nature education to you. Experience and learn about the importance of preserving nature through various online resources such as books, videos, and even activities for kids at home. Stay active in your dedication to take care of our beautiful earth while continuing to enjoy it.
Please note: Before visiting a local trail, we recommend and highly encourage that you continue to take precautions to protect yourself and others on the trails by doing the following:
Review and follow the Centers for Disease Control and Prevention's (CDC's) most current public health and safety guidance here: https://bit.ly/cTcdcRe
Refer to the guidance provided by your county, city and town governments for more specific information about your community's directives.
Remember to practice social distancing on the trails and come prepared with a cloth face covering.
Check with the local trail management organization to confirm the status of trail facilities. While most trails are open, some facilities like restrooms, depots and visitor centers may be closed. It's important to confirm that before you head out. Trail manager contact information is available through individual trail records at TrailLink.com.