River Alive! Learning Trail Brings Learning to Life
Authored By: Circuit Trails Coalition | September 30, 2022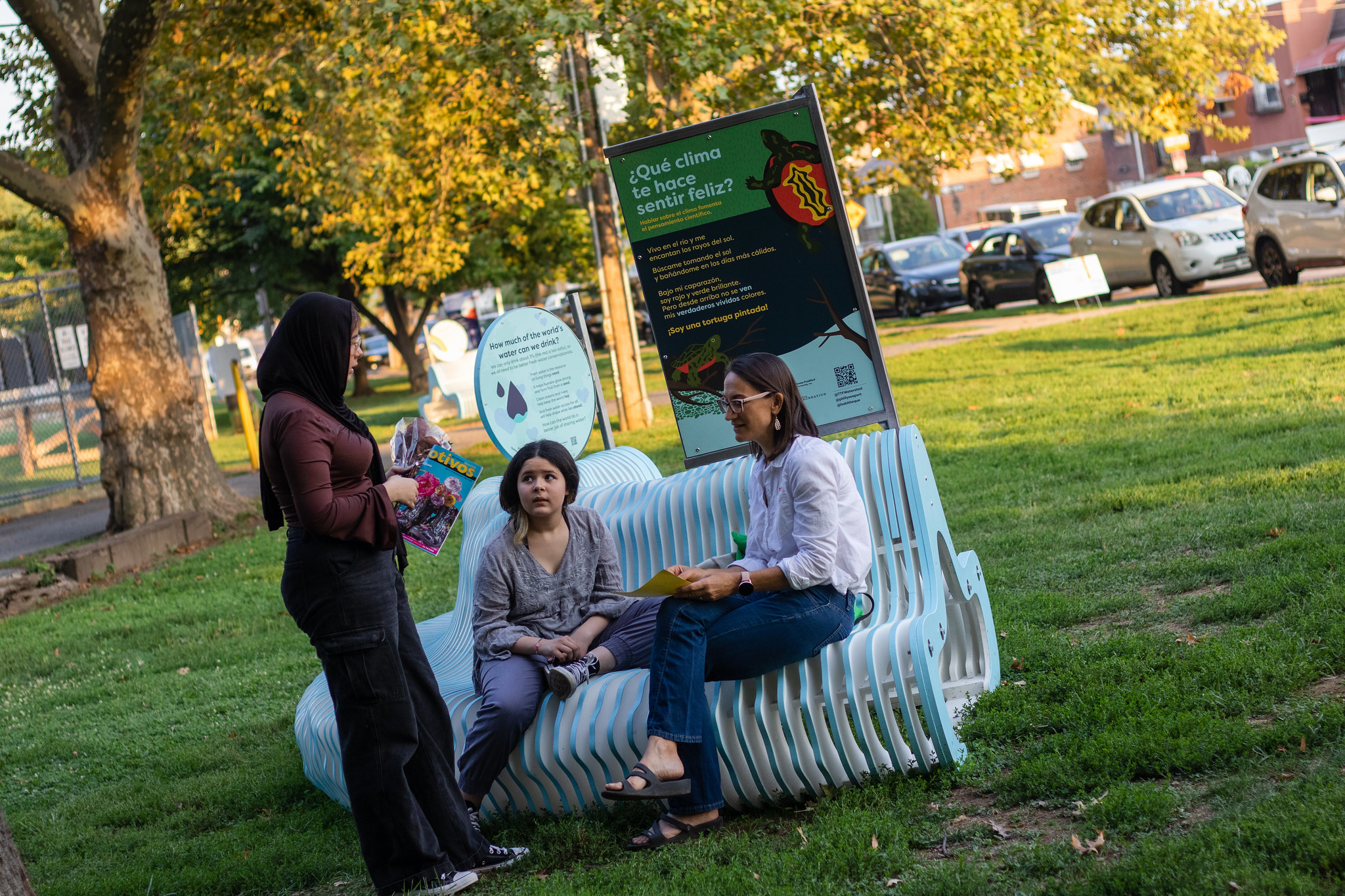 Foxes, herons and snakes–oh my! Juniata Park got a bit livelier with the opening of the River Alive! Learning Trail on Sept. 14, 2022.  
A few blocks off of Tacony Creek Trail's Ramona Gateway #OnTheCircuit lies a brand-new interactive art exhibit next to Ferko Playground. The River Alive! exhibit doubles as an educational community resource and is the second of its kind in the region, but the first to be nestled into a community park. The River Alive! Learning Trail takes the water education and exploration concepts developed for Philadelphia's Independence Seaport Museum and brings them to a neighborhood scale—both of which are made possible with funding from the William Penn Foundation.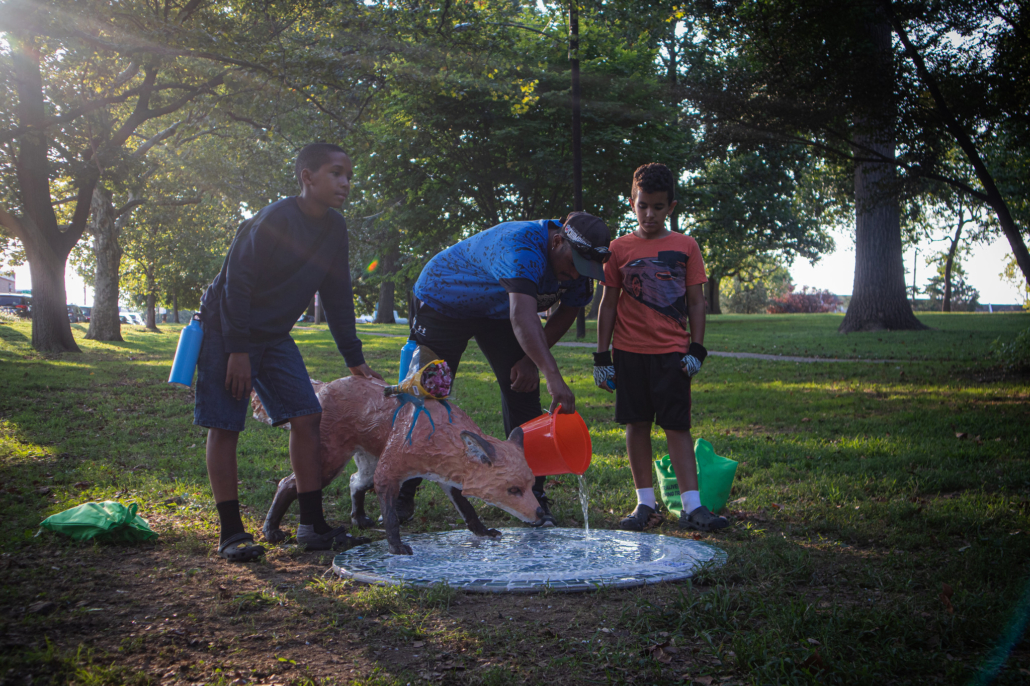 Photo by Read by 4th
The River Alive! Learning Trail features six benches and six animal sculptures designed by visual artist, Miguel Horn. The sculptures depict six creatures that are part of the neighborhood's diverse urban wildlife community: a fox, sunfish, otter, painted turtle, great blue heron and water snake.  
Each sculpture is paired with a bench featuring a sign in English and Spanish that share information about each animal, watershed facts and a QR code to access original songs about the animals created by local music and education group, City Love. To add an interactive element to the sculptures, children can pour water onto a design of blue waterways that flow to the base of the sculpture, which showcases mosaic designs created and installed by community members.  
Circuit Trails Coalition Member Tookany/Tacony-Frankford Watershed Partnership, Inc. (TTF Watershed) partnered with Victoria Prizzia, project creator and creative director of Habithèque, who envisioned and developed this rich, multifaceted, fun and educational installation. TTF Watershed will program and maintain this exhibit.  
"It's so exciting and important to create a beautiful new space for the intersection of play and learning here along Tacony Creek Park," said Julie Slavet, executive director of TTF Watershed. "The River Alive! Learning Trail is a wonderful asset for this amazing community, it connects people with the environment that they live in while targeting skills-based learning to improve literacy." 
Other partners that were instrumental to bringing the River Alive! Learning Trail to life are Habithèque, an interpretive planning and design studio working to connect organizations, firms and individuals in the creation of dynamic spaces for education, community engagement and social change; the Youth Volunteer Corps of Philadelphia, whose members helped imagine and build the benches; and local artists Miguel Horn and Jay Coreano.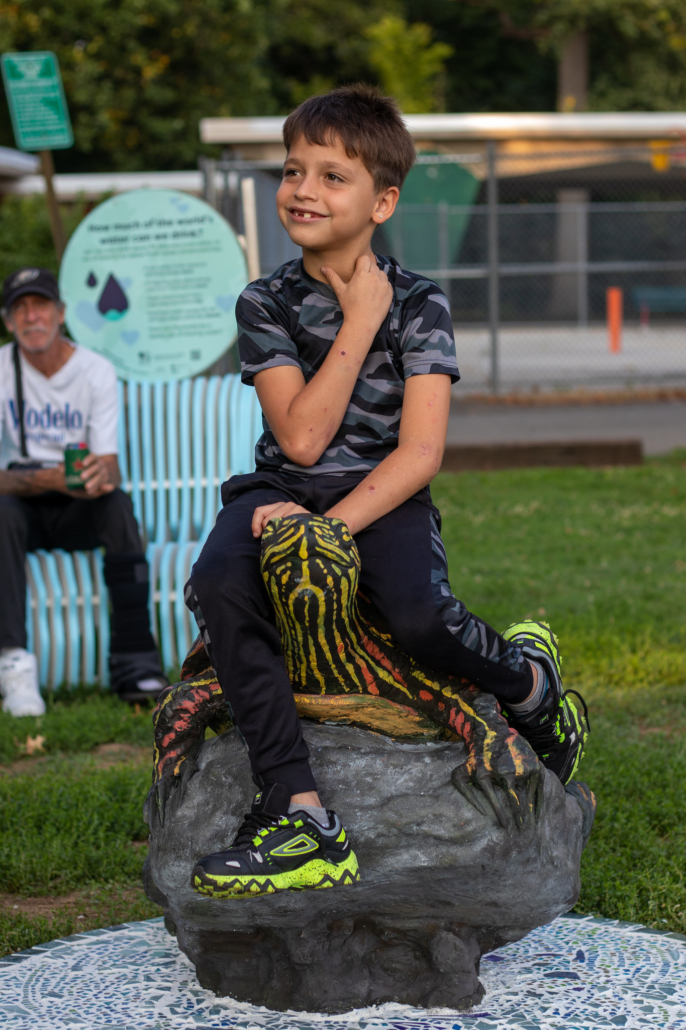 Photo by Read by 4th
Every Saturday from the Learning Trail's opening until Oct. 29, 2022, TTF Watershed and Independence Seaport Museum are hosting River Alive! Science Saturdays. These free events consist of 30-minute lessons about the animals within Ferko Playground and beyond, encouraging learners to map their relationship to the watershed. Programming also includes free reading sessions, free admission and group trips to the Independence Seaport Museum, and a Seek and Find for families to use to explore Tacony Creek Park.  
While the River Alive! Learning Trail is not currently #OnTheCircuit, it's located along a section of a trail that is a part of the developing Circuit Trails network, though in the pipeline phase. The planned Circuit trail would build out the Frankford Creek Greenway from the Tacony Creek Park gateway at Ramona Avenue and I Street in Juniata Park to Torresdale Avenue in Frankford, to connect with the Delaware River Trail Philadelphia, intersecting at Lewis Street.  
To learn more about the River Alive! Learning Trail, visit https://tcpkeepers.org/river-alive-learning-trail/.