School is Back in Session: Bike Safety 101
Authored By: The Circuit Trails | September 8, 2016
The weather is changing, the sun is setting earlier, and alarm clocks are being set – yes, you know what that means. Summer is over, and school has started once again. While class may quite literally be back in session for some, this time of year we should all take a moment to refresh on bike safety tips. Whether you are riding for leisure along the Circuit Trails, commuting to work, or riding with children to and from school, re-learning the basics of biking will help keep you safe and cycling. Grab your backpacks and number two pencils – Bike Safety 101 is now in session!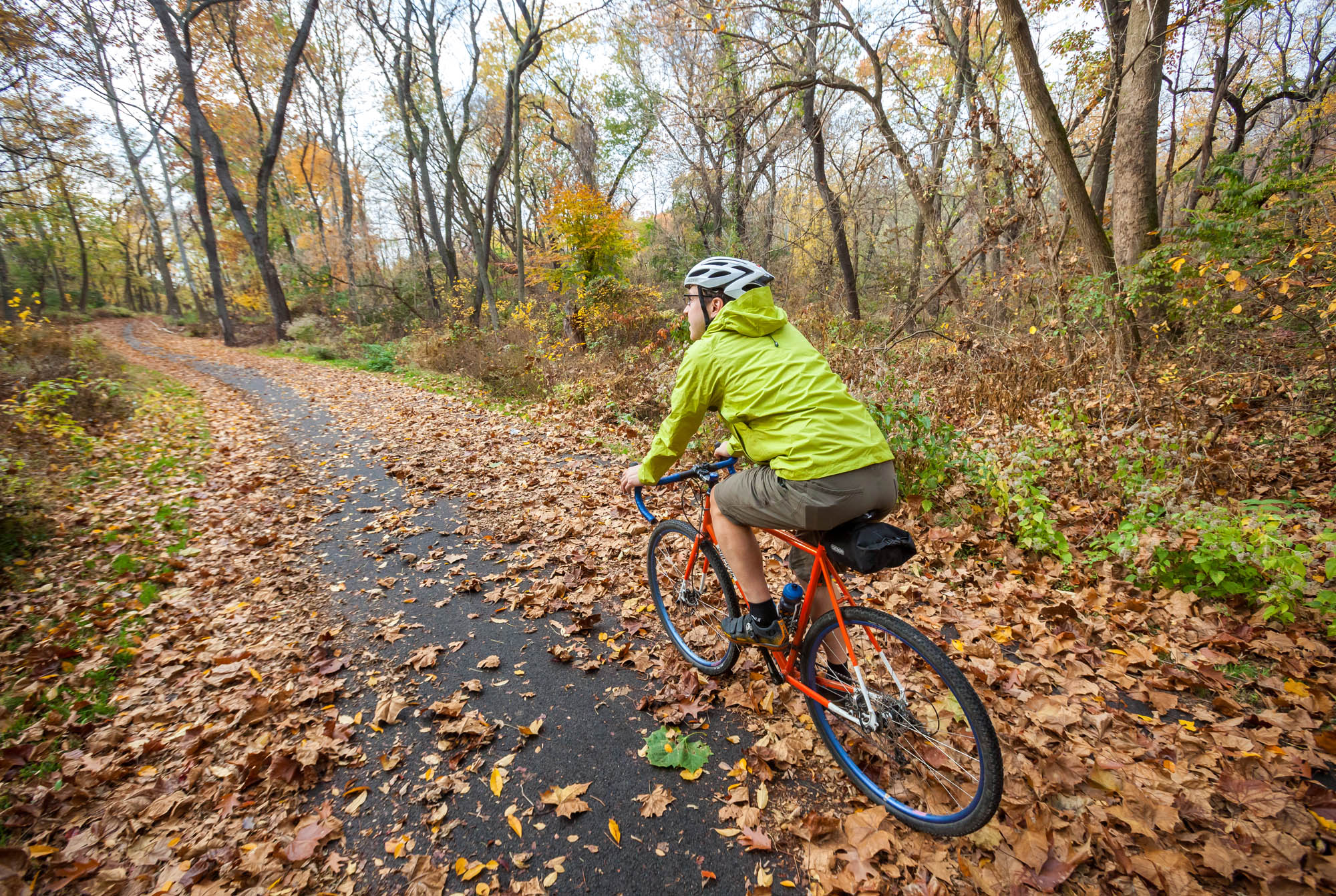 Safety first! Helmets and protective gear are a must when biking on the Circuit Trails and beyond.
Wear a helmet.
The first and most important rule of thumb is to always wear protective safety gear. Take time to find a helmet that fits properly to provide the best possible protection. Don't forget – helmets are required by Pennsylvania State Law for riders under 12 years old, so make sure your younger companions are also protected too. If you are biking at night, add reflective gear to your routine so that you are visible to drivers and fellow riders. Lights on the front and back of your bike are another great addition. Always put safety first and ride well-equipped.
Obey road and trail rules.
Just because you can ride in places that cars can't go doesn't mean you should! Obey traffic rules. Stop at red lights and stop signs, ride in the same direction as traffic, and always use a bike lane when it is available. Use appropriate hand signals to notify other bikers and drivers when you intend to turn or cross over traffic. If you are riding off-road, it is still vital to follow trail etiquette, and to maintain safe conditions for all trail users while also protecting yourself.
Know the way.
You might be surprised to find trails, paths, or bike lanes in your area. Knowing the best bike routes in the city will help to avoid issues while commuting or riding for leisure. Be aware of ongoing detours and always have a backup route in mind to ensure a safe ride. The Circuit Trails planning map is a great resource, as well as the Bicycle Coalition map for identifying bike lanes. Getting to know nearby bike-friendly routes may even open up a quicker, more efficient path to get you from point A to point B.
For some extra credit, check out this video series by Safe Routes Philly – the videos cover even more useful safety tips for students of all ages.
Were you taking notes? A simple refresher of basic bike safety rules can mean the difference between a smooth ride and an accident waiting to happen. Pass these quick tips on, and show us how you stay safe on the Circuit Trails using #onthecircuit. Happy biking!