Spending Time Outdoors for Labor Day Weekend? Here's How to #RecreateResponsibly
Authored By: The Circuit Trails | September 4, 2020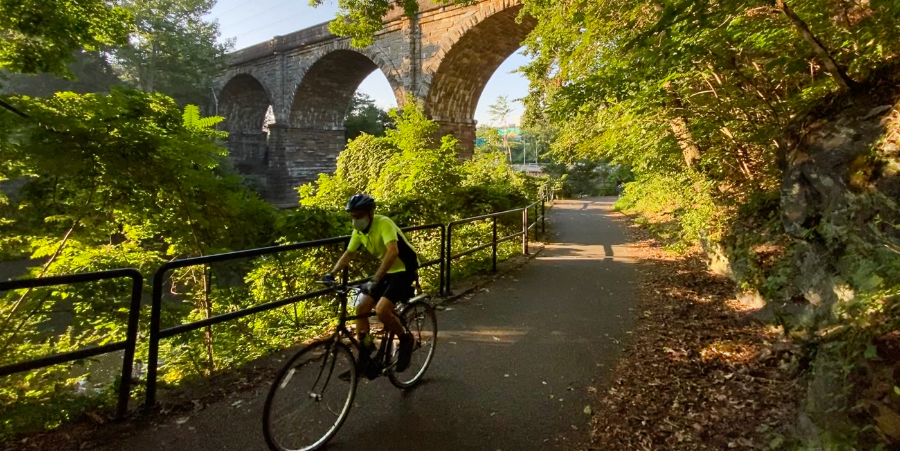 BRADLEY MAULE, FRIENDS OF THE WISSAHICKON
The pandemic has inspired more people than ever to experience their local trails, many discovering hidden gems in their neighborhoods and beyond for the first time. Though automated trail counters that monitor pedestrian and cyclist use along the Circuit, we've seen trail activity increases of more than 100% from 2019 to 2020.
The Circuit relies on public support to advocate for the network and help secure vital trail funding, so it's often something to be celebrated as more and more people discover the region's expansive trail network. More trail visitors can mean more support as we work toward reaching our goal of connecting more than 800 miles of trails.
On the other hand, more trail users can also mean more challenges for our Circuit Trails Coalition members. During this challenging time, trail managers and their limited staffs have been tasked with ensuring new social distancing and public health guidelines, handling higher-than-normal influxes of visitors and the accompanying trash and trail wear, all while making sure that these essential natural areas and public amenities remain open and enjoyable for everyone.
This Labor Day weekend, it's more crucial than ever for you to #RecreateResponsibly if you head outside and to the trails. From seasoned outdoor enthusiasts to families heading out to their local trails for the first time, it's important to be mindful of all the public health guidelines to keep you and others safe and to remember to treat our trails with a little TLC along the way. To #RecreateResponsibly, please review local guidance before visiting a trail or park, maintain six feet of physical distance from others, avoid gathering in groups on the trails, and leave no trace of your adventure by sticking to the trails and picking up after yourself. (You can share your commitment to #RecreateResponsibly and encourage others to do the same by using the hashtag in your posts on social media.)
In preparation for the holiday weekend and the upcoming fall trails season, we spoke with three members of the Circuit Trails Coalition—Ruffian Tittmann, executive director of Friends of the Wissahickon; Eleanor Horne, co-president of the Lawrence Hopewell Trail; and Elaine Paul Schaefer, executive director of the Schuylkill River Greenways National Heritage Area—to learn how they are gearing up to help trail users do their part to keep our parks and trails accessible for everyone.
As one of the most popular trails #OnTheCircuit and in the Philadelphia region, the Wissahickon Trail and park have seen one of the largest spikes in pedestrian and cyclist activity this summer. Ruffian Tittmann, executive director of Friends of the Wissahickon, says a comprehensive signage initiative is in place to help visitors #RecreateResponsibly. Trail users are greeted by signs that outline some of the "rules of the trail" in friendly, welcoming language (in both English and Spanish). To encourage visitors to leave no trace, FOW has installed new trash bag dispensers and signage, asking people to bag up their trash and take it with them. Additional signage advises people to take note of where they are in the park in case of injury or emergency.
Lawrence Hopewell Trail Corporation 
With nearly 22 miles of trail, the Lawrence Hopewell Trail has also experienced a spike in visitors throughout the pandemic. In addition to consistently publishing social distancing guidelines on their website and social media, the Lawrence Hopewell Trail has designated trail maintenance volunteers who are keeping the trail clean and safe. Co-president of the Lawrence Hopewell Trail, Eleanor Horne also asks trail users to take a few minutes to reflect on how fortunate they are to have access to these natural areas and to let those who create and manage trails, parks and other green spaces know that they are appreciated. You can support Eleanor and other trail managers by expressing your gratitude, too. Post about your favorite trails or trail memories on social media and send an email to your local representative to thank them for their continued support of the Circuit Trails! Learn how you can share love for your favorite trails here.
Schuylkill River Greenways National Heritage Area
As one of the organizations that helps to manage the more than 70-mile Schuylkill River Trail, Executive Director Elaine Paul Schaefer and her team at the Schuylkill River Greenways NHA are familiar with high trail volumes. These days, Elaine tells us that they are focused on communicating with members and trail users on social media about the least crowded times to use the trail. The team has utilized trail counters to determine these times, and Elaine recommends visiting the Schuylkill River Trail in the early morning or evening to avoid crowds.
Whether you walk, run, ride or roll #OnTheCircuit this Labor Day weekend, just enjoy it! And remember to #RecreateResponsibly so that others can enjoy it, too.