Take to the Trails, Make a Difference
Authored By: The Circuit Trails | January 16, 2019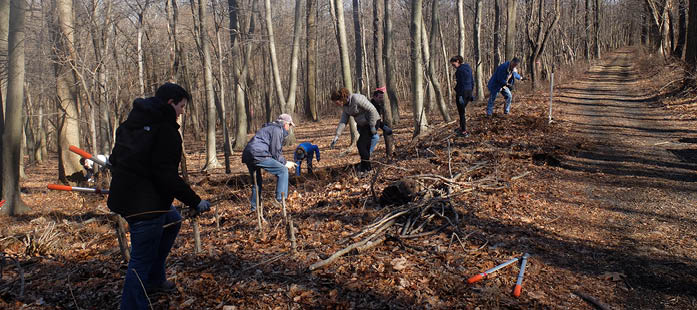 Volunteerism is one of the most valuable assets to the Circuit Trails network. Without the help of our partner groups, coalition members and devoted trail enthusiasts like you, our trails, streams and parks would not be nearly as well-maintained and accessible. On the trails, it's easy to make a difference – even simply being a steward for our thriving network makes an impact! In the spirit of service and the upcoming Martin Luther King holiday, we've complied a few of the upcoming volunteer and service events on the trails and at Alliance for Watershed Education Centers. Will you join us and make a difference on the trails?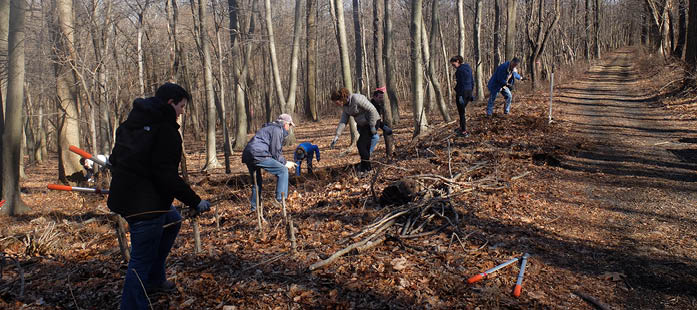 Restoration Volunteer Work Day
When: January 19 from 10 a.m. – 12 p.m.
Lend you time to help improve the health and biodiversity of the forest at the Schuylkill Center for Environmental Education! During the day you'll work on the trails to remove invasive plants, plant native species and to doing general clean-up to improve the trails. Come ready to get down to business with a water bottle and a sense of fellowship!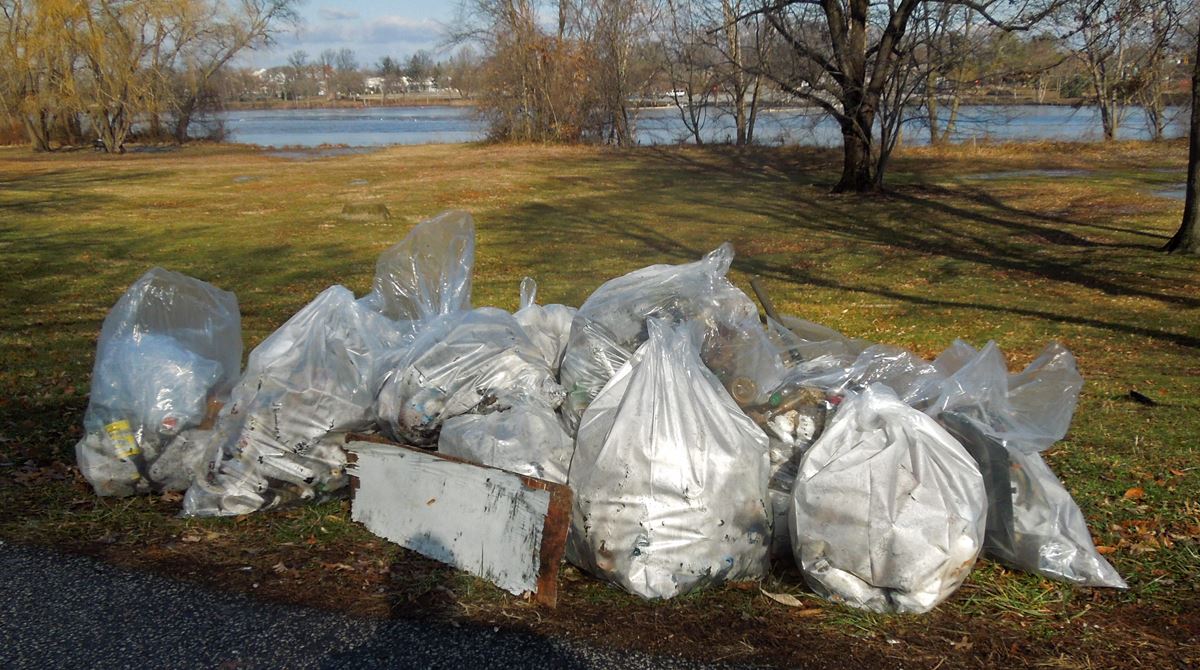 Photo courtesy of South Jersey Land & Water Trust
When: January 21 from 8:30 a.m. – 12:30 p.m.
Bring the whole family out to this volunteer event at Cooper River Park. You can help keep the park in tip top shape by picking up trash or cutting back invasive plants that are threatening the park's trees. Be sure to bundle up because it might be chilly, but don't worry – there will be plenty of hot chocolate to help you warm up!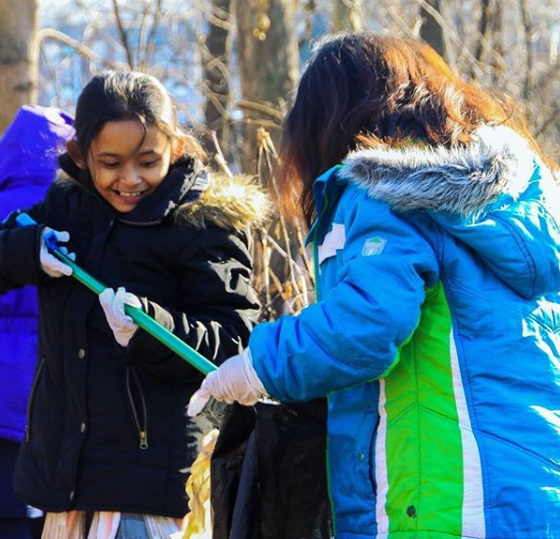 Photo courtesy of TTF Watershed
Tacony Creek Park MLK Day of Service
When: January 21 from 9 a.m. – 12 p.m.
Our friends at TTF Watershed are always holding events to get the community involved #onthecircuit! If you have the day off on Monday, consider spending it at the Tacony Creek Park helping to tidy up the beautiful park. Friends and family are welcome to join in on this day of service. Then when the work is done, be sure to stick around because there will be pizza and watershed games!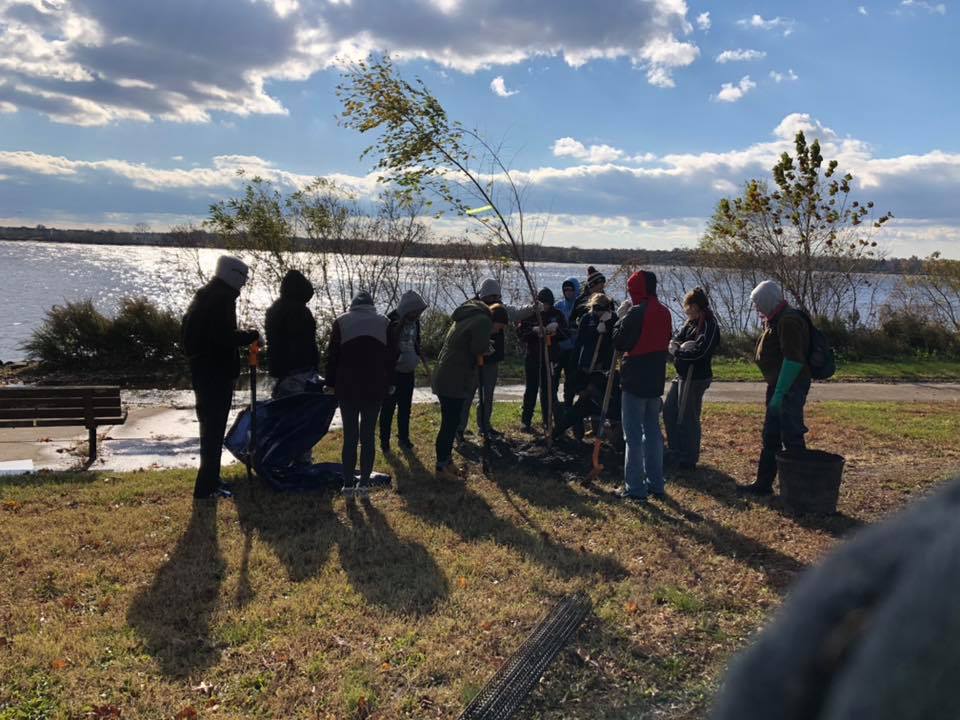 MLK Jr. Volunteer Day in the Park
When: January 21 from 10 a.m. – 12 p.m.
The Riverfront North Partnership is hosting a service day to celebrate Martin Luther King Jr. Day #onthecircuit! Join in on the fun on the Delaware River Trail at Pennypack on the Delaware Park. Volunteers will be cleaning trash from the natural area and shoreline, moving brush and fallen timber, invasive shrub removal and raking a nature trail. Haven't volunteered on a trail before? No worries! No experience is necessary, so bring the whole family!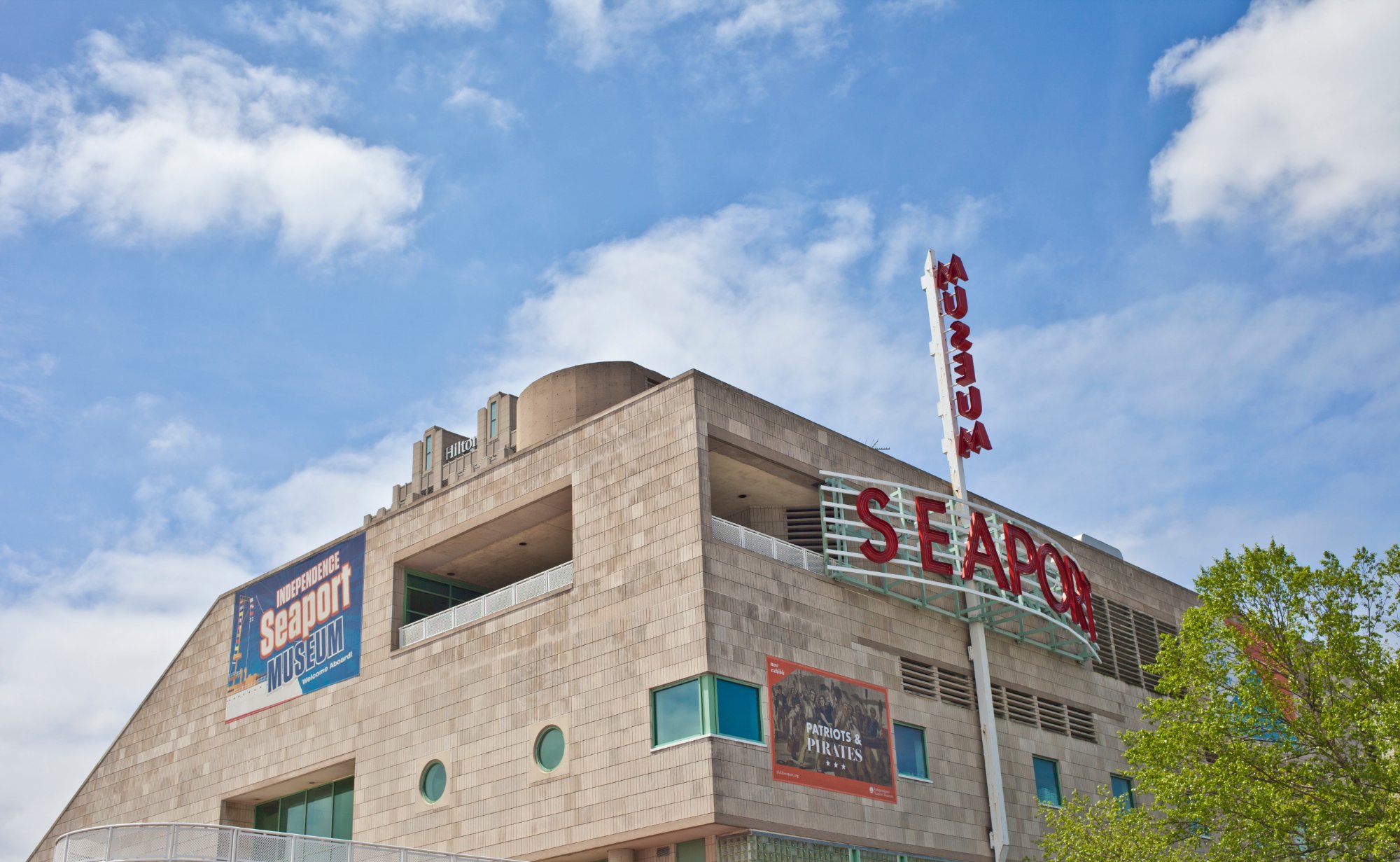 Photo courtesy of Independence Seaport Museum
Clean Up the Delaware Waterfront
When: January 21 from 1 – 3 p.m.
Join the Independence Seaport Museum, Delaware River Waterfront Corporation and United by Blue for a day full of service and fun. Volunteers will lend their helping hands with staffers to clean up portions of Christopher Columbus Boulevard. For your service, the Independence Seaport Museum is offering full-day access to the Museum and plenty of snacks and drinks. That's not all! Participants will also receive discounted pricing to skate at the Blue Cross River Rink! Want in? Make sure to register here.
BONUS!
If you are looking for a more regular commitment to making our trails beautiful and usable for all, consider joining one of these trail groups and attending their upcoming meetings. If neither of these trail groups are in your community, be sure to search for a local organization you can get involved with!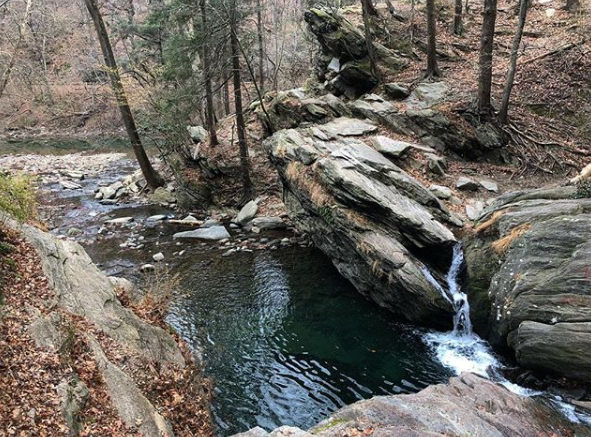 Photo courtesy of Freinds of the Wissahickon
Friends of the Wissahickon's Annual Public Projects Meeting
When: January 23 from 6 p.m. – 7:30 p.m.
This is your chance to get in on the ground level of planning in the trail community! From attending this meeting, you'll learn about the organization's important work to conserve our community's treasured park, review current plan for park maintenance, trail management and more!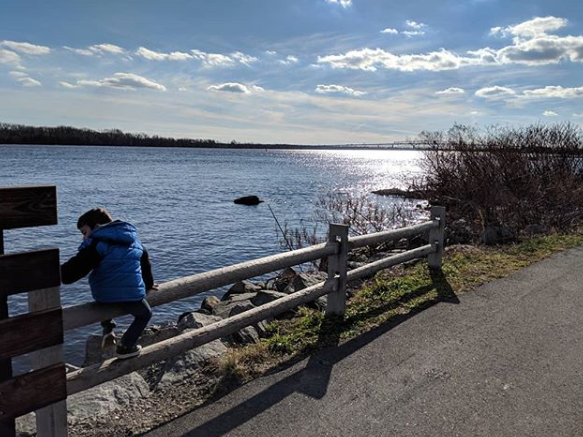 Photo by Jamie Moffett
Friends of Lardner's Point Park Meeting
When: February 6 at 5:30 p.m.
The Friends of Larder's Point Park hosts a monthly meetings to get the community involved with the developments and projects taking place on the trail and in the park. If you miss this one, don't worry you'll have your chance to attend again in March!
Whether you get involved with a local trail organization on a regular basis or just volunteer for one day, you are helping to make a difference! Your work allows us to continue to provide hundreds of miles of happy #onthecircuit for runners, riders and walkers alike. From all of us at the Circuit Trails, thank you!