The Circuit Trails Coalition Welcomes the Trust for Public Land
Authored By: Circuit Trails Coalition | October 28, 2022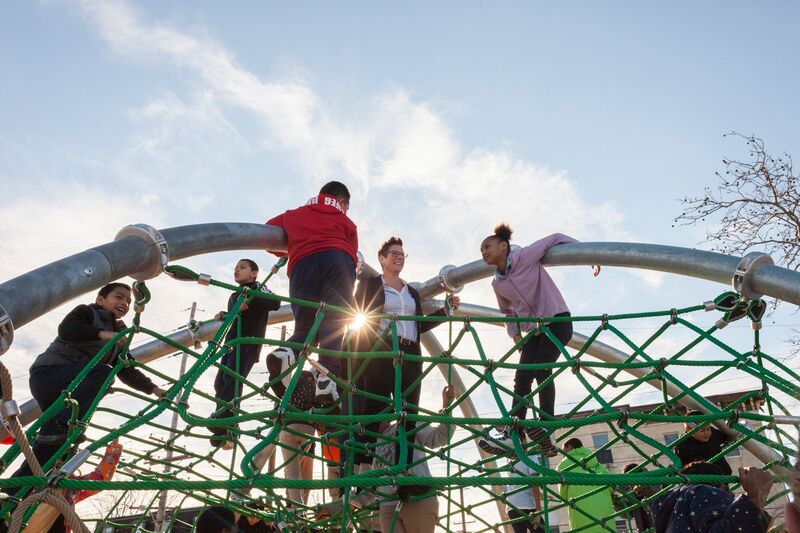 Launched in 2012, the Circuit Trails Coalition is a collaboration of nonprofit organizations, foundations and agencies working to advance the completion of a connected network of trails—the Circuit Trails—in the Greater Philadelphia and southern New Jersey region. Through the collective collaboration and action of the Circuit Trails Coalition, our public partners and other supporters, we are moving forward the ultimate goal of growing and enhancing the network to reach 800-plus miles of connected trails across our nine-county region, making it easier and safer for the community and visitors to walk, bike, roll and access the outdoors.
Achieving this goal would not be possible without our supporters and each and every member of the Circuit Trails Coalition. Which is why we're highlighting one of the newest coalition members, Trust for Public Land! Read on to learn about this organization and how they're strengthening the coalition.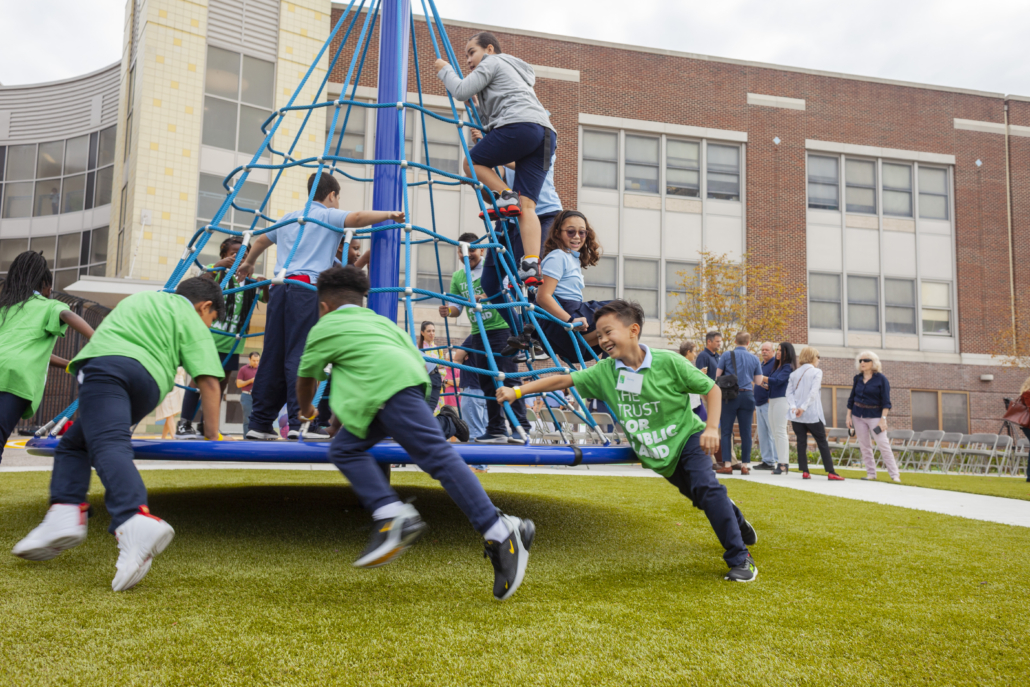 Photo courtesy of Trust for Public Land
Trust for Public Land (TPL) is a national nonprofit that works to connect everyone to the benefits and joys of the outdoors. As a leader in equitable access to the outdoors, TPL works with communities to create parks and trails and protect public land where they are needed most. Since 1972, TPL has protected more than 3 million acres of public land, created more than 5,000 parks, trails, schoolyards, and iconic outdoor places, raised $84 billion in public funding for parks and public lands, and connected more than 9 million people to the outdoors.
At TPL, they believe strongly that high-quality public spaces are essential infrastructure in building healthier, more equitable, and more climate-ready communities. TPL recognizes, however, that public spaces in the United States could do more to improve community wellness, public health, social and racial equity, and climate resilience. The data supports that this is particularly true for the 100 million people in the United States, including 28 million children, who don't live within a 10-minute walk of a park. In addition, there are many more people whose neighborhood park is in disrepair, inaccessible, or unwelcoming for one reason or another. To help address the park equity gap, TPL works with local governments, school districts, and community stakeholders to create and restore parks and trails, transform schoolyards into shared public spaces, and create key public connections that provide multiple critical public benefits.
Since 2012, TPL has completed 15 schoolyard renovations and currently has five schoolyards in design or construction in Camden and Philadelphia, many of which are on or adjacent to the Circuit Trails network. In addition to schoolyards, TPL has completed six park renovation projects in Philadelphia and Camden, with one more currently in development. In Camden, they led the development of a next generation Parks and Open Space Plan that balances input from over 700 community stakeholders with expert analysis of climate, health, demographic, and public space data. In both Camden and Philadelphia, they've led coalitions of community organizers, artists and institutional partners to use public art and creative placemaking to examine environmental racism and expose the dangers of urban heat. By working closely with community members, faculty, and students to explore and reimagine their lived environments, they're able to identify and develop projects and initiatives that address each community's unique assets, opportunities, and needs.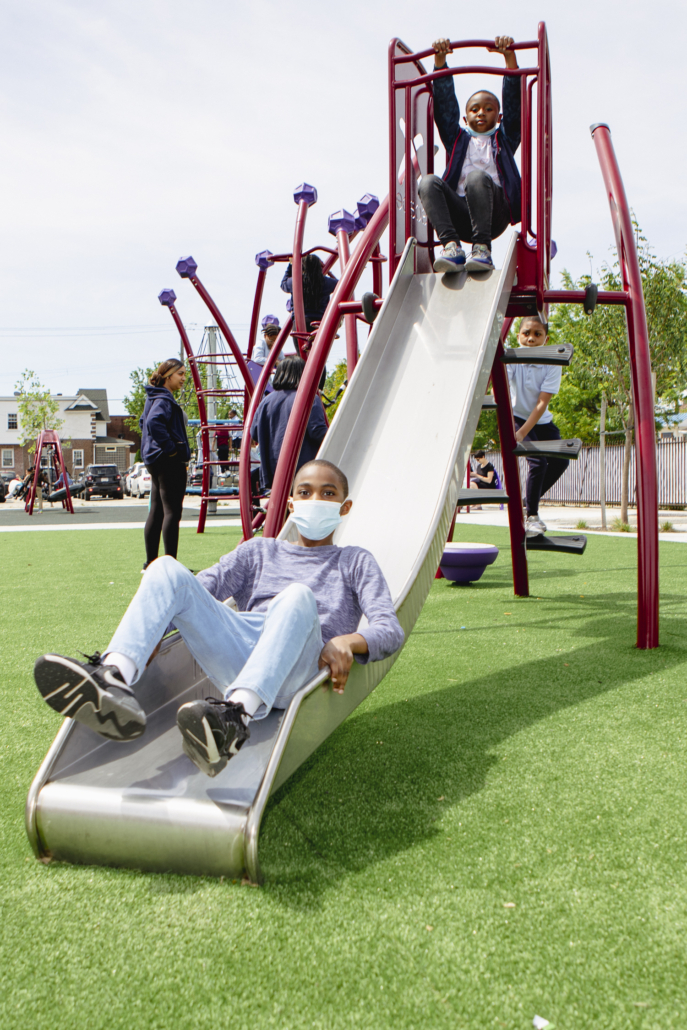 Photo courtesy of Trust for Public Land
With over 300 schoolyards completed nationwide, TPL understands that excellence in engagement, design, and construction are key in developing high-performing public spaces. They also recognize, however, that the work doesn't stop after the ribbon-cutting and that high-performing spaces don't just stay that way. To help ensure the physical and social sustainability of their projects, TPL field teams continue engaging with school faculty and staff, students, and residents to steward their new green space, ensuring that it's well-loved and cared for in the long run. TPL works in coordination with community stakeholders, faculty, and students to identify how best to support the use of recently renovated public spaces and ensure that maintenance issues are addressed in a timely manner.
How does TPL's work relate to trails and how people interact with trails?
From leading the development of the Beltline in Atlanta to preserving the longest unprotected stretch of Pacific Crest Trail in California, TPL approaches trail projects in the same way as their park and schoolyard work: by centering people in the process. TPL's rapidly expanding national trails program recognizes the critical role that trails serve in connecting communities and as public spaces. To bring high-functioning trails to life, they advocate and fundraise for, strategize around, design, and construct trails in coordination with diverse coalitions of community, governmental, and nonprofit partners—ensuring that all stakeholder opinions are heard. TPL catalyzes community conversations to identify a shared vision and chart a course together. Through this process, they develop feasible project scopes, attainable timelines, and stewardship plans that strongly position projects and their sustainability for success.
That is exactly why TPL is excited to join the Circuit Trails Coalition.
TPL looks forward to working with a community of like-minded practitioners to scale and advance trail-building in the region. They are excited to bring the full backing of their National Trails Program to bear in Pennsylvania and New Jersey. They look forward to informing strategy and policy through an evidence-based approach. And most importantly, they look forward to learning how neighbors and institutional stakeholders wish to see trails deployed in their communities. To learn more about Trust for Public Land's work in New Jersey and Pennsylvania, please visit their homepages. To learn more about TPL's trail work, please visit their National Trails Program page.