The Circuit Trails Network Continues to Get Bigger and Better
Authored By: The Circuit Trails | November 18, 2021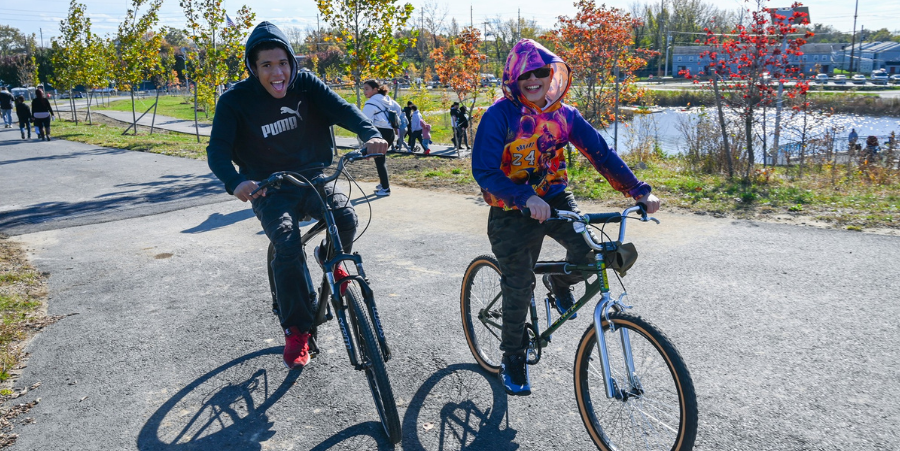 PHOTO COURTESY OF CONNECT THE LOTS - CAMDEN
We are moving closer to achieving our goal to complete 500 miles of trails #OnTheCircuit by 2025, one ribbon-cutting, groundbreaking and community celebration at a time!
Over the past few months, we have made exciting progress on crucial trail links and long-anticipated developments, including three new openings in early November.
Nov. 6 was a big day for the Circuit Trails. We celebrated the official openings of the Schuylkill River Trail extension and Cramer Hill Waterfront Park.
The Schuylkill River Trail continues to grow its five-county route. This time, 1,800 feet have been added to extend the trail from Bartram's Garden in Southwest Philadelphia to 61st Street. In addition to added trail mileage, the project included shoreline stabilization, constructing stormwater infiltration basins, planting 108 new trees, restoring approximately 1.6 acres of degraded industrial land to a naturalized meadow condition and constructing an overlook on the southern end and a fishing plaza on the northern end. This project is the first phase of a larger trail extension project that will eventually extend to Passyunk Avenue and a planned riverfront park near the Passyunk Avenue Bridge.
While Schuylkill River Development Corporation officials and City of Philadelphia representatives were cutting the ribbon on the Schuylkill River Trail extension, across the Delaware River, the Camden community came together to celebrate the opening of the highly-anticipated Cramer Hill Waterfront Park.
The new beautiful park along the waterfront was once the site of an 86-acre landfill. Over the years, the prime-time real estate was sealed off, cleaned and remediated for community projects like the neighboring Salvation Army Kroc Center and 62-acre Cramer Hill Waterfront Park.
In addition to sweeping panoramic views of the Delaware River, Petty's Island, the Benjamin Franklin Bridge and Philadelphia from atop the park's summit vista, park-goers can enjoy trail paths, an amphitheater, fishing plaza, kayak launch, picnic area, playground, sensory garden and shoreline observation areas.
Then on Nov. 16, we celebrated the opening of the Scudder Falls Shared-Use Path, a new 10-foot-wide bridge pathway and connector ramps that will directly link the popular passive-recreation towpaths along Pennsylvania's 165-mile Delaware & Lehigh Trail (or the D&L) and New Jersey's 69-mile Delaware & Raritan Canal State Park Trail. This new link is a major win for connectivity in the Circuit Trails' region. The shared–use facility will make Scudder Falls the first river crossing in the Commission's 20-bridge system where bicyclists can pedal across without dismounting.
This exciting news for cyclists is also a great reminder to freshen up on your trail etiquette, so that we can all share the trail safely. Get trail tips and resources for how to #RecreateResponsibly here.
Progress continues to move along on other critical gaps like the Chester Valley Trail Extension. We broke ground on this nearly 4-mile segment in early September. Once completed, the trail will serve as a connector from the Chester Valley Trail to the Schuylkill River Trail in Norristown, allowing for 70 miles of trails #OnTheCircuit to connect seamlessly. Construction on the trail extension is expected to be complete in October 2022.
Another project making headway is the central segment of the Delaware River Trail. Running from Washington Avenue and Spring Garden Street on the east side of Columbus Boulevard/Delaware Avenue, the currently under-construction trail is estimated to be complete by spring 2022. When finished, the trail will feature a curb-separated, bi-directional asphalt bicycle path and separate pedestrian sidewalk as well as new landscaping, pedestrian lighting and street furnishings.
As the year comes to a close, we look forward to celebrating more trail improvements, developments and completions with you all soon! Keep showing us how you love to use the many miles of Circuit Trails that are already complete by sharing your adventures with #OnTheCircuit and tagging us on Facebook, Twitter and Instagram.