Top 5 Circuit Trails Blogs of 2016
Authored By: The Circuit Trails | December 16, 2016

The end of 2016 is nearing, and you know what that means – top lists of everything great that happened this year will be everywhere and we didn't want to be left out. Why not? Everyone loves a good list!
At the Circuit Trails, we had a busy year full of offline growth along the Circuit and online growth through our new brand and digital presence. From trail openings to bike safety, it seems like we've covered it all in our blog posts during 2016. It is only right to join the fun and recount our top blog posts of the year!
From best places to see fall foliage to cool weather activities on the Circuit, our blog is the place to find valuable resources and guides to the trails. Perhaps our most useful was our overview of basic trail etiquette – an often-forgotten art that makes the trails a happier place for everyone! Sharing is caring, even on the Circuit Trails.
Through our Circuit Trails Spotlight series, we have profiled incredible folks doing great work related to the Circuit, making it nearly impossible to choose just one for this list. An easy stand-out is the youngest Circuit Spotlight feature to-date: Cadence Youth Cycling member, Krystal Philson, who joined other youth cyclists to ride 170 miles over 5 days as part of this year's Youth Sojourn. We loved catching up with Krystal about her amazing accomplishment and love for cycling on the Circuit.
One of the most exciting trail events in 2016 was the opening of Sullivan's Bridge, attended by over 300 Circuit Trails enthusiasts and supporters. Each time we celebrate a new trail opening, it is a unique and exciting experience. When members of the community join us for these occasions, the excitement is amplified! Our recap of the occasion reminds us of the major steps forward the Circuit Trails has taken in 2016 toward our greater goal of building more than 750 miles of trails.

Across the river, New Jersey had a roaring year of success securing funding for new trails. We laid out a snapshot of these projects in our New Jersey highlights blog. Celebrating the successes of our hardworking New Jersey partners was just one of many victory cheers we joined in on this year, and we hope that trend continues into 2017 and beyond!
In April, the Circuit Trails hosted an official launch where new branding was unveiled to the public for the first time. City officials, trail advocates, and many of our coalition members joined together to celebrate the exciting role the Circuit Trails plays in our region. Perhaps the best part? The surprise visit from Philadelphia Eagle (and serious cyclist) Connor Barwin! Looking back on our official launch in April, it is a humbling reminder of the accomplishments and milestones the Circuit has reached this year.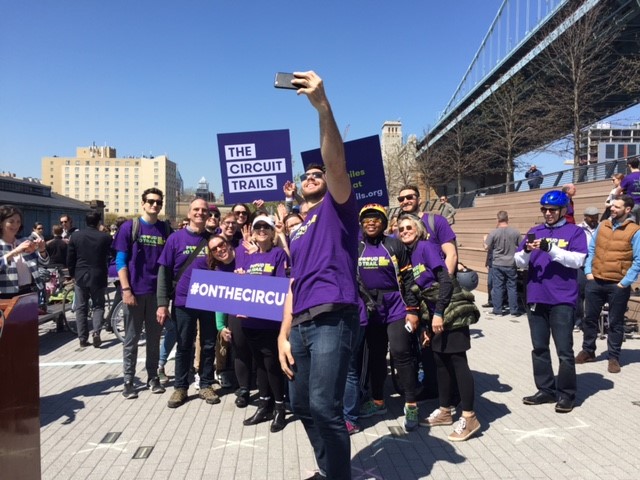 We're not done yet! Follow along with the Circuit Trails on Facebook, Twitter and Instagram – you'll be the first to find out what our blog has in store for 2017.