Trails and Projects Displayed at Northwest Circuit Open House
Authored By: The Circuit Trails | October 3, 2018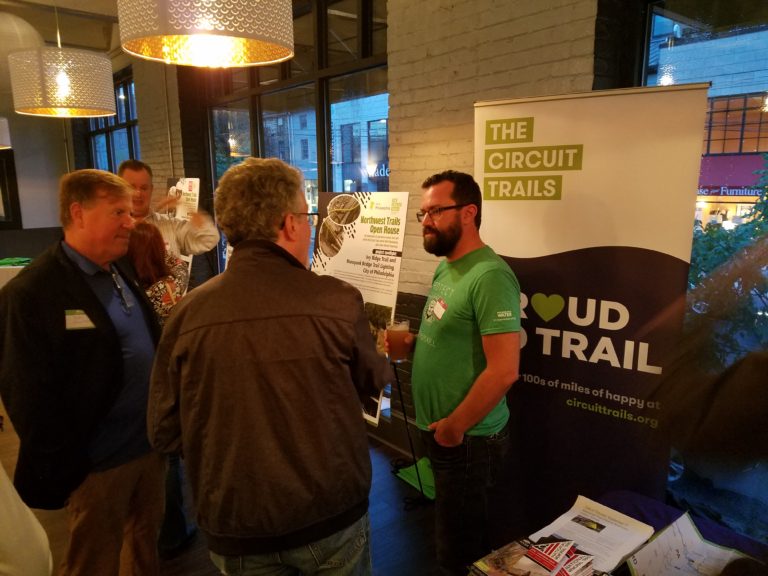 This blog was orginally published on the Bicycle Coalition of Greater Philadelphia's blog in September 2018.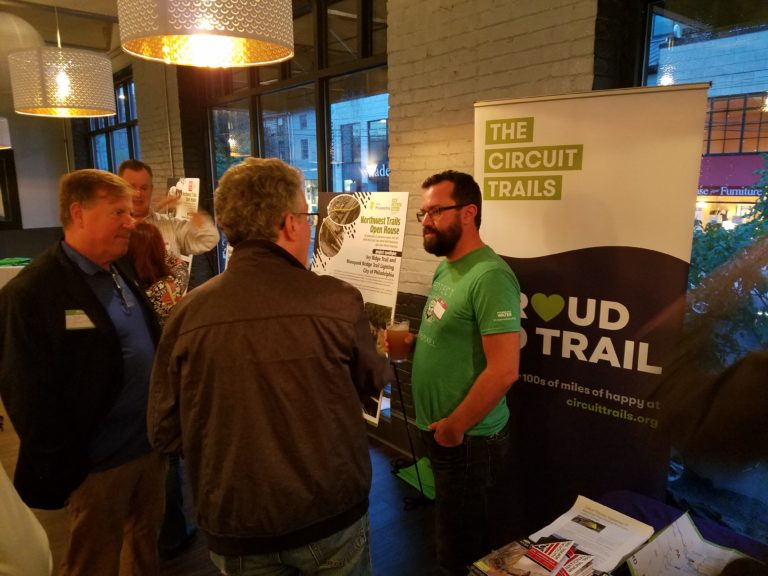 Rob Armstrong (Philadelphia Parks and Recreation) converses with Open House attendees Any Hamilton and Tom Benson.
Despite a biblical rainstorm that shut down I-76 and most of the River Drives, approximately 80 people came the NW Circuit Trails Open House at the Manayunk Brew Pub on Tuesday, September 25. There are numerous trail and canal projects underway in several Northwest Philly neighborhoods, Lower Merion and Whitemarsh Townships that will build out the Circuit over the next 3-6 years. And because any infrastructure projects take a long time, we decided an open house was a good idea to inform the public about the status of these various projects.
Many of them will better connect Philadelphia to its self and its neighbors in Montgomery County, close gaps in the Schuylkill River, Cynwyd and Wissahickon trails and create important loops in Lower Merion and Whitemarsh townships off the Schuylkill River Trail.
ABC News came by and did a short segment, which you can view here.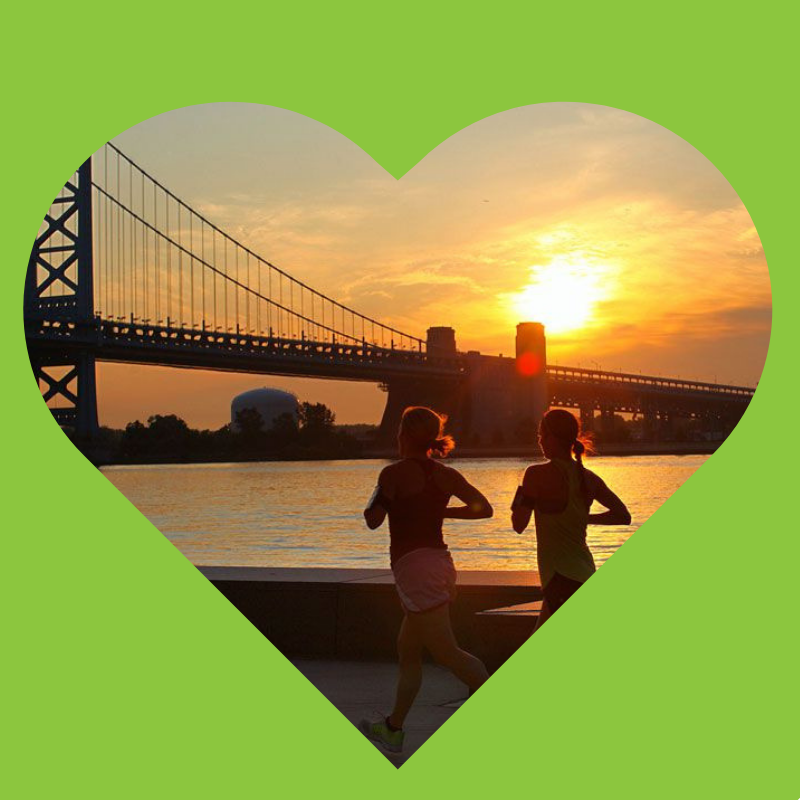 And several others are restoring and enhancing cultural, historical and recreational resources along these trails.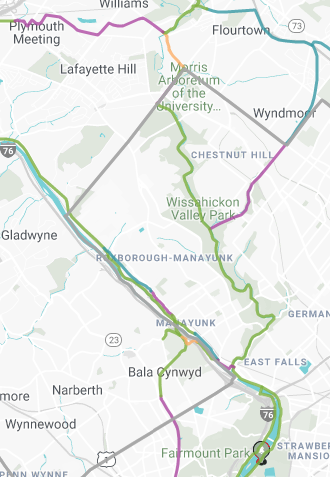 The projects displayed included:
The Wissahickon Gateway
The Wissahickon/Green Ribbon Trail connecting to the Cross County Trail
The lighting of the Manayunk Bridge, the Ivy Ridge Trail
Restoring two sets of locks on the Manayunk Canal, art work on the Tow Path, upgrading the stairs into ramp from the tow path to Main Street, a proposed elevator to the Manayunk Bridge from Main Street
Restoring the Shawmont Train Station
A new trail connecting the SRT to the Schuylkill Education Center
Extending the Cresheim Trail
Three projects to extend and connect the Cynwyd Heritage Trail
Upgrading the Barmouth trail head on the Cynwyd Heritage Trail
Sustainable trails in the Wissahickon and a new proposal for a trail in between the East Falls Bridge and the Pencoyd Bridge.
Fourteen different public agencies, trail "Friends of" groups, and one real estate developer brought poster boards describing their projects. They included: Philadelphia Parks & Recreation, Philadelphia City Planning Commission, Philadelphia Water Department, Lower Merion Township, Montgomery County Planning Commission, SEPTA, Office of Transportation & Infrastructure, Manayunk Development Corporation, Roxborough Conservancy, West Laurel Hill Cemetery, Friends of Cynwyd Heritage Trail, Friends of the Cresheim Trail, Friends of the Wissahickon, Schuylkill Environmental Education Center and Penn Real Estate Group.