Trick or Treat Yourself with These Halloween Activities #OnTheCircuit
Authored By: The Circuit Trails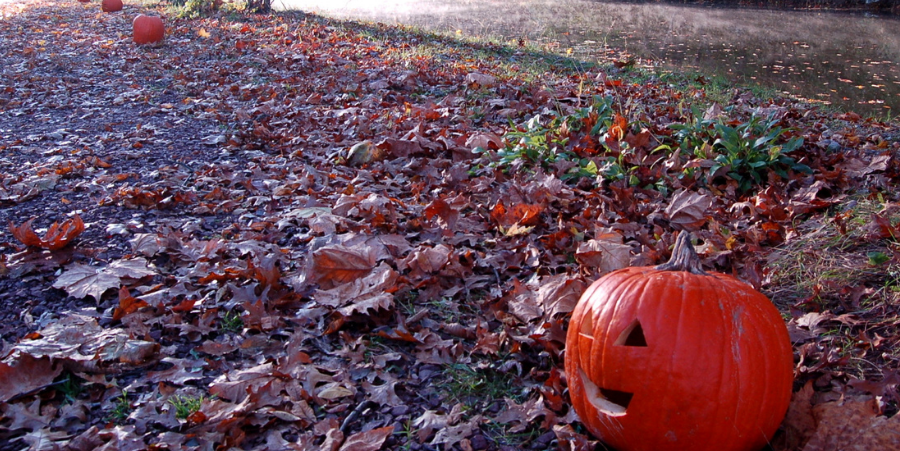 Photo courtesy of Delaware & Lehigh National Heritage Corridor
Spooky season is upon us, and many Circuit Trails partner organizations have prepared frightful and festive events for you to enjoy along the trails to celebrate. From ghost tours to costumed cleanups, check out a quick list below of activities for you to have some skele-fun #OnTheCircuit.
When: Oct. 27
Show up at Bartram's Garden after dark for a ghost walk through the twisting path and haunted meadow. You never know what you'll see, but you better hope they don't see you!
Photo courtesy from West Laurel Hill Cemetery
Aunt Mary Pat's Boo Bash Comedy Show
When: Oct. 28
Come one, come all for a night of laughs with comedy performances by the one and only Aunt Mary Pat at West Laurel Hill Cemetery's Conservatory, right off the Cynwyd Heritage Trail! The show promises that you'll be laughing 'til you're coffin!
When: Oct. 29, 30 and 31
Candlelight Ghost Tours are a spooktacular, authentic Halloween event hosted by the Schuylkill River Development Corporation. No decorations. No hype. Just you, a few candles and real ghosts! You'll be sure to return with some scary stories of your own.
Photo by Friends of the Wissahickon
When: Oct. 30
All of the witches, ghosts and goblins are coming together to take care of Wissahickon Valley Park! This self-guided cleanup is a fun and easy way to get out in the park and make a positive impact in the Wissahickon. Registration is required, so click here to sign up.
When: Oct. 30
Join Trenton Cycling Revolution for a photo scavenger hunt by bike and test your knowledge of history and art around New Jersey's capital. All you need to join is a bicycle, helmet and camera or phone. The scavenger hunt will start at One Up One Down Coffee (748 Cass Street), where clues will be revealed. All are welcome to join, either as part of a team or solo! Details will be updated here during the event.
Photo courtesy of Delaware & Lehigh National Heritage Corridor
When: Oct. 31
Come trick or treat at the Delaware and Lehigh National Heritage Corridor museum! Arrive in costume and be ready to move from station to station learning some history and being rewarded with a treat. There will be crafts included in this fun family time.
When: Oct. 31
Appear at this Halloween Edition Tour to hear some thrilling stories about the Woodlands and what they hold. Want to have some Halloween trail fun at home? This tour is also offered digitally, so you can learn about the spirits while keeping your social distance.
Photo by Mary Grucella
Valley Forge Park Alliance 2021 Fall Photo Contest
When: Until Oct. 31
Show off your photography skills with the Valley Forge Park Alliance Photo Contest. Help highlight the beauty of Valley Forge through photos by submitting your favorite snaps from your thrilling trail adventures.
Let us know 'witch' events you enjoyed by posting photos from your outings to social media using #OnTheCircuit! Don't forget to tag us too – Twitter, Instagram and Facebook! You might see your pictures magically appear on the Circuit Trails feeds.