Will You Make History? Break a World Record on Opening Day for Trails
Authored By: The Circuit Trails | April 6, 2017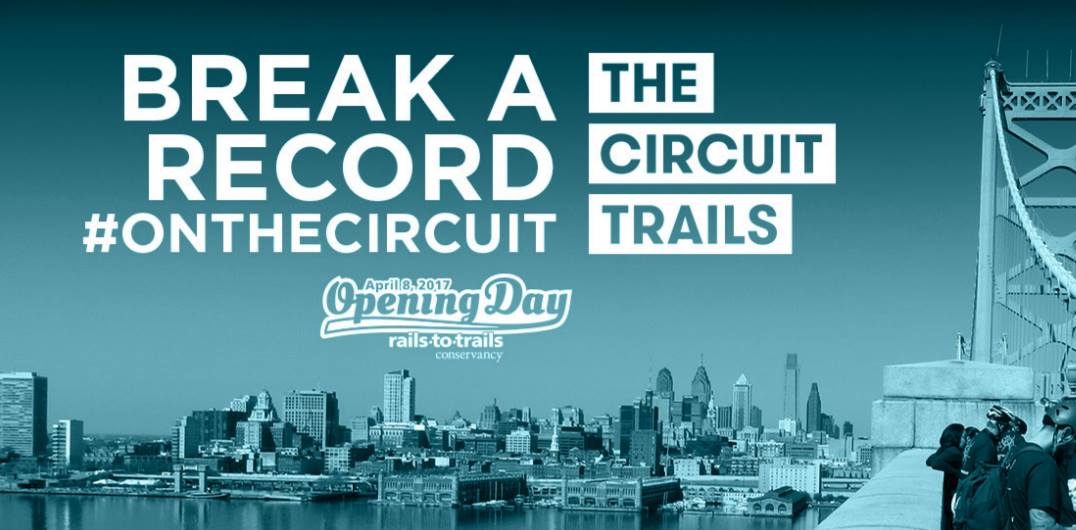 Spring is finally here, and it's our favorite time of year! Opening Day for Trails is this Saturday!
Runners, walkers, cyclists, dog walkers and adventurers across the nation take to their favorite trails in honor of Rails-to-Trails Conservancy's annual Opening Day for Trails this Saturday, a nationwide kickoff to the spring trail season. For the Circuit Trails, Opening Day is all about celebration. Last year, we celebrated the launch of our new brand. This year, we want to celebrate our thriving trail network – and 10+ new trails expected to open in 2017 – by making Opening Day 2017 one for the record books.
How, you ask? By literally breaking a GUINNESS WORLD RECORDS title #onthecircuit! We're going to attempt to break the record for the longest fist-bump relay, and we are going to do it on the trails, but we need your help.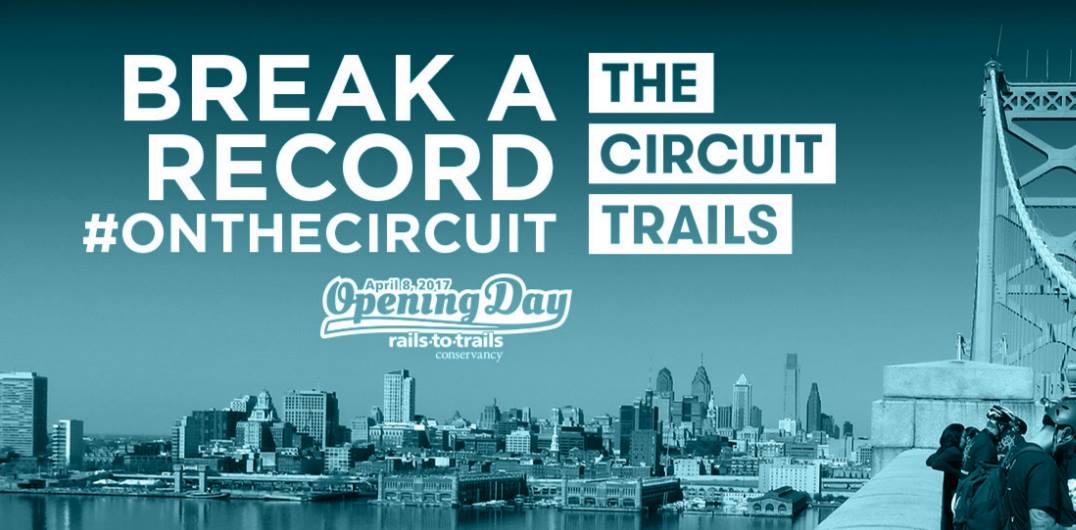 A group in Florida recently upped the ante and broke the previous record of 300, so we're going to need all the help we can get to rewrite the books! That means we need a LOT of fists–join us at Penn Treaty Park at 2 p.m. on April 8 to help us make history. Participants of all ages are welcome, and every fist bump counts. If making history isn't enough incentive, everyone will be entered to win cool prizes, including two brand new Fuji bikes.
Penn Treaty Park will be the backdrop for our celebration because its prime location along the Delaware River allows great views of both of the Circuit Trails home states – New Jersey and Pennsylvania. It is also positioned along what will one day be a more than 80-mile trail running along the Delaware River from South Philadelphia to Easton, PA. Check out the event's logistical details below!
WHEN: Saturday, April 8, 2-3:30 p.m. Please arrive promptly at 2:00 p.m.
WHERE: Penn Treaty Park, 1301 N. Beach Street, Philadelphia, PA 19125
What to expect
The event will take place from 2-3:30 p.m. on Saturday, April 8 at Penn Treaty Park. A section of the park will be cordoned off so that the official adjudicator from GUINNESS WORLD RECORDS can effectively measure the number of participants in the attempt. To ensure this runs smoothly, we ask that you remain in this area after you've entered!
Parking
Both the parking garage and external parking lot at Sugarhouse Casino are available (and free!) for all Circuit Trails participants. These lots are only a 7-minute walk from the park.
Merchandise / Raffle
When you arrive, you will have the opportunity enter a Fuji bike giveaway; one adult and one kids bike will be raffled at the conclusion of the event. The winner must be there to accept the prize. Additionally, there will be a table full of free Circuit Trails merchandise, including t-shirts, Circuit Trails maps, hats and more! (FYI, the Fuji bikes will not be on site, so don't worry about transporting them home.)
Bathrooms
There will two portable toilets in the parking lot at Penn Treaty Park, one of which is handicap-accessible.
This Saturday is shaping up to be a day of excitement, fun and trail pride, and we want to see you there! Come make history with us #onthecircuit! Register to participate here.