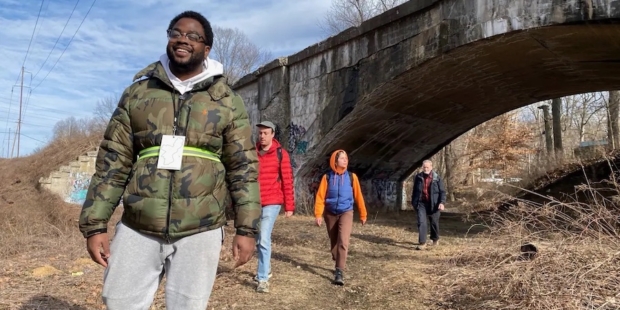 Date/Time
Date(s) - September 10, 2023
9:45 am
Join the 12th Walk Around Philadelphia!
Walk Around Philadelphia creates cultural events that bring people together in shared  experiences that connect them to their own bodies, their neighbors, and the landscape of Philadelphia.
For the 12th walk, we'll be setting out to explore the city's edge counterclockwise over four weekends in August and September, in small and big groups, with special events along the edges, including an exhibit and gallery hours at Cherry St Pier.
Registration fee: $15 / $25 / $50. No one turned away for lack of funds.
More info: Walk Guidelines & Frequently Asked Questions
PLEASE REGISTER INDIVIDUALLY for EACH segment that you plan to attend.
Register for this segment:
You're signing up to walk on September 10th at 9:45am from Fox Chase towards HMart.
This segment is estimated to take roughly 5.5 miles and 4 hours. The terrain may include mostly easy walking along railtracks and sidewalks. Your mileage and terrain may vary depending on choices made by your group, and there will be options to walk a partial segment & depart / get picked up along the way.
This segment is not capped to a small group and may grow into a bit of a parade if enough people join. Please feel free to invite all of your friends – just have them register separately.
Getting to/from the start & finish:
Using SEPTA to access departure and end locations is highly recommended.
See the FAQ.
This segment concludes with an optional dinner in the Navy Yard. Friends and Family are welcome to join us at the finish line!
Once registered, you will receive some additional resources including a packing list & maps.
Registration fees & contributions:
Walk registration fees help cover some of the administrative and logistical costs associated with facilitating the walk. Additional contributions are most welcome; they assist in the continued development of the project and efforts to make it more accessible to others.
Free registrations & stipends:
If you'd like to join the walk and finances are a barrier, please reach out to walk@jjtiziou.net. We can accommodate some free registrations and have a limited number of stipends available to help cover costs such as transportation, supplies, childcare or time off from work.
Background:
Since its 4-person artist residency origins in 2016, Walk Around Philadelphia has become a citywide experience where hundreds have set out to explore Philadelphia's perimeter. For more information about the walk including photos, videos, press coverage & more, visit www.WalkAroundPhiladelphia.com