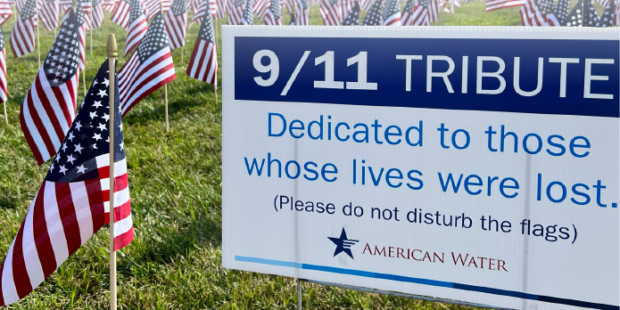 Date/Time
Date(s) - September 11, 2023 - September 13, 2023
All Day
Monday marks 22 years since the tragic attacks on September 11, 2001 – a day we will never forget. In commemoration of 9/11, American Water employee volunteers gathered earlier this week to install 2,977 American flags – one for each life lost – on RCA Pier Park on the Camden Waterfront. American Water first erected the memorial flag display in 2021, for the 20th Anniversary of 9/11. An annual tradition that honors the lives lost, survivors, families and first responders.
We invite you, your families and colleagues to walk along the Camden Waterfront and reflect on the 2,977 lives and a day we will never forget. The memorial will remain on display until Wednesday, September 13, 2023. This information is welcome to be shared.
Questions? Contact Joey Rodriguez – joseph.rodriguez@amwater.com