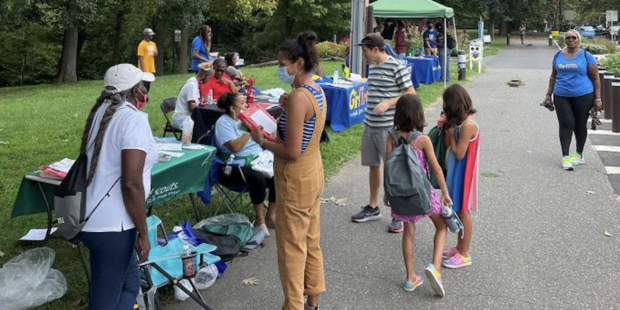 Date/Time
Date(s) - April 22, 2023
8:00 am - 2:00 pm
Location
Cobbs Creek Pkwy & Thomas Ave, Philadelphia, PA, 19143
Celebrate Cobbs Creek Trail Day includes free resources, educational materials, games, local exhibitors and more. The day is filled with free activities including horseback riding, a birding walk, plant identification workshop, and raffle. See the complete event schedule below and don't forget to invite your friends, family, and neighbors to join you for a full day of fun on the trail and in the park.
This event will be held at the playground/park area at Thomas Ave & Cobbs Creek Parkway just north of Whitby Ave. Get directions. 
Event Schedule:
8:00am –  Guided Bird Walk – Join In Color Birding strives to make the birding experience a positive one for BIPOC folks and their allies. (Meet at Whitby and Cobbs Creek Parkway)
9:00am – We WalkPHL and Tiny Trekkers Earth Day Kickoff – WeWalk PHL is a free walking group that meets several times per week at various public parks, including Cobbs Creek Park. Tiny Trekkers is a walking/hiking group for children ages 4-8 years old. Walks will be offered in tiered walking options that range from moderate to fast paced options for those who want a leisurely stroll or more of a workout.
10:00am – Tree Philly Philly will distribute free yard trees through their Community Yard Tree Giveaway Program. Yard trees provided through this program must be planted in the ground on private property in Philadelphia. Yard trees may not be planted in a container or in the sidewalk or public right-of-way.
10:30am – Plant Printing Workshop – Tiffany Robinson will lead a plant identification exercise and workshop on how to use plants to make prints on fabric.
11:00pm – Horseback Riding with PURA – Erin Brown, the concrete cowgirl, will lead youth and adults on a short horseback ride around the park.
1:00pm – Raffle bag giveaway – Visit Clean Air Council's exhibitor tent to sign up to win a HydroFlask Journey Series 20 Hydration Backpack.