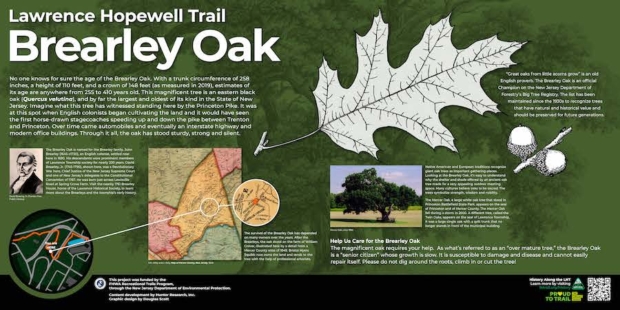 Date/Time
Date(s) - May 14, 2022
9:30 am
Location
3401 Princeton Pike, lawrenceville, NJ
Categories
Please join our upcoming special edition of the LHT Saturday Morning Walking Club for the official unveiling of "History Along the LHT," an interpretive signage program along the Lawrence Hopewell Trail on Saturday, May 14.
Former Lawrenceville historian and current LHT board member Dennis Waters will talk about how the signs bring history to life along the trail. Attendees will visit three signs along the LHT: the Brearley Oak, a tree between 255 and 410 years old, Lewisville Road, Lawrence Township's oldest African American community, and Princeton Pike, one of New Jersey's oldest toll roads.
The event will start at 9:30 a.m. in the parking lot at the Bristol Myers Squibb campus, 3401 Princeton Pike, Lawrence Township. Attendees will then accompany Waters on a 1.4 mile walk to the three signs.
History buffs can then return to the parking lot to their cars, while those interested in a longer walk, including members of the LHT Saturday Morning Walking Club, will continue on to the Brearley House and back to the parking lot, an additional 1.5 miles roundtrip for a total walk of 2.9 miles.
No registration necessary and no fee. Everyone welcome.
LHT Segment: BMS Princeton Pike
Where we'll meet: 3401 Princeton Pike. Enter on the driveway from Princeton Pike, stopping to the right of the guardhouse. Tell the guard that you are here for the LHT event. When the guard opens the gate, drive straight and then make a right at the stop sign. Continue on that road and park at Lot 2. The LHT tent is the site of the opening discussion.
When: Saturday, May 14 2022, at 9:30 a.m.
Who: Everyone welcome. No fee.