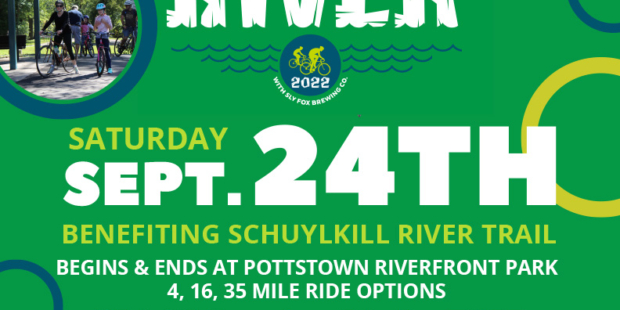 Date/Time
Date(s) - September 24, 2022
12:00 am
Ride for the River, the annual fundraiser for Schuylkill River Greenways, NHA, is coming back to Pottstown September 24th, with a great family friendly ride option.  At last year's ride,  which draws hundreds of cyclists from around the region, SRG introduced a "Family Fun" 4 mile ride option for the first time.
"We had about 10 families participate last year, and we are hoping for even more this year," said Alex Shandera who is the Events and Development Coordinator for SRG.  "It's so easy for families to just come out and enjoy a ride on the trail. We take care of everything. We offer watershed education for the kids and snacks, too!"
If a parent would like to participate, but doesn't have a bike, they can reserve one of our free Bikeshare bikes for the Family Fun Ride.  Kids will need to have their own bicycles and helmets are required for kids under 12.
All the biking options will begin and end at Riverfront Park in Pottstown. The event includes rest stops with water and snacks, ride support, and well-marked routes.
Serious cyclists can choose from a 35-mile or 15-mile option and even choose to add some tough hills into the ride. The 35-mile riders will go to Berks Nature in Reading then turn around; The 16-mile riders will make their turn at Union Township Recreation Area before returning to Pottstown. All participants get free food, a beer or beverage, and reserved parking at Sly Fox's free Can Jam Music Festival happening the same day as the ride
For Families, the route turns around at Grosstown Road, so there are no crossings or on road sections to pedal with your kids. Children ages 12 ride free with a paid adult.
"We hope families will come out to Ride for the River with their kids, and those kids will get interested in the river, and the trail, and want to keep coming back."
Ride for the River is a fundraiser for Schuylkill River Greenways, which works with partners to build, improve, and promote the Schuylkill River Trail. One of the largest finished trail sections is the Pottstown to Reading stretch, maintained by Schuylkill River Greenways, which totals about 20 miles. Money raised will support ongoing maintenance of the trail. There are currently 75 miles of the Schuylkill River Trail completed and when finished it will run 120 miles from Frackville in Schuylkill County to Philadelphia.
ABOUT SCHUYLKILL RIVER GREENWAYS The Schuylkill River Greenways NHA is a non-profit organization with the mission of connecting residents, visitors and communities to the Schuylkill River and the Schuylkill River Trail (SRT) by serving as a catalyst for civic engagement and economic development in order to foster stewardship of the watershed and its heritage. www.schuylkillriver.org