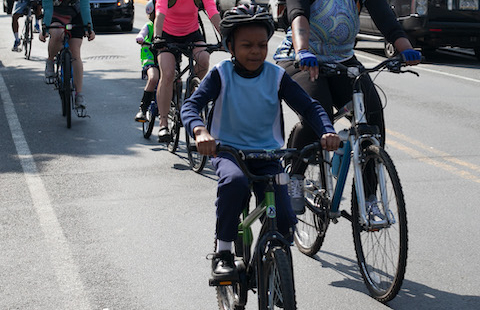 Date/Time
Date(s) - August 23, 2022
6:00 pm - 8:00 pm
Location
5501 Tacony St, Philadelphia, PA, 19137
Este taller es GRATUITA de dos horas para aprender cómo andar en bicicleta (o recordar cómo andar en bicicleta) y es ofrecida por The Bicycle Coalition of Greater en asociación con Riverfront North. Este taller es perfecta para aquellos que nunca han andado en bicicleta o no lo han hecho en mucho tiempo e incluye un curso de bicicleta de desarrollo de habilidades para personas que pueden montar al final de la clase. El taller es para cualquier persona mayor de 12. Adultos son bienviendos tambien.
El personal y los voluntarios enseñarán a los participantes cómo equilibrar, pedalear, arrancar, parar, conducir y cambiar de marcha.
Este taller usará bicicletas de VeloLingo. Tambien puede traer tu propria bicicleta. Se proporcionarán cascos y los participantes pueden quedarse con los cascos después de la clase (¡porque la seguridad es importante para todos los ciclistas!)
This FREE two-hour Learn to Ride class teaches particpants how to ride a bicycle or remember how to ride a bicycle and is offered by The Bicycle Coalition of Greater in partnership with VeloLingo and Riverfront North. This class is perfect for those who haven't ever ridden a bike or haven't ridden in a long time and includes a skill-building bicycle course that prepares you to ride by the end of the class. This class is available for anyone 12 years and up. Adults are welcome as well!
This is a bilingual class and is available in both Spanish and English.
Staff and volunteers will teach participants how to balance, pedal, start and stop, steer and shift gears.
This class will use VeloLingo bikes, but there is a limited quality. You may also bring your own bike! Helmets will be provided and participants can keep the helmets after the class (because safety is important for all bicyclists!)
Hosted By
Riverfront North and VeloLingo