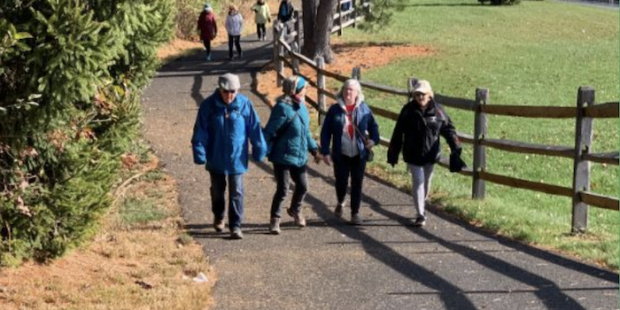 Date/Time
Date(s) - April 22, 2023
9:30 am
Please join us on Saturday, April 22, 2023, for another Saturday Morning Walking Club event through Carson Road Woods.
This month's walk coincides with two great efforts: Celebrate Trails Day – a national spring celebration of trails, and Earth Day – a global event to raise action and awareness for the environment.
What better reasons to get outside and take a walk!
No registration necessary and no fee. Everyone welcome.
PLEASE NOTE: Parking at Carson Road Woods is limited, and we encourage you to carpool with others and arrive early. If the lot is full when you arrive, additional parking* will be available at the Bristol Myers Squibb property. Between 9AM and 9:30AM a guard will allow entry at the Province Line Road access road. Once through the gate, proceed to the parking garage on the left. Park on the ground floor and walk back to the LHT on the road on which you entered the site. From there it is a 0.3-mile walk to the meeting location at Carson Road Woods. Again, please plan ahead and arrive early so the walk can begin on time.
LHT Segment: Carson Road Woods
Where we'll meet: Carson Road Woods
MAP link: Click here
*MAP link to BMS parking if CRW is full: Click here
When: Saturday, April 22, 2023, at 9:30 a.m.
Who: Everyone welcome. No fee.