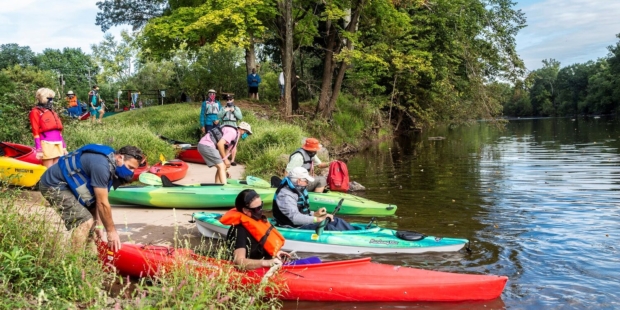 Date/Time
Date(s) - June 4, 2022
9:00 am
Explore the scenic beauty and hidden treasures of the Perkiomen. Do some boulder dodging. Battle the dams and rapids. Chat with old friends and make some new ones. Enjoy lunch at Cranberry Park, and learn a little about this gem winding through our own backyards. Bring your own canoe or kayak or rent one from us!
      
Date: Saturday, June 4th, 2022
Time: 3 Waves – Starting @ 9 am
Fee:  $40 Members/ $50 Nonmembers
Canoe/Kayak Rental:  $35
Launch Point – Meadow Park, Schwenksville (Behind old firehouse in the center of Schwenksville.)
Prior to Launch – Bus transportation is available (drivers only) from Hoy Park, our take out site, to Meadow Park before the Sojourn, prior to launch. If you are using your own boat, please drop it off at the Meadow Park site first. All drivers, including those who are renting, should plan to park at Hoy Park in the morning. Our bus will leave at 8:15 am to return to Meadow Park in time for a pre-trip briefing and launch.
Lunch – Kimberton Whole Foods
Take Out – Hoy Park – Along Arcola Rd. in Lower Providence Township.
Don't forget to bring: Water bottle, sunscreen
Space is limited. Please leave pets at home.