Circuit Challenger Spotlight : Courtney — Langhorne, PA
Authored By: The Circuit Trails | July 20, 2017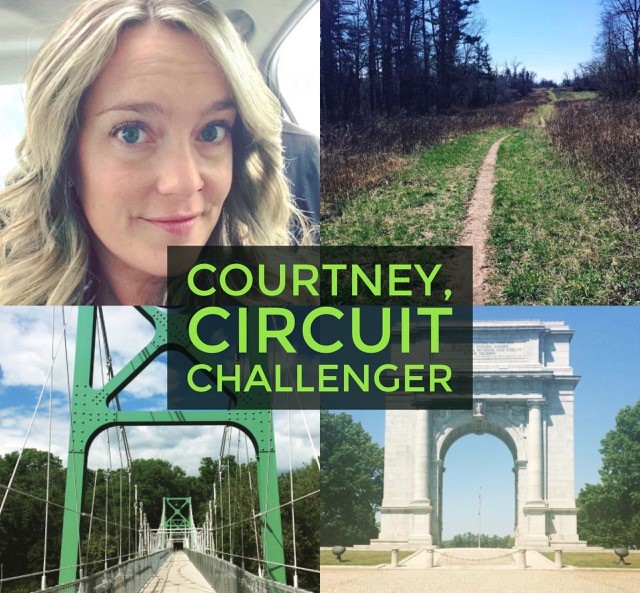 First up in our Circuit Trails Challenger Spotlight series is Courtney, a waitress who lives in Langhorne, PA. Courtney explores the trails by foot, and her walking shoes have taken her to a number of different trails since the Challenge began in June. Read on to learn about how Courtney is tackling the Challenge thus far!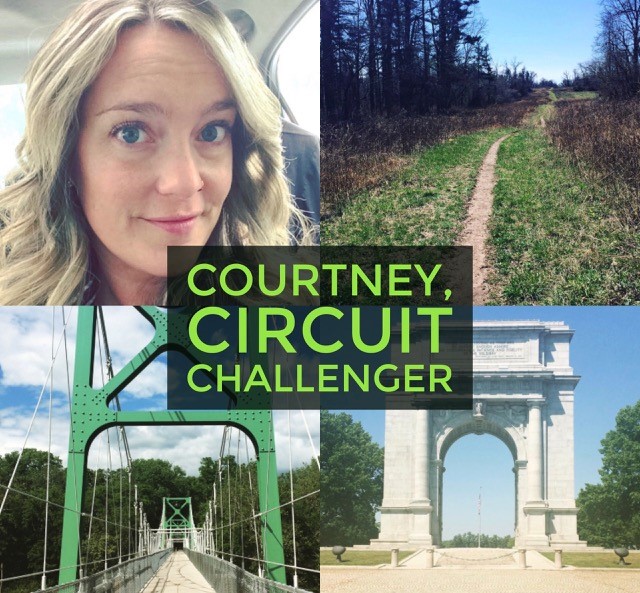 Are you participating in the Circuit Trails Challenge by yourself or with friends and/or family?
I am participating in the Circuit Trails challenge on my own. Occasionally, my sister or my boyfriend will keep me company, but in all honesty, I like to go at it alone!
When do you typically use the Circuit Trails network?
Because of my abnormal work schedule, there really isn't a "normal" time that I use the trails. Depending on when I'm free, the trails can be really quiet, but other times there are dozens of bikers and fishers. I always say hello when i cross paths with others–I feel that's important trail etiquette!
What's your current progress in the Challenge?
I tallied it up today and I thought that I was more than 100 miles in, but I've actually only totaled 66.5. September 10 is closer than I realized, but I have no doubt that I'll break the 100 mile threshold! I'm also stubborn, so I can see myself walking 20 miles on the last day to get as close to that 500 as I possibly can.
Have you explored any new and exciting trails as a part of the Challenge?
I've explored a TON of new trails thanks to this challenge—I downloaded a few trail maps that have helped me explore the surrounding areas. I frequent the D&L Canal Towpath the most, but I've also hit Tyler State Park, the Joseph Plumb Trail and the Pennypack Trail—they're all so beautiful! I still want to check out the Johnson Trolley Line and Cooper's Poynt Waterfront Park.
Why are the Circuit Trails important to you?
The Circuit Trails connect people to so many places. You have the opportunity to see so much—whether it's nature, history or scenic views of the city, you get to see so many things that you don't get the opportunity to see during your "everyday" life.
The Circuit Trails are important because they offer so much—places to exercise, outlets to see friendly trail-goers, and more generally, quiet, nature-filled landscapes. When I'm out on the trails, I love getting away from noise, deadlines, and even my electronics to just spend some time walking among the trees.
What's your favorite trail on the Circuit and why?
My favorite trail on the Circuit is the Tyler State Park Trail. It's really pretty, quiet and peaceful, and its heavily shaded areas helps me stay cool!
I have a goal to walk the entire D&L Canal Towpath before the trail season ends. I take photos of the cement mile markers (from one to 60) along the canal path, and I would like to frame and hang each picture so I can enjoy that accomplishment, which will help motivate me to stay out on the trails in the winter!
What motivated you to sign up for/do the Challenge?
Since I'm a waitress, I'm on my feet most of the day, so I wanted to see if I could apply that "stamina" to walking outside! Also, after a bit of a rough winter, I wanted to get back into shape.
Hiking the Appalachian Trail is on my bucket list, and although I don't have a solid plan yet, I think exercising on the Circuit Trails will help me cross that one off!