Seven Hidden Gems to Uncover #OnTheCircuit
Authored By: Circuit Trails Coalition | May 24, 2023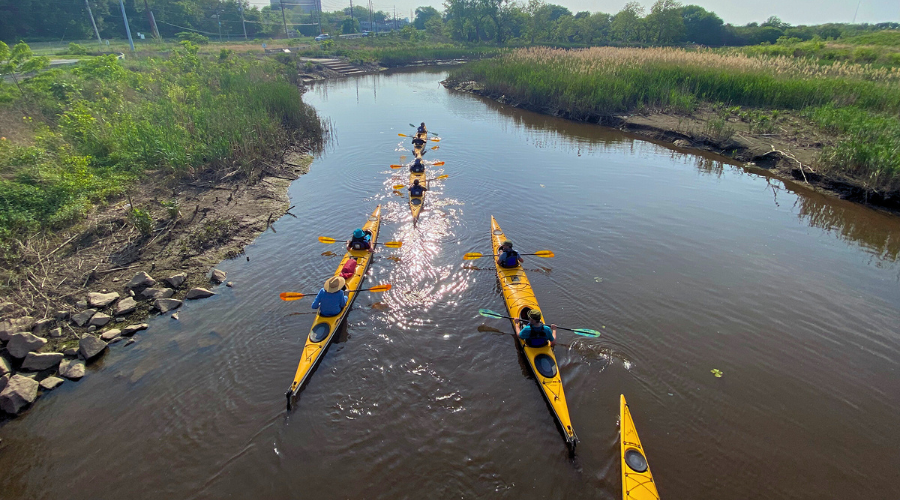 Photo by Brad Maule

Este contenido también está disponible en español.
The Circuit Trails network is one of the crown jewels of the Greater Philadelphia and southern New Jersey region, and within its more than 375 miles of trails, there are many hidden gems waiting to be discovered. Breweries, cafes, environmental education centers and even art museums are all accessible via the Circuit Trails. So what are you waiting for? Adventure is out there, go find your fun #OnTheCircuit! 
We've mapped out just a handful of the gems for you to explore along the trails. 
Trail Tap Rooms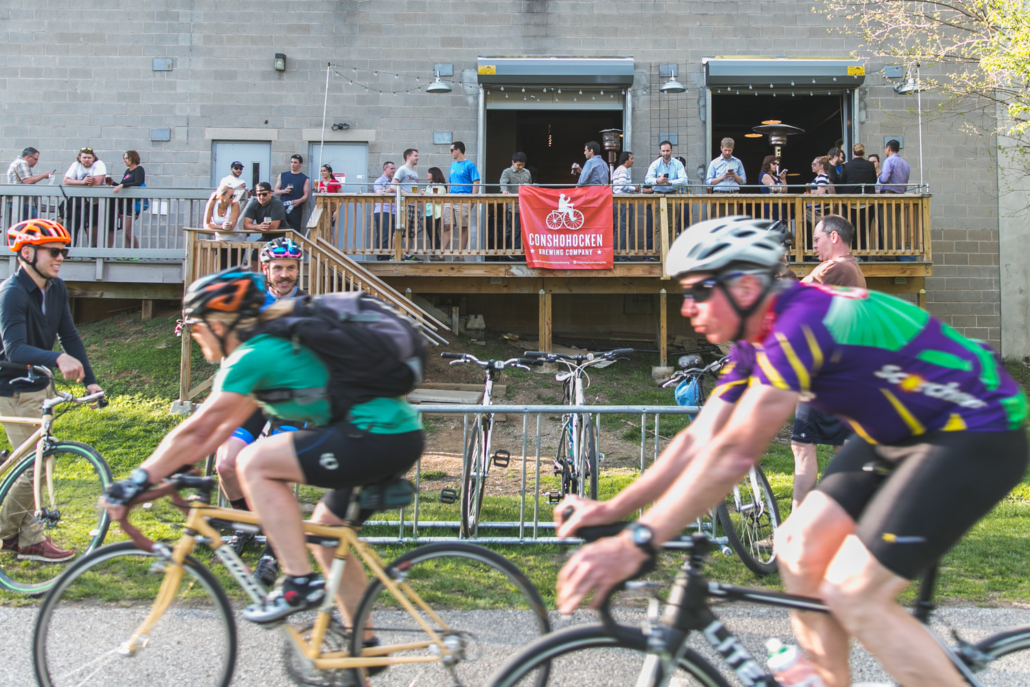 Photo courtesy of Conshohocken Brewing Company
Looking for a refreshing brew and a beautiful view? The Conshohocken Brewing Company Tap Room, conveniently located just off the Schuylkill River Trail, has you covered. Run, ride, roll or stroll right up to the brewery deck at the beginning, middle or end of your trail adventure. 
Quench your thirst at the quaint family-owned Eclipse Brewing steps away from the Merchantville Trail, locally known as the Merchantville Mile. The tasting room is cozy and there are 18 taps behind the bar. One tap is for soda and the other 17 beers change week to week. With seating indoors and outdoors, it's a welcoming  stop in any type of weather.

(Whether you choose one of these trailside tap rooms or another watering hole, please remember to drink and recreate responsibly.) 
Family Fun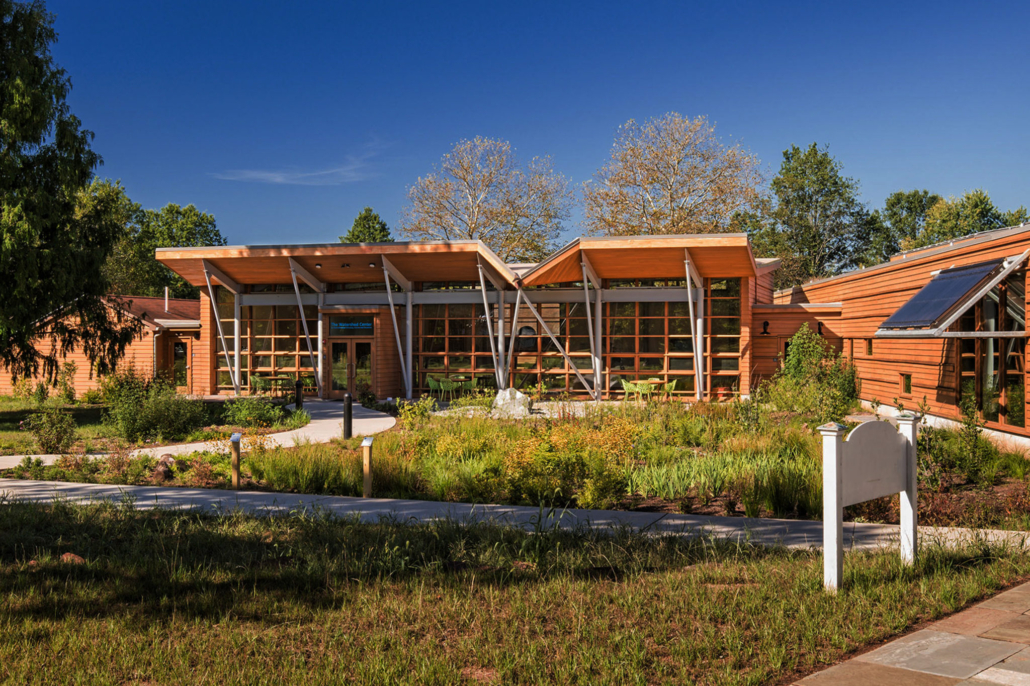 Exploration and education go hand in hand, and lucky for you there are 23 Alliance for Watershed Education environmental centers in the Greater Philadelphia and southern New Jersey region, many of which are along Circuit Trails. On the Pennsylvania side of the Delaware River, you can check out Bartram's Garden, Cobbs Creek Community Environmental Center, John Heinz National Wildlife Refuge at Tinicum and many other centers #OnTheCircuit. On the New Jersey side of the river, you can plan visits to the Center for Aquatic Sciences at Adventure Aquarium, New Jersey Conservation Foundation at Gateway Park, and The Watershed Institute, among others. Each center is different and offers a wide array of activities and programming with the goal of increasing and enhancing constituent appreciation, knowledge and stewardship of the Delaware River watershed. Find a center near you.
Peaceful Parks
Photo by Anya Saretzky
Cramer Hill Waterfront Park, Delaware River Heritage Trail 
Did you know that Camden is home to many new and beautiful waterfront parks? One of these gems is the Cramer Hill Waterfront Park, which opened in late 2021. The trail that runs throughout the park is one segment of the Delaware River Heritage Trail. The park features an array of amenities such as a fishing plaza, hiking and biking trails, a kayak launch, a picnic area, a playground, a sensory garden and shoreline observation areas. The location also offers stunning views of downtown Camden, the Camden Waterfront, the Delaware River, Petty's Island, the Benjamin Franklin Bridge and the Philadelphia skyline.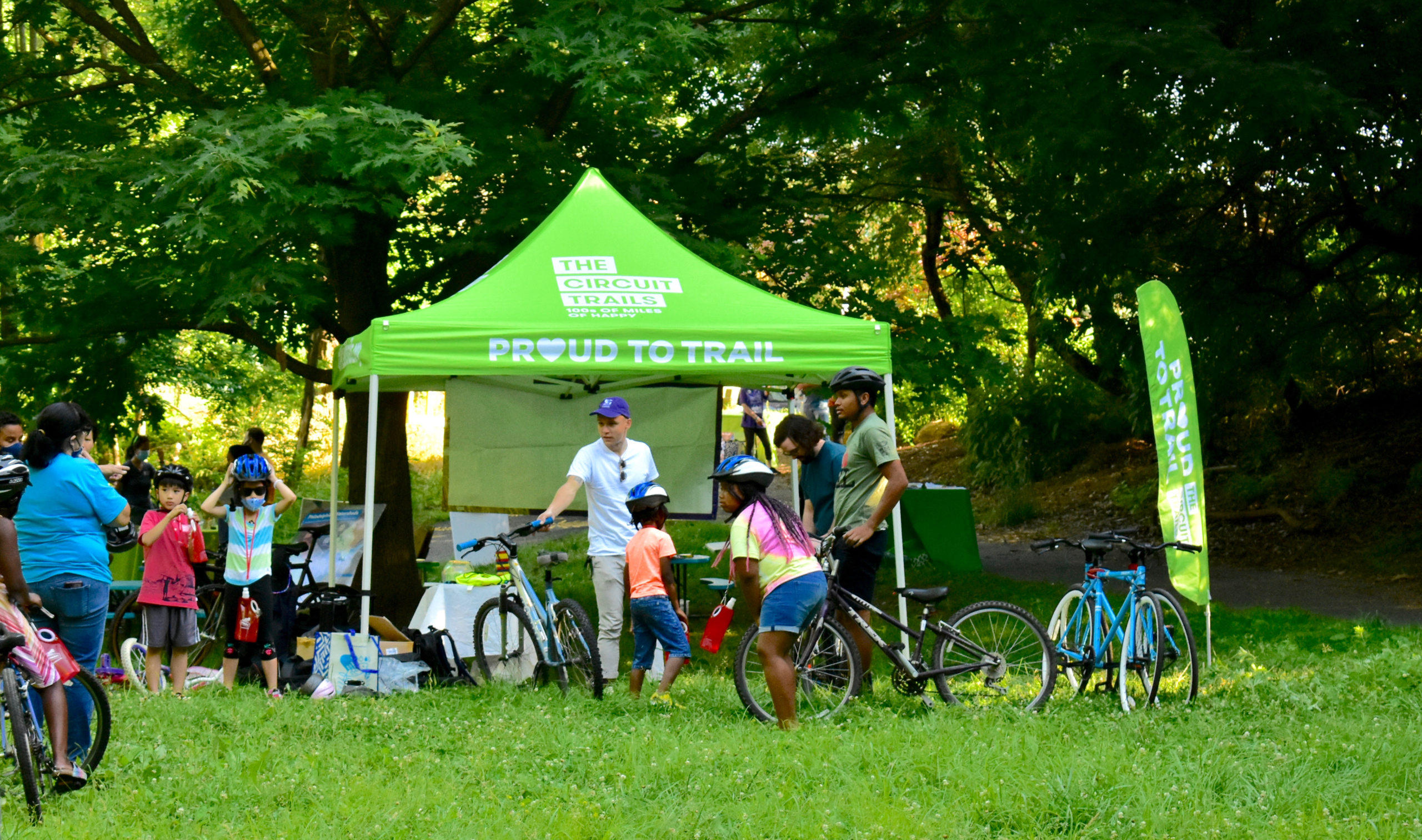 Photo by Doryán De Angel
Tacony Creek Park, Tacony Creek Trail
Nestled in the urban heart of Northeast Philadelphia lies Tacony Creek Park and the 3.2-mile paved Tacony Creek Trail. The park is a vibrant community-hub filled with art on the trail, murals, community installations and plenty of activities. This urban oasis offers respite from the city, a place to get fresh air and connect with nature in an unexpected location. 
Accessible Art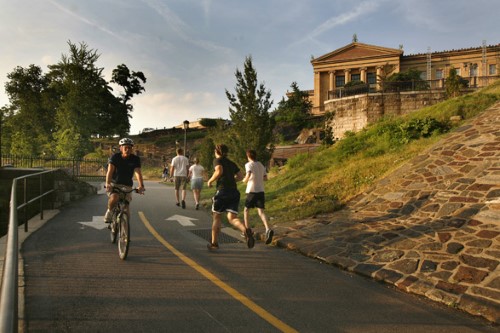 Photo courtesy of the Bicycle Coalition of Greater Philadelphia
Though it isn't exactly hidden, there's always a new facet of this well-known gem to discover! The Philadelphia Museum of Art backs right up on the Schuylkill River Trail (SRT),  enabling you to explore nature and art in just one trip. Plus, entry to the museum is pay what you wish on the first Sunday of the month from 10 a.m. to 5 p.m. and every Friday night from 5 p.m. to 8:45 p.m., making it more accessible  for everyone to visit this trailside destination.

Photo courtesy of Wayne Art Center
Another art experience you can check out by trail is the Wayne Art Center. The center is located next to the Radnor Trail, which extends 2.4 miles through wooded areas with plenty of shade, neighborhoods, parks and to a shopping center. Explore art exhibits or take classes throughout the summer and beyond. Check out the center's event calendar to find an activity to participate in. 
Where will the Circuit Trails take you? Wherever they do, be sure to take some photos along the way. Share you pictures and videos with us on social media using the hashtag #OnTheCircuit and tagging us on Facebook, Twitter, Instagram and TikTok.