Getting Ready to Run: Nine Trails to Train on for the Broad Street Run
Authored By: The Circuit Trails | March 6, 2020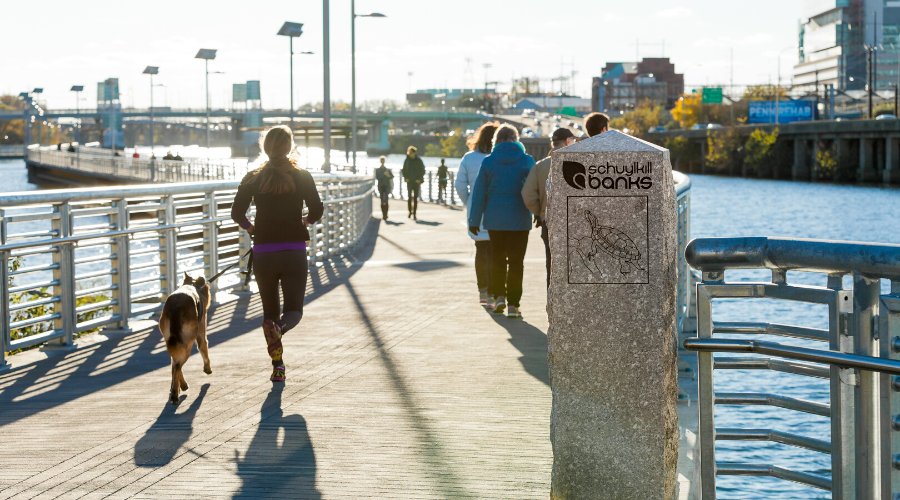 In May, runners from across the world will come together for the annual Broad Street Run, the largest 10-mile road race in the United States. Skip the treadmill this year and head straight for the trails #onthecircuit to train for the big day! Whether you've already started your training or are looking for a place to start, we've got you covered. Check out some of our favorite trails in each county #onthecircuit that can help you hit your stride before the big day.
Not running Broad Street? Hit the traits for a light stroll, a bike ride, or for a workout! Whatever your choice, these few trails won't disappoint!
PENNSYLVANIA
Bucks County: 202 Parkway Trail
Consider this trail a good place to start your training. Coming in at a little under the Broad Street Run's mileage, the 202 Parkway Trail can help you work your way up to 10 mile stretch. Sprawling almost nine miles, the trail connects the towns of Montgomery, Warrington and Doylestown in Bucks County with a fully-paved route. Separated from the roadway by split-rail fencing and grassy strips, the route offers vistas of tranquil farmland and woodlands. The lack of tree canopy is a great way to train for the Broad Street Run's city course.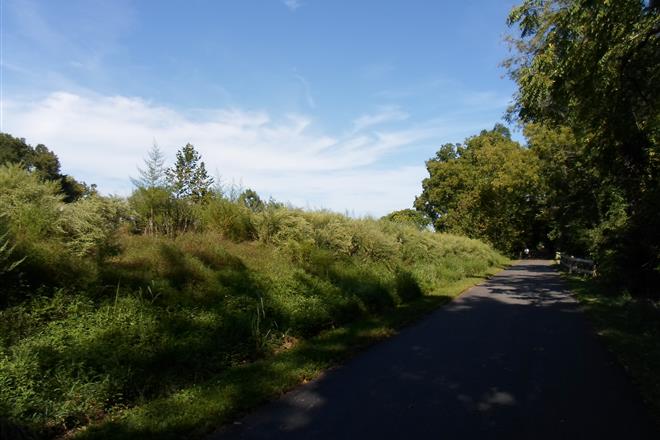 Photo by TrailLink user jmcginnis12
Chester County: Chester Valley Trail
Get your mind into a peaceful state while training on this 14-mile trail, which passes through scenic countryside in the Chester Valley between Bridgeport and Downingtown, PA. The routes length is more than you'll need to get through the race, and it is relatively flat but does include a steady elevation gain as you head southwest to the endpoint at N. Ship Road in Exton.
Delaware County: Radnor Trail
Despite only totaling 2.4 miles, the Radnor trail is still a great route to train on. There are going to be days that you only need to log a few miles, rather than the full 10. Gain stamina by running this full paved route starting at Encke Park at Radnor-Chester Road to Sugartown Road and Route 30 then back for a round trip total of 4.8 miles – just about half of the Broad Street distance. If running doesn't come naturally to you, this wooded route will provide peaceful views to keep you distracted as the trees and foliage start to bloom in the spring!
Montgomery County: Power Line Trail
Train for half the distance of Broad Street by setting up for a run on the 5.2 mile Power Line Trail. The paved pathway is ideal for preparing to conquer they city course as the trail has limited shade coverage. A convenient starting place to explore the Power Line Trail is Lukens Park, where you'll find restrooms and plenty of parking off Dresher Road. Make your trek a roundtrip to experience a trail length similar to the Broad Street Runs total distance.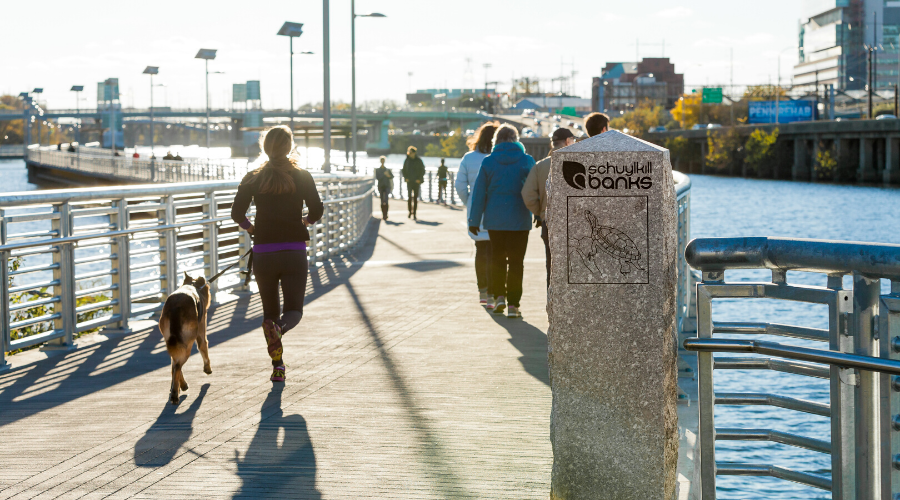 Philadelphia County: Schuylkill River Trail
The Schuylkill River Trail is a tried and true route and one of the well-known gems of the Circuit Trails network. This trail is perfect for any type of runner, especially for the over achievers, because sometimes 10 miles just isn't quite enough. If you're looking to really go the distance, the Schuylkill River Trail will help you get there. With more than 60 miles of trail running through five counties, there is plenty of trail to explore. Want to triple the distance of the Broad Street Run? Consider it done! The trail has a nearly 30-mile section paved section that runs from downtown Philadelphia to Valley Forge National Historical Park.
NEW JERSEY
Burlington County: Rancocas Greenway – Pemberton Rail Trail
Coming in at 2.5 miles long, the Pemberton Rail Trail is the perfect place for a fartlek run. Play with speed by running at faster efforts for short periods of time through this historic path, which is anchored by a beautifully restored 1892 railway station. When you mix up the pace and time of your run, this 2.5 miles will be a refreshing and stress free work out!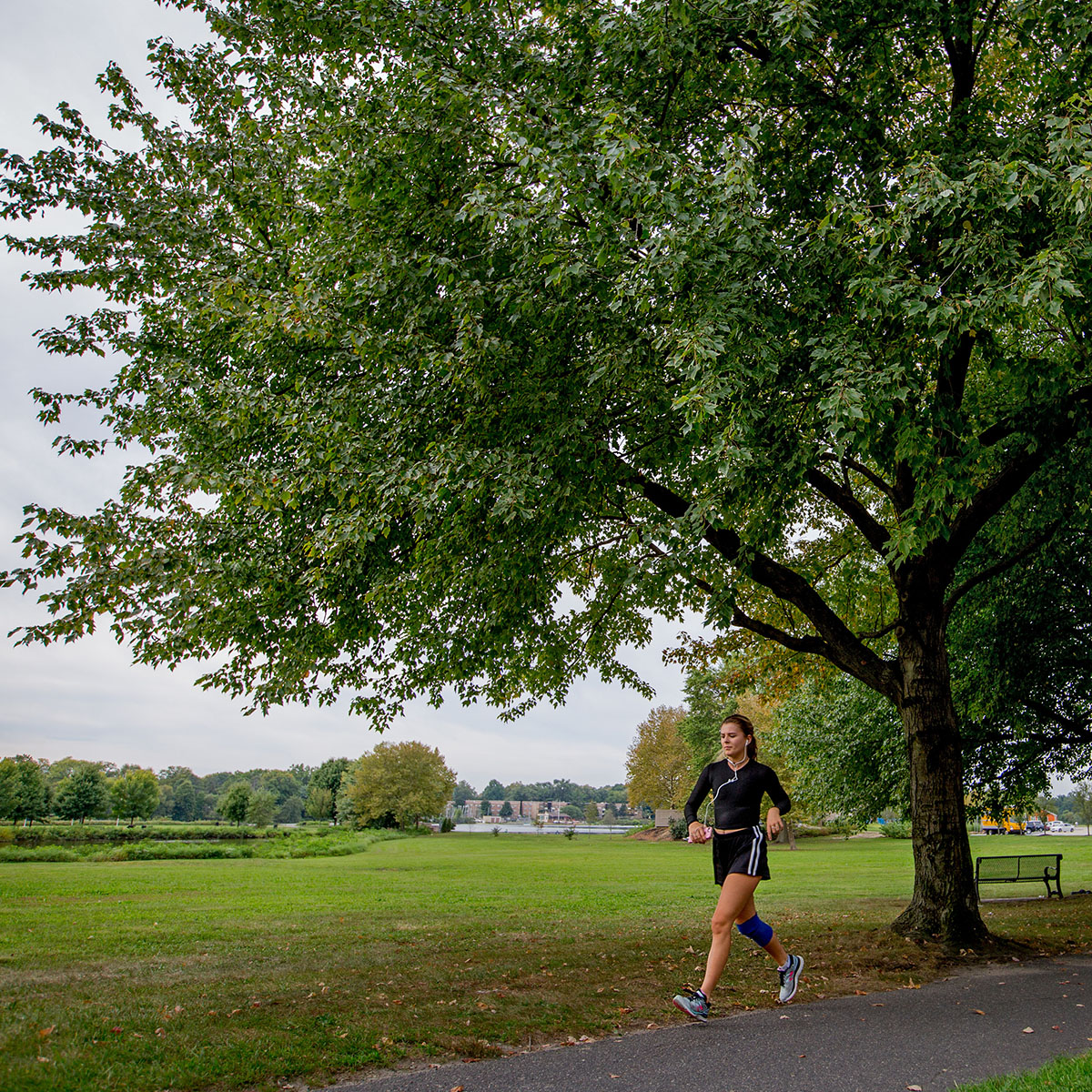 Photo courtesy of Camden County
Camden County: Cooper River Trail
Shake up your distance training with a trip on the 3.7-mile Cooper River Trail. This beautiful urban oasis located in Pennsauken, N.J., is a popular destination with a variety of activities and events taking place throughout the year. If you aren't interested in short distance trails, don't worry – you can still enjoy this trail because it's a loop! Run for 3.7 miles, 7.4 miles or 11.1 miles. You can take as many trips around the loop as you want to help you prepare for race day.
Gloucester County: Monroe Township Bike Path
If you're going to be spending a lot of time running, you might as well run through an interesting location like the Glassboro Wildlife Management Area. Take to the 6.3 mile paved Monroe Township Bike Path to travel the tranquil woodlands of southern New Jersey. Turn your training into a fun exploration as you move through the scenic neighborhoods and encounter a variety of wildlife including wild turkeys, butterflies, birds and more.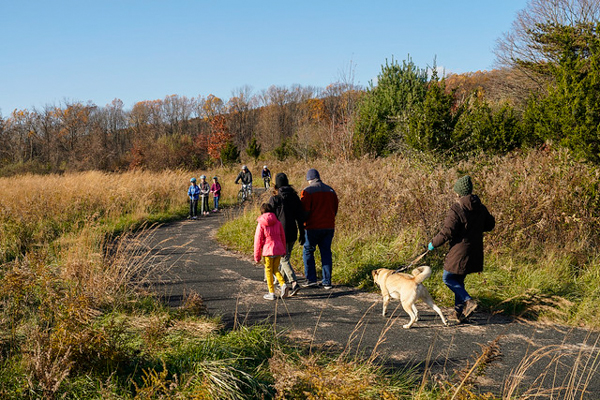 Photo courtesy of the Lawrence Hopewell Trail Corportation
Mercer County: Lawrence Hopewell Trail
This 18-mile loop trail weaves through a main street district, parks, historic districts, farms and wooded areas across Mercer County. With limited inclines, this route is perfect to prepare for the flat terrain of Broad Street. In the future, your training could extend to 22 miles on this route when the final four miles are completed, making it a great spot to start training for more races or even a marathon!
We know training for a 10-mile run isn't easy, but with these scenic trails, your Broad Street Run training might just feel like an adventure along the way. So get training or just get out this weekend to run these (or any) trails #onthecircuit! Whether a training day or not, be sure to join us #onthecircuit as we celebrate Opening Day for Trails on Saturday, April 18.