It's a Plan: A Guide to Planning Trips #onthecircuit
Authored By: The Circuit Trails | June 27, 2019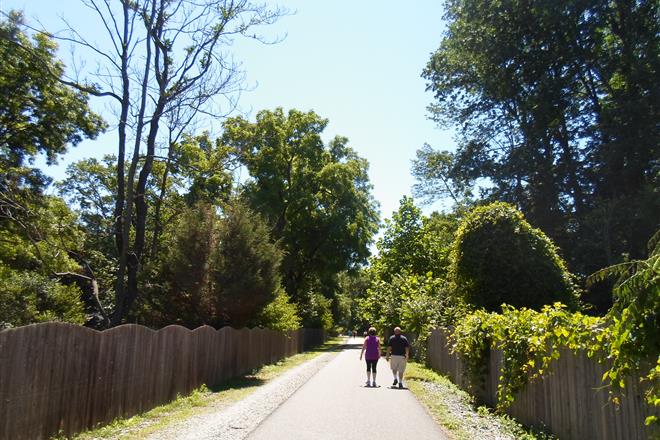 Este contenido también está disponible en español.
…
For some people, spontaneity is a necessity for happiness, and for others, planning out the aspects of their day is the key sanity. If you are the type that needs a plan, you've come to the right place. We did the prep, so you wouldn't miss out on the great opportunities during your travel #onthecircuit. Whether you want to use our detailed itineraries for a seamless ride or you want to create your own adventure, take a look at some of our planned out routes for all type of trips to kick-start an exploration to remember.
Short and Sweet
If you want to squeeze in a trail adventure to a busy calendar, try checking out the Radnor Trail. This short and sweet trail comes in at a total of 2.4 miles through Delaware County. With a smooth and wide paved path, the Radnor trail is perfect for a family outing. You can just take the path from start to finish or you can try something new like a trip to the Saturdays Farmers Market, a Main Line Garden Tour, or a Tour of the best of Wayne. Start planning your excursion today with the full Radnor Trail Itinerary.
Go the Distance
Why not spend a whole weekend #onthecircuit? With an exploration on the Delaware and Raritan Canal Trail in Mercer County, you can do just that! The trail boasts a 14-mile route with a very historic past – a perfect choice for all those history buffs out there. We've mapped out a few different ways you can explore the trail, but one of the fan favorites is what we call the Capitol Loop Overnight. If you choose this course, you can tour the trail and city with a 30 mile route that includes places for picnics, gourmet food and quaint bed and breakfast lodging all in a historic setting. Set forth on a weekend of adventure with the Delaware and Raritan Canal Trail Itinerary.
Explore a Different Section of a Fan Favorite
There's no doubt that the Schuylkill River Trail is hot spot #onthecircuit, but there is so much trail to be explored beyond the Banks! The trail actually runs for more than 60 miles and through multiple counties. Branch out from your typical path by using our itinerary to travel from Philadelphia County to Montgomery County with this route along the Schuylkill River Trail from Manayunk to Valley Forge. This trip will take your through the interesting and easily accessible historic manufacturing towns of Manayunk, Shawmont, Conshohocken and Norristown with an ending point at the scenic Valley Forge National Historical Park. Want to venture to a new section of the Schuylkill River Trail, follow our full itinerary for the Schuylkill River Trail: Manayunk to Valley Forge.
Perfectly Picturesque
The scenic Perkiomen Trail is a great spot to capture memories #onthecircuit. Although the entire trail runs for 20 miles, there are smaller sections that are perfect for short day adventures. We've broken the trail down into three trip, especially ideal for our friends who prefer to travel on two wheels. Every trip idea has something different to offer, but each is sure to show off the beauty of the Perkiomen "Perky" Trail. Those who choose to go this route will pass through three picturesque public parks along the way: Lower Perkiomen Valley Park, Central Perkiomen Valley Park and Green Lane Park. Charge up your camera, or clear out the storage on your phone, and get ready for to capture this oasis with our full Perkiomen Trail Itinerary.
You can thank us later for the great time you're are going to have following one of our mapped out itineraries. Be sure to share your moments with us on Facebook, Instagram and Twitter with #onthecircuit. Don't forget that we also are in the midst of our Circuit Trails Scavenger Hunt! By taking these routes #onthecircuit you can complete the items on our Scavenger Hunt Checklist to be entered to win a bunch of great prizes – including a brand new bike. What's not to like about exploration and prizes? Join the search and become a #CircuitExplorer today.