Let County Commissioners Know Why the Circuit Trails Need Their Support!
Authored By: Patrick Monahan | Regional Organizer for the Bicycle Coalition of Greater Philadelphia | August 11, 2021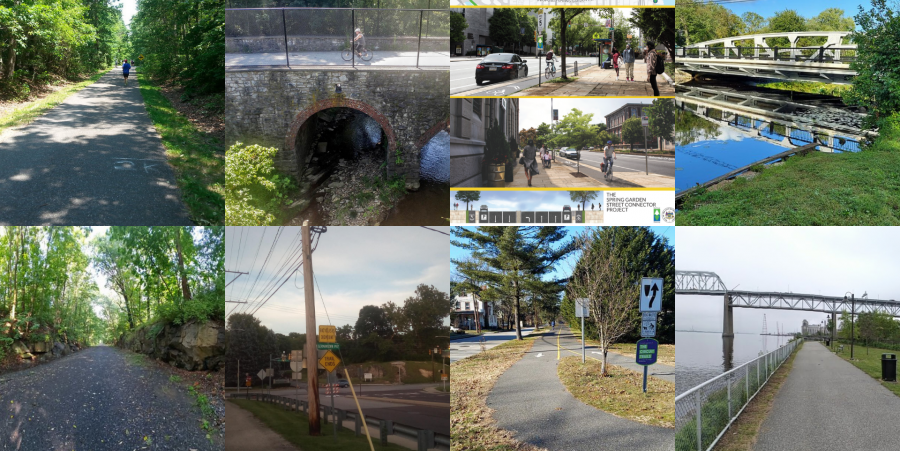 This blog was originally posted by the Bicycle Coalition of Greater Philadelphia and reformatted here.
Back in October of last year, the Circuit Trails Action Team held the Rally for the Circuit Trails to announce the latest on the growing network of trails in the Greater Philadelphia and southern New Jersey region. Each county held their Circuit Trails Virtual Evening Meetup where those who joined the call were informed on current trail status, what's in progress and an overview of how they can get involved as a trail advocate by becoming a Circuit Citizen and Action Team Member.
This August, the Circuit Trails Action Team will be leading a Video Action Campaign by filming testimonies at the identified priority Circuit Trails throughout the region. In order to continue this effort to bring new connections along the trail network we need your help to urge County Commissioners and local governments involved for their support to receive federal funding. Below is a list of those events and where you can register to help advocate for trails in your county! Upon registration you'll receive event details.
Missed the County Action Team evening meetup? See our Storymap presentations in the list below to see what we've been working towards to reach the short-term goal of completing 500 miles by 2025. Additionally, you can check out the recordings of the meetings to catch up on the latest actions by the Circuit Trails Coalition.
Bucks County
Burlington County
Camden County
Chester County
Delaware County
Gloucester County
Mercer County
Montgomery County
Philadelphia County
In addition to the overview of the Circuit Trails network for each county, DVRPC has a helpful map to show current status of trails in the region. Take a look at your neighborhood and see what trails can take you around the region. If you're interested in getting involved become a Circuit Citizen for news and action alerts. As the Circuit Citizen community continues to grow we aim to inform those who are interested in supporting and advocating for the advancement of the Circuit Trails network.
For any questions for this event or information on how to get involved and next steps to build support for the trails contact: patrick@bicyclecoalition.org