Staying Cool on the Circuit Trails
Authored By: The Circuit Trails | July 21, 2016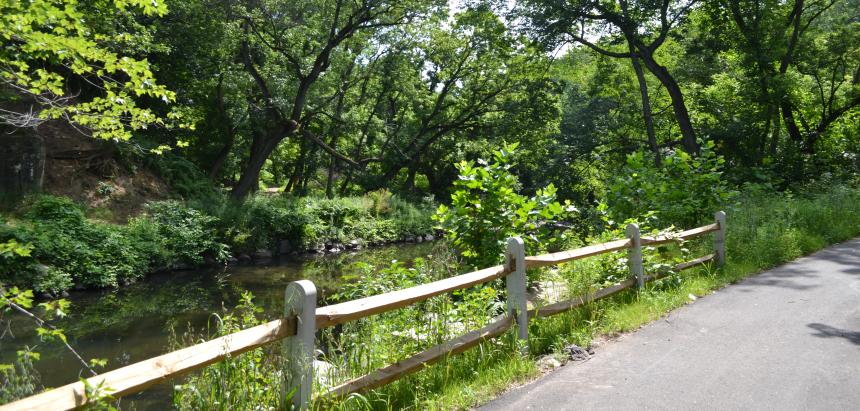 Temps are heading into the 90s and the black-top will be hot enough to fry an egg. Fortunately, many Circuit Trails run through wooded, shaded areas, but for those segments basking in the sun, trail-users should be careful not to overheat.
Aside from the obvious suggestions: to run early in the morning or late in the afternoon when temps are the lowest, to load on the sunscreen and to hydrate like a camel, here are a few other tips for staying cool while hitting the trails this summer.
1. Choose a path near water. For slightly cooler and breezier conditions head to your nearest body of water. These paths are cooler due to the simple fact that water temperature is cooler than air temperature and when the wind blows, it provides a fresh breeze for runners and riders.
2. Steer clear of cotton fabrics. Sports-specific, moisture-wicking fabrics are ideal for warm conditions. Also wear light colors to reflect the sun's rays away from you. It's also not a bad idea to wear loose clothing during your workout if there happens to be a breeze.
3. Lower your body temperature pre-workout. Ever heard of Olympians and other serious athletes using an "ice vest?" Don't go that extreme before your routine workout, but certainly spend some time in the air-conditioned room or in front of a fan while sipping on a cool drink before you head outdoors.
4. Start slow. Prevent yourself from overheating at the beginning of your workout and start at a slow to moderate pace. Ramp up the intensity towards the end when you can quickly grab a cold drink.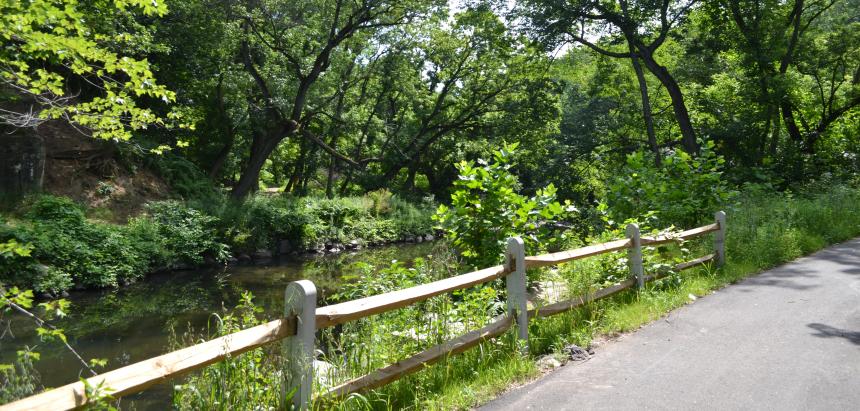 Tacony Creek Trail, photo credit: PhiladelphiaPlaneto.com
Below are a few suggestions for shaded trails that also run along bodies of water. To explore dozens of Circuit Trails, visit the planning map tool here.
1. Cooper River Trail. (Camden County) Throughout the park find mature trees, wetland habitats, grassland areas and a plethora of wildlife.
2. Tacony Creek Trail. (Philadelphia County) Follow the shaded 3.2-mile paved trail that runs along the Tacony Creek.
3. D&L Canal Path. (Mercer County) The route features charming scenery as well as providing a peaceful and flat trail through historic small towns and rural countryside.
4. Neshaminy Creek Greenway: Tyler State Park Trails. (Bucks County) Wind through over 1,700 acres in a beautiful and peaceful woodland setting.