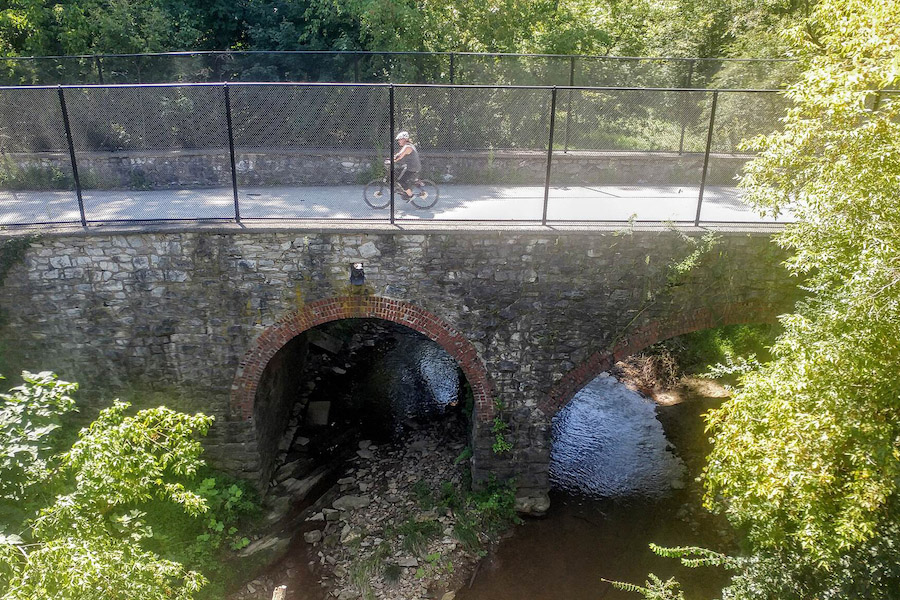 Chester County
Chester County is one of nine counties home to the Circuit Trails in the Great Philadelphia and South Jersey region—and it is crucial to reaching the interim goal of building 500 miles of trails in the network by 2025. A key project to achieving this goal is the Chester Valley Trail (CVT) West, which represents the planned approximately 21 miles of trail from the borough of Downingtown to the Chester County line, where it would ultimately connect with the Enola Low Grade Trail in Lancaster County. The planned trail would pass through the municipalities of Coatesville, Parkesburg and Atglen. Comprised of a number of sub-sections, each section of the trail has unique development challenges related to topography, infrastructure and right-of-way. As the Pennsylvania Department of Transportation continues to negotiate with Norfolk Southern on the eastern end between Exton and Downingtown while Chester County negotiates with SEPTA on the western end around Atglen, the goal of the Chester County action team is to educate the public on current status and plans, and to ask that they engage with elected and governmental officials to keep pushing this project forward towards completion.
Moving the Circuit Forward to Reach 500 Miles by 2025:
Ask County Commissioners to Prioritize the Circuit Trails:
To help move forward the Circuit Trails in Chester County, please learn more about how to get involved below and by continuing to watch this space for updates!
Let Chester County leaders know that the Circuit Trails are important to you by expressing your gratitude:
Explore the interactive Chester County StoryMap:
Watch the action team virtual meeting to learn how Chester County can help the region reach 500 miles by 2025: