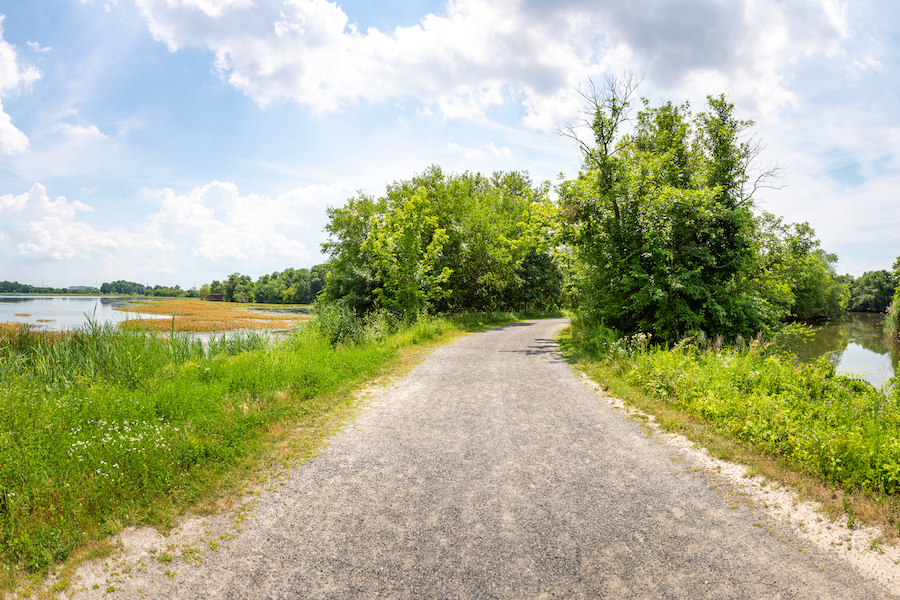 Delaware County
Delaware County is one of nine counties home to the Circuit Trails in the Great Philadelphia and South Jersey region—and it is crucial to reaching the interim goal of building 500 miles of trails in the network by 2025. A key project to achieving this goal the planned section of the East Coast Greenway in Delaware County (the greenway), which runs approximately 12 miles parallel to the Delaware River, connecting southwest Philadelphia and the Heinz Wildlife Refuge to the Pennsylvania-Delaware border. Much of this section of the greenway will follow PA-291 on a parallel, off-road path, linking the communities of Tinicum Township, Ridley, Eddystone, Chester, Trainer and Marcus Hook. The Delaware County action team will be focused on calling for a road diet along PA-291 in parts of Chester and Eddystone, in tandem with the development of greenway, to spur local economic growth and prioritize the safety of all road users while linking people to the existing Talen Energy Stadium and Chester Riverfront Trail. This would shorten crossing distances, calm traffic, and create a more desirable corridor for local economic development, as echoed by Chester's recent Waterfront Master Plan. The action team will be building grassroots support for the greenway, as well as calling for the Pennsylvania Department of Transportation to study the potential for a road diet and greenway.
Moving the Circuit Forward to Reach 500 Miles by 2025:
Ask County Council Members to Prioritize the Circuit Trails:
To help move forward the Circuit Trails in Delaware County, please learn more about how to get involved below and by continuing to watch this space for updates!
Let Delaware County leaders know that the Circuit Trails are important to you by expressing your gratitude:
Explore the interactive Delaware County StoryMap:
Watch the action team virtual meeting to learn how Delaware County can help the region reach 500 miles by 2025: