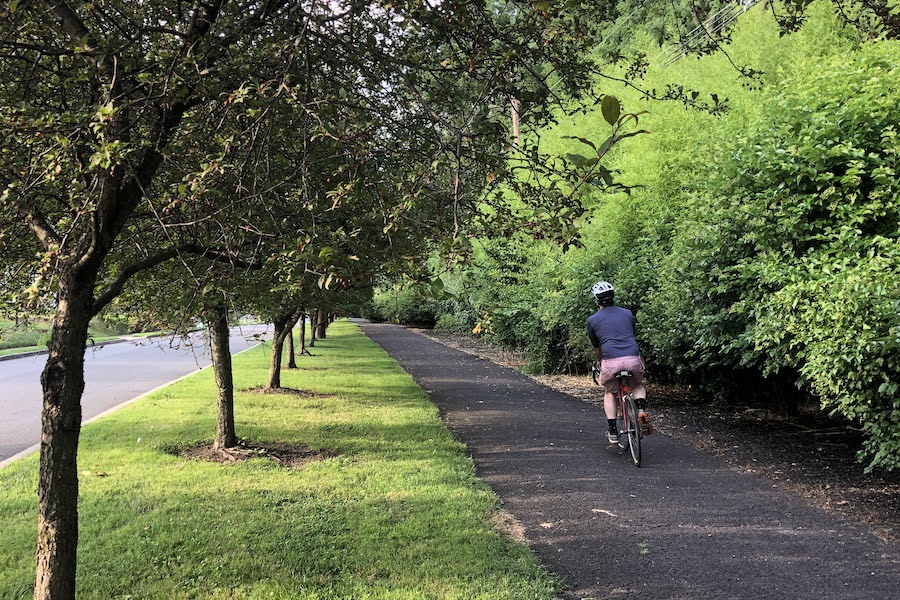 Mercer County
Mercer County is one of nine counties home to the Circuit Trails in the Great Philadelphia and South Jersey region—and it is crucial to reaching the interim goal of building 500 miles of trails in the network by 2025. A key project to achieving this goal is the I-295 Johnson Trolley Line Bridge, which will be an important local connection for neighbors separated by the interstate and a vital connection to the Circuit Trails network overall. This project will bridge the gap of the existing 2-mile trail and eventually extend all the way to the D&R Canal Tow Path in Trenton. The Johnson Trolley Line North runs along a paved route for about 1 mile between Gorden Avenue and Denow Road in Lawrenceville, New Jersey, through a tree-lined neighborhood; it also connects with the very popular Lawrence Hopewell Trail. The former trolley line was known as the "Fast Line," and was run by The Trenton-Princeton Traction Company from around 1901 until 1940. The Johnson Trolley Line South is a continuation of the former "Fast Line" route, and is a linear park that runs from the Shabakunk Creek at the Ewing Township border in the south to Rider University in the north. At just under one mile in length, the southern route connects the future Heritage Park, the Loveless Nature Preserve, Central Park, and Rider University's nature trail. The Mercer County action team will be focused on advancing this trail, as well as other priority projects in the county.
Moving the Circuit Forward to Reach 500 Miles by 2025:
Ask County Commissioners to Prioritize the Circuit Trails:
To help move forward the Circuit Trails in Mercer County, please learn more about how to get involved below and by continuing to watch this space for updates!
Let Mercer County leaders know that the Circuit Trails are important to you by expressing your gratitude:
Explore the interactive Mercer County StoryMap:
Watch the action team virtual meeting to learn how Mercer County can help the region reach 500 miles by 2025: