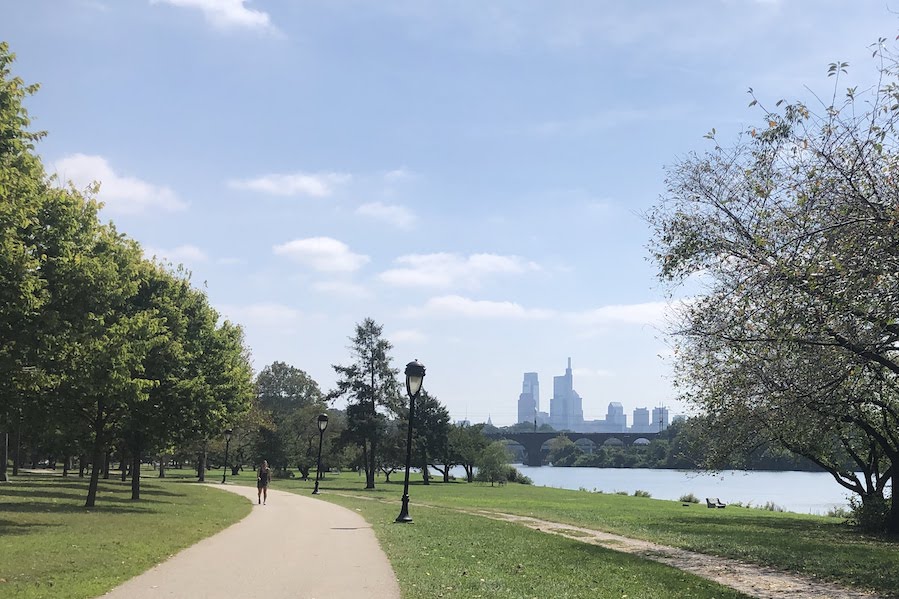 Philadelphia County
Philadelphia County is one of nine counties home to the Circuit Trails in the Great Philadelphia and South Jersey region—and it is crucial to reaching the interim goal of building 500 miles of trails in the network by 2025. A key project to achieving this goal is the East Coast Greenway, which connects to Philadelphia from the north via the growing segments of the Delaware River Trail, and it crosses Center City via Spring Garden St. to follow the Schuylkill River Trail southbound. Plans have long been in the works to create a traffic-separated Spring Garden St. Greenway from river to river, and the Philadelphia action team's goal is to advocate for the city to finish the design, acquire additional funding and complete the project by 2025. The action team endeavors to do this by building awareness, support, and urgency for the project while ensuring that the city's proposed design prioritizes the safety of the corridor's users, including people of all ages, ability and mobility.
A conceptual rendering of the raised bike lane/sidewalk configuration of the Spring Garden Street Greenway
Spring Garden Street Greenway is planned as a traffic-separated bikeway (plus sidewalks) from Pennsylvania Ave to Delaware Ave, linking the Schuylkill Banks to the Delaware River Trail. When completed it will be a component of the East Coast Greenway and The 800 mile Circuit Trails network.
Related: Spring Garden Street Greenway Petition: Sign to Fund and Build by 2025
Related: Public Support for the Spring Garden Street Improvement Project A Major Step Forward for the Circuit Trails
Related: Spring Garden Street Greenway: Closing a Top 10 Gap for Equity, Economy, & the Environment
Moving the Circuit Forward to Reach 500 Miles by 2025:
Ask City Council Members to Prioritize the Circuit Trails:
To help move forward the Circuit Trails in Philadelphia County, please learn more about how to get involved below and by continuing to watch this space for updates!
Let Philadelphia County leaders know that the Circuit Trails are important to you by expressing your gratitude:
Explore the interactive Philadelphia County StoryMap:
Watch the action team virtual meeting to learn how Philadelphia County can help the region reach 500 miles by 2025: