Tales from the Trails: The Launch of the TrailOff App
Authored By: Circuit Trails Coalition | June 1, 2022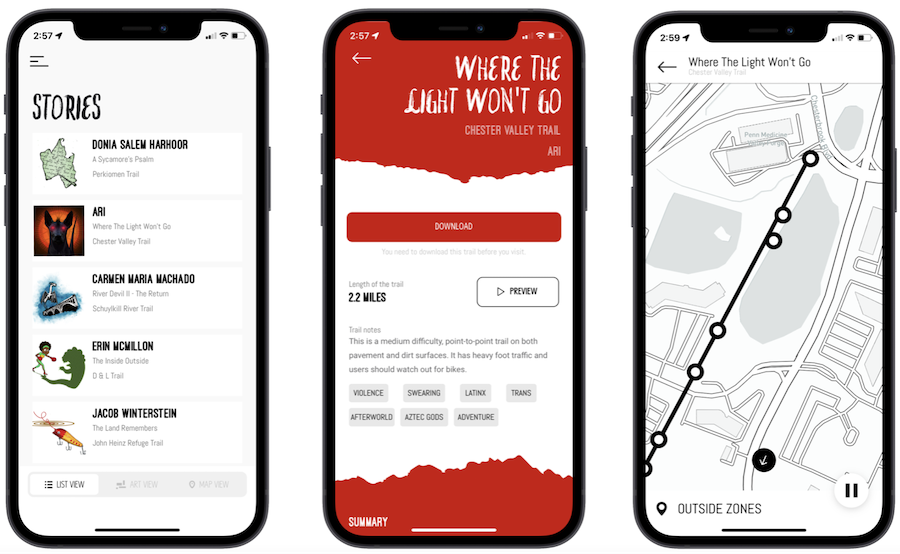 Art and nature now have a direct intersection #OnTheCircuit with the launch of TrailOff!
Available for download starting June 3, 2022, TrailOff  is a free app that offers GPS-activated audio storytelling along 10 Circuit Trails. A collaboration from Swim Pony, the Pennsylvania Environmental Council and Echoes, TrailOff features local authors who bring new and diverse perspectives to trails in the Philadelphia region. Each story is written specifically for a trail that's part of the Circuit Trails network, evoking a conversation between the external landscape and the internal sonic world.
The stories are crafted for a select portion of each trail, highlighting aspects of the landscapes and giving app users the feeling of a live, site-specific performance—but one that is available 24/7 and responsive to the pace, weather and time of day  in which the user undertakes the experience. The interface allows users to search by title or distance to find an experience right for them, plus the app features a podcast-style interview with each story's writer to give users deeper insight into the spaces they've just traversed.
Want to give it a try? Take a look below for  the full list of the trails and tales that you can experience #OnTheCircuit through the app!
Story: A Sycamore's Psalm, by donia salem harhoor
Told through the voice of a young poet collecting memories and reflections in a notebook, A Sycamore's Psalm explores caregiving, family dynamics, loss and roots of every kind. Travel with young Nehet–named after a tree–as she journeys through a diasporic legacy of Egypt, both ancient and contemporary, while encountering the history of the Perkiomen Creek and Trail in this gathering of lyric verse honoring loved ones present and past.
Story: The Land Remembers, by Jacob Winterstein
In the late 1950s, as part of Urban Renewal, Philadelphia displaced over 8,000 residents from Eastwick (aka "The Meadows"). The area was one of Philadelphia's only harmoniously integrated neighborhoods at a time when many racist housing policies were legal. In The Land Remembers, Nick (aka "Nickel," aka "Abe," aka "Abraham") reminisces about his last days living there.
Story: The Way Sand Wants for Water, by afaq
In a country built on dams holding back what we cannot bear, how do we begin to pull out the stones and let the water run through? The Way Sand Wants for Water  is an ode to healing, a guided history of the land that reveals itself in poetry. Notice, breathe and wander through a journey as fluid as the river it  runs alongside  in this lesson on loss and what's truly in the water.
Story: Chronicles of Asylum, by Li Sumpter
Set in future Philadelphia, circa 2045, on the eve of a major cosmic event, Chronicles of Asylum  follows savvy young journalist Liliquoi Brown as she investigates an otherworldly urban myth in hopes of finding two missing visitors to a refugee camp on the Schuylkill River. Exploring survival and sacrifice, home and exile, humanity's fate and hope for the future, Chronicles follows the path of this unexpected trailblazer.
Story: Where the Light Won't Go, by ari
Emotionally-driven poetry meets queer Latinx experience in this Neil Gaiman-esque drama when Luz, a trans teen just killed in a car crash, meets Dog– the god of Death–who is tasked with bringing her to the underworld. In Where the Light Won't Go, a simple walk leads to discovering a set of deities sitting just behind the surface of human existence and perhaps even restarting the wheel of existence for the living world.
Story: The Inside Outside, by Erin T. McMillon
Confronted with ancestral ghosts and demons of her own making, poor Trenton is having a very, very bad day. Join  a sarcastic heroine who overcomes monsters of land, water and maybe even her own self-doubt in the comically inspired The Inside Outside.
Story: River Devil II: The Return, by Carmen Maria Machado
All Mercedes wants is to do her job: capturing behind-the-scenes shots for a cheesy horror movie sequel shot in Manayunk with her conspiracy-theorist camerawoman, Bernice. But travelers beware; the deceptively beautiful Manayunk Canal may have other ideas… Nature fights back in this cryptozoology-meets-The-Blair-Witch-Project horror story,River Devil II: The Return.
Story: Deeply Routed, by Denise Valentine
The flow of human history, like the water rushing to the sea, cannot be easily contained. Like truth, it defies our efforts to bury, divert or ignore it. It overflows its banks, sometimes leaking in tiny trickles; sometimes erupting violently to the surface. Deeply Routed  travels to places near and far, connected by these waterways, branching off like so many tributaries that flow to the Delaware River.
Story: Appear To Me, by Eppchez!
Appear to Me (aka "A Pier to Me") mashes together the past and present itinerant denizens of the Delaware River's piers. Filled with a dreamy troubadour spirit, rough songs and honest conversation swirl through these untold tales of the waterfront, narrated by feral cats channeling the hobo poet, W. H. Davies;radical dock workers; Lenape boaters; cruisers; fishing teens; and even talking litter, each simply seeking a moment of respite.
Story: Conversations, by Jacob Camacho
Diving into themes of ancestry, colonialism and race, Conversations  imagines discussions that arise with the indigenous Nanticoke' Lenni-Lenape people of past, present and future. The water of the Delaware River brings age-old questions to the surface, beckoning listeners to question, be aware of and learn about the land they move through.
Download the TrailOff app today to get your narrated explorations started #OnTheCircuit! When you do try it out, let us know. Post about your TrailOff experience using the hashtag #OnTheCircuit to share about your adventure on the trails.