Thankful for Trails
Authored By: The Circuit Trails | November 20, 2020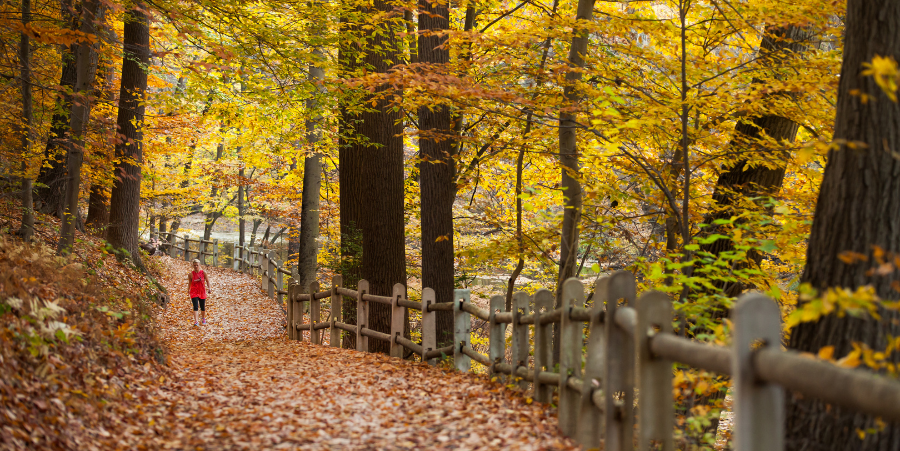 During the past eight turbulent months, stability and serenity have been hard to come by – but that's exactly what the trails #OnTheCircuit have provided.
Many people across the region turned to trails and outdoor spaces this year for physical activity, respite and essential trips throughout the pandemic, which served as an important reminder of just how vital these spaces are for the well-being of individuals and communities.
This Thanksgiving and holiday season, we hope you will give thanks for those who support, fund, and maintain these places. Thank them for keeping the trails open and accessible even during the toughest periods of the pandemic so far. Thank them for pivoting to provide access to activities and education in safe, online environments. And thank them for continuing to advance the progress and development of new trails #OnTheCircuit – we've continued to mark the opening of new segments – see below!
Here are a few ways that you can show your gratitude:
Thank a trail organization on social media
Use your voice on social media to share your appreciation for trails #OnTheCircuit with family, friends and followers. Share photos – new or old – of Circuit Trails you love. Shout out your favorite Circuit Trails Coalition organization or other group that has made a positive impact on your trail experiences this year. When you post, be sure to tag us on Facebook, Twitter and Instagram, so we can share your gratitude, too!
Click here to share a ready-to-post tweet that lets your fellow trail users know how they can share their thanks, too.
Thank your county representatives via email
Local officials play a significant role in developing trails. Even during the pandemic, we've been able to celebrate the opening of trail projects like the Upper Bucks Rail Trail and Section A of the RT 202 to Bradford Dam Trail thanks to the support of county representatives. Let your representative know how much you love the trails in your area and how appreciative you are for their continued support of the Circuit Trails. Click on your county below, then fill out the form to send your sentiments of thanks and encourage your local officials to continue their support of Circuit Trails, which can help us reach our short-term goal of building 500 miles #OnTheCircuit by 2025.
BUCKS COUNTY | CHESTER COUNTY | DELAWARE COUNTY | MONTGOMERY COUNTY | PHILADELPHIA COUNTY |BURLINGTON COUNTY | CAMDEN COUNTY | GLOUCESTER COUNTY | MERCER COUNTY
Another way to show your gratitude is to get out and use the trails. But before visiting the local trails you love during this time, we highly encourage that you continue to take precautions to protect yourself and others by doing the following:
Review and follow the Centers for Disease Control and Prevention's (CDC's) most current public health and safety guidance here: https://bit.ly/cTcdcRe
Refer to the guidance provided by your county, city and town governments for more specific information about your community's directives.
Remember to keep at least six-feet of distancing between yourself and others, come prepared with a cloth face covering, and avoid gathering in groups on the trails. Review more trail safety and etiquette here: https://bit.ly/2CTyuRT
Check with the local trail management organization to confirm the status of trail facilities. While most trails are open, some facilities like restrooms, depots and visitor centers may be closed.  It's important to confirm that before you head out. Trail manager contact information is available through individual trail records at TrailLink.com.